Xavier de Le Rue interview
Xavier de Le Rue is one of the world's best freeride snowboarders. MF caught up with him in advance of this year's Freeride World Tour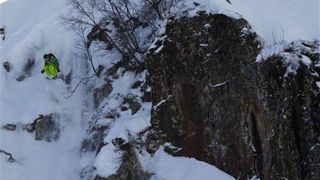 (Image credit: unknown)
Having ridden some of the world's most daunting mountains - including the monstrous Bec des Rosses in his hometown of Verbier, two-time Freeride World Tour (FWT) winner Xavier Xavier de Le Rue knows a thing or two about backcountry riding. Here he tells MF how to get started off-piste and how he controls his fear during death-defying descents.

Just how hard is riding the Bec Des Rosses in Verbier, Switzerland?
It's way bigger, more exposed and has more features than any other competition face. It sets the standard in freeride competitions, so if you ride it well it's a real accomplishment.

Have you ridden it outside of competition?
I try not to because I live in Verbier and it would be unfair when you come to ride it during the FWT. I did ride it once about 10 years ago, but that was only because I crashed on it during a comp and I wanted to get the monkey off my back before the next one.

What kind of off-board training do you do to keep in shape for backcountry riding?
I climb, surf and do some downhill mountainbiking. As well as backcountry riding, I'm currently training for the boardercross at the Winter Olympics. I've done it since the 2006 Turin games and each time I stop for one or two years after, then I start to enter a few events to get points so I can do the Olympics again - it helps me be a more well-rounded rider.
How do things like mountaineering and climbing help you mentally when riding backcountry?
They are useful because you can find yourself in really rough places where you have to be super cold-minded and smart with your decisions. So, as well as making you really fit, they help you develop a lot of really useful skills. After hardcore mountaineering stuff you feel totally relaxed when you end up on a high ride, and also it gives you the know-how to access more terrain.

How easy is it to start backcountry riding if all you've ever done is blast down pistes?
The ski patrols in many resorts secure faces really well nowadays so you can go off-piste easily, but you should always go with a guide who can introduce you to all the gear you need and explain what you need to know to be safe.

Aside from having the avalanche kit, if I wanted to go on a long hike for the first time what would I need to do to prepare physically?
Some longish jogs and some leg-based strength work will allow you to cope with long hikes and help you better deal with all the lactic acid that builds up during a hard day of freeriding.

How scared do you get when you're about to drop in on a big face?
There has to be a balance between fear and focus. You need the fear because being scared makes you aware of everything around you and better able to cope with sketchy situations.

For more interviews with athletes at the top of their game, subscribe to MF - we'll give you five issues for £5.
Download a digital version of the latest issue from iTunes.
For more on the Freeride World Tour, check out their site.
Sign up for workout ideas, training advice, reviews of the latest gear and more.
Nick Hutchings worked for Men's Fitness UK, which predated, and then shared a website with, Coach. Nick worked as digital editor from 2008 to 2011, head of content until 2014, and finally editor-in-chief until 2015.