MF meets Alex Reid
MF caught up with Alex Reid ahead of his fight with Sam Boo at BAMMA 11 this Saturday to find out why getting punched in the face is like rehab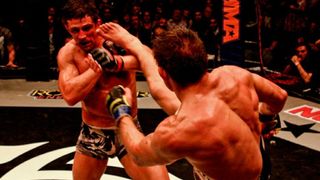 (Image credit: Unknown)
You've been involved with UK MMA from the start. What was it like in the early years?
I turned professional in 1998, so I've been doing it since before anyone in Britain knew what MMA was. It was a bit like the Wild West back then, and the rules would vary from event to event. I was a kickboxer who didn't know anything about ground fighting, but I was keen, fit and full of the arrogance and ignorance of youth. Being an ex-paratrooper, I had that 'go get 'em' mentality. When I first started fighting there were lots of tournaments, which was a real challenge, because you'd have to beat four people in a day to win one, and no-one knew who anyone else was or what they could do. I got my nickname 'The Reidernator' after a tournament in 2000. I was getting bashed up by every guy I fought, but I kept battling through and winning. People were saying 'he's like a robot, a terminator', and my coach said 'no, he's like a Reidernator!' It was cheesy, but it stuck.

You nearly made it on to season nine of The Ultimate Fighter, losing a split decision to Dean Amasinger in the elimination round. How different do you think your life and career might have been if you'd fought for the UFC?
My career could have played out so differently. I was in the prime of my career a few years before season nine, and I was originally supposed to star in season four. But I suffered a really vicious cut during my fight with Daijiro Matsui and UFC president Dana White said that the Nevada State Athletic Commission wouldn't clear me to take part. I got selected to compete in season seven, but Elite XC – the company who owned Cage Rage, where I was the biggest-selling fighter at the time – refused to let me go because they were at war with the UFC. To be in the running for season nine, I had to lie to the UFC and tell them that I could make the weight limit for welterweight, which I'd never done before. I managed to make it, but I just didn't have anything left in me on the day of the fight. It was regrettable, but I had to try and take that chance.
Do you find training more difficult now you're in your late 30s?
Yeah, training is a lot harder now that I'm older. I've got to train a lot more sensibly, especially when I'm fighting guys who are a lot younger and fitter than I am. My next opponent, Sam Boo, is a young man who's only been fighting for a couple of years, but he's keen and hungry and that counts for so much. When you're young you just go hard all the time with sparring, weight training, everything. But these days I'm far more experienced – I don't push my body that hard all the time.

Do you do anything unusual to help you prepare for a fight?
I use hypnosis for sports improvement. It makes me feel calmer, more relaxed and focused. It allows me to perform techniques to my optimum ability. I also use visualisation – going through the fight in my mind, working through problems, being brilliant and enforcing all those positive thoughts. I'd say fighting is more mental than physical at the highest level. It can come down to who's feeling right on the day and what you believe. Of course you have to train hard too, but I have my best days in the gym when I'm mentally prepared. It makes me feel more confident, and confidence is everything.
Between 2005 and 2007 you lost six straight fights, having gone 8-2-1 before that. What went wrong?
I had some bad luck and a few fights where weird stuff happened. I got poked in both eyes during my fight with Xavier Foupa-Pokam, I split my shin open to the bone during my fight with Murilo Rua – you could see it flapping open and the white underneath – and I lost a split decision to Jason Tan when I wasn't even supposed to be fighting. I was actually sitting cage-side wearing a nice smart suit with my buddies having already drunk two bottles of champagne, when the promoter asked if I'd fight because someone else had pulled out last minute. With the champagne talking I said yes, but half an hour later I was sobering up thinking, 'what the hell am I doing?' Despite all that, looking back I still think I could have won it, and Tan got a UFC contract afterwards. It was the most ridiculous thing I've ever done and not professional at all, but in a weird way it's a great memory.

After missing out on the chance to fight in the UFC, you began receiving a lot of media attention because of your personal life. How did that affect your fighting career?
It meant that the door on my athletic career closed a little and my life took a slightly different path. I'd always wanted to be celebrated for having accomplished something as an athlete, but then I became a laughing stock and a discredit to my sport. I chose to go along with it, and I don't blame anyone else for it, but there were things that happened to me in that relationship that I wasn't ready for – I didn't know how to deal with the media or what was going to hit me.
Against all the odds you came back to put on a thrilling performance in an epic five-round fight with Tom Watson at BAMMA 4 in 2010. Did that help to silence your critics?
That fight was one of my proudest achievements and I'll take it with me till the day I die. Having mucked up my UFC opportunity and with all the negative media coverage surrounding me, I felt like it was a great chance to prove something. Despite the fact that I'd been in the sport from the beginning and at one point I'd been ranked the second best middleweight in Britain, people were ridiculing me and accusing me of being 'a fake fighter' and 'not a real athlete'. Tom Watson was the man at the time, and people didn't think I was a credible opponent for him. There was a bit of bad blood between us – we were supposed to fight on a number of previous occasions and it had never happened – and I was booed by all his fans on my way to the cage, but after the fight they were cheering me and there was mutual respect on both sides. It was like the ending of Rocky IV. It was also the biggest fight in the history of UK MMA.

You announced your retirement after beating Jason Barrett last year. What made you change your mind?
Despite everything that goes on with the 'celebrity circus' that I'm in, first and foremost I'm an athlete and a martial artist. I'm famous for being famous, and that's never what I wanted. The negative media attention has made me feel like I'm someone I'm not, and I think I'm a very misconstrued person. I've tried my hand at a few things, but in my core, I know I'm a fighter. It's something I love and it allows me to make a few pennies doing something that's pure and honest. In a way, training for a fight is quite a relief. It's stressful, but it's something I know. Getting punched in the face and picked up and slammed is a good distraction from all the craziness. It feels a bit like rehab.
If you were given the chance to trade being a celebrity – with all the money and fame it brings – for a run in the UFC during the prime of your career, would you take it?
[long pause] Yeah, I probably would, you know. I'm getting a bit older now, and I think fighting's more rewarding. It doesn't necessarily guarantee that you'll make a living, but nothing does. That said, I've got other opportunities at my disposal now that aren't as hard on my body. I always fight with disregard for my body when I compete and it takes its toll. Right now my knee hurts, my shoulder hurts, I've got numbness in my finger, I've got a sore eye, a sore nose, my back hurts. I'm just about to have a fight, so it's to be expected, but I don't know how much longer my body can keep doing it.

BAMMA 11 takes place at Birmingham NIA on 1st December and will be televised live on Channel 5 at 11pm.

Lonsdale is the official equipment partner of BAMMA

For more quality interviews, subscribe to MF - we'll give you five issues for £5.
Download a digital version of the latest issue from iTunes.
Sign up for workout ideas, training advice, reviews of the latest gear and more.
Coach is a health and fitness title. This byline is used for posting sponsored content, book extracts and the like. It is also used as a placeholder for articles published a long time ago when the original author is unclear. You can find out more about this publication and find the contact details of the editorial team on the About Us page.