MF meets Jeremy Jones
MF talked to one of backcountry's best snowboarders about his new film and some of the hairiest missions he's been on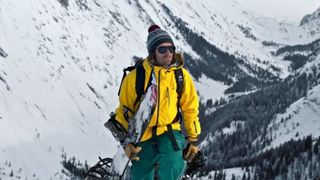 (Image credit: Unknown)
What type of snowboarding do you do and how did you get into it in the first place?
I do a lot of backcountry snowboarding because I love to go places that no-one has ever snowboarded before, with perfect snow and amazing scenery. I was fortunate enough to start snowboarding before it was allowed in resorts, so even from the beginning it was all about finding that ultimate hill to hike up. That search for the perfect run, the perfect day on the perfect mountain has been my primary motivation for 25 years.

Your new film Further (the second snowboard film in a planned trilogy) has just been released. What was your personal highlight from the shoot?
Further consists of four separate trips and after every one I left a changed person: I was high and content. Each trip required us to stay in the wilderness for four weeks at a time, and it's those experiences, plus the amazing snowboard runs we experienced at each location, that made every trip special.

What's your preferred method of accessing backcountry terrain?
Over the past four years I've focused on mountains that you can only get to by hiking. This means there are no restrictions on where I can and can't snowboard. Before I started hiking I began to worry that I was running out of fresh areas to ride, but there's endless amounts of terrain only accessible by foot. Going away from society for long periods, immersing myself in the environment and getting to know the mountain I'm about to ride by camping in front of it, hiking up it and then finally getting to ride it is a ton of work, but it gives you the ultimate high.
During the Austrian section of Further you were camping in temperatures as low as -26˚C. What was that like and did it affect your snowboarding performance?
That was the coldest I've ever been in the mountains. On other trips where it's got that cold during the night it's always got warmer during the day, but that time it didn't warm up in the slightest and it really affected us. We ended up having to change our plans and go stay in a hut – I don't think I've ever been so happy to stay in a cold, rickety mountain hut as I was then!

Have you ever been caught in an avalanche?
I haven't been involved in any serious avalanche accidents, but I have been unfortunate enough to witness some first-hand and it's those experiences that remind me of the importance of avalanche safety-training. If something like that does happen you want to know how to deal with it because you may be the one who saves your friend's life. Humility in the mountains is much more important than confidence.
So, it's important that anyone thinking of trying backcountry snowboarding should be aware of how dangerous it can be?
Yeah, totally. I'm a professional, I've made thousands of really good calls in the mountains, but each time I go back into the mountains, none of that means a thing.

How do you keep your fitness levels up when you aren't snowboarding?
About 80% of my fitness comes from activities I like to do such as rock climbing, mountain-biking, surfing and stand-up paddleboarding - all things I don't really think of as exercise. However, the other 20% comes from various exercises I do to maintain core flexibility.

What plans have you got for the future and have you started shooting on the last part of your trilogy?
We're in pre-production on the next film, which will take a couple of months, and then we should start filming in spring next year. Right now though, my mind is stuck on just going snowboarding for pleasure and working out my thoughts for the future from there.
Watch the trailer for Jones's film Further presented by O'Neill, here.

For more exclusive interviews with athletes at the top of their game, subscribe to MF - we'll give you five issues for £5.
Download a digital version of the latest issue from iTunes.
Sign up for workout ideas, training advice, reviews of the latest gear and more.
Max was the head of digital content for Men's Fitness which worked alongside Coach between 2015 and 2019.