Chris Boardman interview
Cycling legend Chris Boardman tells MF about his new bike range and shares his tips on how to improve cycling performance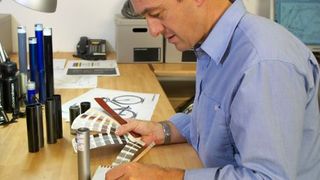 (Image credit: unknown)
You've put your name to Boardman Bikes, but how much input do you actually have?
I got asked several times in the 1990s and early 2000s if I wanted to get involved with bike brands, but it was always just putting my name to them, which wasn't particularly appealing. Then a guy called Alan Ingarfield [co-founder of Boardman Bikes] contacted me and we started talking about making bikes – what we could do differently and what we could do better. I just love the process of making things, probably because of my background as a carpenter. For example, for the new range we're releasing I've literally been at home filing bits and pieces and working on prototypes to make sure everything is perfect before it goes to the factory.

Do you come up with initial concepts for the range, or do Halfords approach you to fill certain areas of the market?
Those decisions have to be led by the retailers. For example, the Cycle To Work scheme is massive with a huge impact on getting more people riding bikes; a survey found 60% of new bike owners say they wouldn't have even bought a bike if it weren't for the scheme. So the new range was a case of hitting the lower price point to allow Boardman Bikes to qualify [there is a £500 limit when buying a bike through the scheme]. If we can't make a bike that has the quality to be worthy of our range then we won't. Quality is important to us and we would never compromise that. The challenge was to reduce the cost while still delivering on quality and I wouldn't be sitting here now if I didn't feel we had achieved that. The three bikes [a road bike, mountain bike and hybrid] in our new range are all sub-£500 so they're ideal for people using the Cycle To Work scheme.

What are your top three tips for buying and maintaining a new bike?
First make sure you get the right bike for what you're going to be doing. Think about what you enjoy doing and what you may like to do if you take things further. Go to the shop with that in mind and make sure you get the right bike. For example, lots of people that are never going to go off-road ride mountain bikes. They would have a lot more fun on a hybrid or road bike because they wouldn't be lugging round the extra weight that comes from components they don't actually need. Next understand your bike. Go on a course to understand how to maintain your bike yourself. That way, even if you have to take it to a shop to be looked at you can find out what's wrong with it, how to fix or prevent it and can then do it yourself next time. For example, understand how to maintain your gears properly and keep your bike quiet and smooth to ride as this will save you from going to a shop and paying someone just to turn a few screws. The third one is to ride regularly. Make cycling part of your everyday life and you'll soon understand how your bike works, what you like and don't like about it, and what needs maintaining most and how often.

One-day sportives are popular among amateur riders – do you have any tips for this kind of event?
Preparation is key to enjoying the experience – get the miles in beforehand. If you enter an event that's 150km and you've only ever ridden 50 in one go before, it's not going to be any fun. It'll just become something you have to endure. Get out and train for the distance at least a couple of months before the event. Food is also important and makes a big difference to how you feel. Eating regularly, little and often throughout the day will ensure you have enough energy to complete the ride. Make sure you do this in training too so you have experience of eating while riding. Lastly, we live in Britain, so take clothing for the day, not the date. People go out in June wearing shorts and a T-shirt hoping it won't rain. Check the weather forecast and dress accordingly or you'll just make things much harder for yourself. It shouldn't matter what the weather is, if you have the correct clothing you'll enjoy the experience.

What things can be upgraded on a bike that don't cost too much but will have a tangible effect on performance?
When manufacturing bikes for a mass market the tyres have to be generic because we don't know what they will be used for. So new tyres can always improve performance when properly matched to the type of riding you'll be doing and the surfaces you'll encounter. For example, replacing the heavy all-round tyres with lighter ones makes riding on roads noticeably easier and quicker. Saddles are very personal and depend on the person's stance, weight distribution and bum shape. Finding one that's right for you makes a huge difference over long rides. Slime inner tubes are amazing. I always use them because where I ride there are a lot of hawthorns, but they should be a part of every cyclist's set-up. If you get a puncture slime fills the hole automatically, meaning the worst-case scenario is having to pump up the tyre again. It may not directly improve performance but can save a lot of time and frustration.

Aside from normal training what things can people do to improve their cycling performance?
Anything not directly related to bike-based training comes down to common sense. For example, when it comes to your diet, just stop eating when you're not hungry. A lot of the time, we eat for entertainment – cut that out and only eat how much you need to eat, when you need to eat and you'll quickly feel the difference. Having said that, diet is definitely important, I think the main thing to do is just ride as much as possible because the best way to improve performance is to be fit, healthy and to love riding.

The Boardman Performance Series is available exclusively from Halfords, order yours here.
For more from top sportsmen, subscribe to MF - we'll give you five issues for £5.
Download a digital version of the latest issue from iTunes.

Be the first to see our brand new interactive iPad magazine! Click here to stay informed.
Sign up for workout ideas, training advice, reviews of the latest gear and more.
Max was the head of digital content for Men's Fitness which worked alongside Coach between 2015 and 2019.