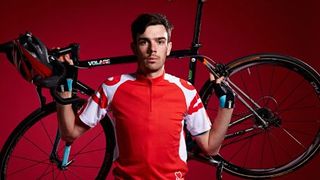 (Image credit: unknown)
Team GB star Andy Tennant won a gold medal in the Team Pursuit at the Track Cycling World Championships in 2012. Here he talks to MF about his training and nutrition.
What does your training regime look like?
It depends on the time of year, as I go through different phases or blocks. I've spent the last six weeks doing a strength block, based around bike-specific gym work. Now I'm moving on to a track block, training on the bike.
What do you do in the gym during the strength block?
I use a custom-built bit of kit that's similar to a Watt bike, with one massive gear, which is bigger than you'd ever find on a road bike. The idea is to sprint on it from a standing start, so it's very sport-specific. In terms of general gym stuff, I do a lot of core stability work and legs work, but I'm not trying to put bulk on, so I don't lift massive weights.
What part of training do you find the toughest?
Any sort of standing effort on the bike, where you sprint straight from the start, as opposed to having a rolling start. Those are definitely the most grueling, because they require a massive amount of power to get you off the line and up to speed.
What's the most important aspect of your nutrition?
Refuelling after a ride. It's important to top up your carb intake with high GI foods. I try and stick to clean foods like rice, but I do have the odd chocolate bar too. And quite a lot of sweets!
How about before a ride?
Caffeine gives you a boost. I'm actually addicted to coffee, and I'm a proper geek – I own a £6,000 coffee machine! I can live without alcohol, but I couldn't live without coffee.
Andy Tennant is the British Heart Foundation's Cycling Champion and is encouraging cyclists across the UK to get on their bikes and pedal for pounds for the fight against heart disease. The BHF has over 30 cycling events at home and overseas, including the iconic London to Brighton Bike Ride which opens for registration on 18th January 2014. Visit bhf.org.uk for more information.
Sign up for workout ideas, training advice, reviews of the latest gear and more.