Two Open-Water Swimmers On Swimming The Amazon And The Thames
Coach spoke to the mermen who have swum some of the great stretches of open water – Martin Strel and Lewis Pugh – to find out more about their experiences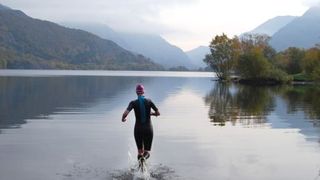 (Image credit: Unknown)
In This Series
Interviews with Open-Water Swimmers

It's often cold and deep and there's no side to cling to – but ditching the pool for the call of the wild is well worth the effort. Swimming in the great outdoors has grown in popularity in recent years, in no small part due to the increased infrastructure. So Coach spoke to the mermen who have swam some of the great stretches of open water – Martin Strel and Lewis Pugh – to ask them about their experiences.
Open-Water Swimmer Martin Strel
Martin "The Big River Man" Strel, 61, has swum them all – including the Danube, the Mississippi and the Amazon. He explains how.
When did you realise you had a skill for swimming long distances?
I was born in a small town in Slovenia where we didn't watch TV and there was no radio, just nature. So you had 40 or 50 kids together every day. There were rivers which we fished in and swam in. We had competitions and I would beat all the other kids. We became strong swimmers and would regularly swim under water for almost two minutes. It was nothing for us.
What's the hardest river you've swum?
The most dangerous river on the planet, the Amazon. All rivers are unpredictable, but the Amazon is the Amazon. You have to have a very good team behind you for a swim like that.
How did you prepare?
You have to be almost like a scientist before you jump into the water, there are so many animals to learn about. I knew everything about all of them… apart from stingrays. My son was bitten by a stingray when we were in the middle of the jungle, but we were lucky, he survived.
Did you encounter any other beasts?
I touched a crocodile by accident. Can you imagine what that feels like? And he didn't even bite me. Crocs are aggressive but if you understand their routine, you should be OK. They only look for food in the morning and overnight.
How do you endure such a long swim?
I swam for 66 days straight – before the start, you have to be very mentally strong, you have to be in the water every day. If you're sick or you're tired, it doesn't matter – you have to swim. There were problems in my boat. People got terribly sick with malaria and I had stomach problems. There was a parasite in my body but I never stopped swimming. I can swim with one hand, one leg.
Do you have any advice for people swimming enormous distances?
You have to be physically ready, you have to be confident and you have to be prepared for different temperatures. Swim 6km every morning, and train 100% every day, not 60, 70, 80%. If you get sick or tired, don't complain, do it. Every day it gets a bit easier. That's life.
It sounds tiring.
It is. But why is Mercedes such a good car? Because they care about every single element in it. What's the difference between Michael Phelps and the swimmer who comes second? They eat the same food, train the same, swim in the same water. But he's better mentally.
What is your World Swim all about?
We're trying to organise a swim around the planet to raise ecological awareness. We want to show how important this planet is and how polluted it is. We have more money, but less and less drinking water. I want to drink tap water all over the planet, which is impossible today. My World Swim is to raise awareness. I swim for peace, friendship and clean water.
Can you drink from any of the rivers you've swum?
You can drink the Danube, it's better than tap water.
The Martin Strel–established Strel Swimming Adventures offers open-water swimming holidays in the Mediterranean
Interview by Josh Burt
Swim the Channel in Your Local Pool
As part of the eternal battle against diabetes, Swim22 is encouraging people to raise money for Diabetes UK by swimming 22 miles (35.4km), the equivalent of a cross-Channel swim. It's not necessary to do it all in one go, or even alone – teams, clubs and schools can join in. And it's certainly not a requirement to grease up and get in the world's busiest shipping lane to do it: you can rack up the lengths at your local pool. Even learner swimmers can participate by doing a width at a time. As long as you accumulate a total of 22 miles between 22nd February and 22nd May 2016, you're good to go. diabetes.org.uk/swim22
Open-Water Swimmer Lewis Pugh
In 2006 ocean advocate Lewis Pugh, who's been called "the Edmund Hillary of swimming", decided it was time someone swam the length of London's most beautiful feature.
What led you to consider swimming the Thames?
I wanted to highlight the impact that climate change was having on the UK. Climate change is not just something that is happening in the Arctic and the Himalayas. In 2006, the UK had its worst drought ever – so much so that the Thames stopped flowing in the summer. I had to run the first 42km of the river, as there was no water in it.
Did you make the kind of splash you were hoping for?
Yes, it received huge media attention. So much so that Tony Blair, who was still the Prime Minister then, asked to meet me when I swam through London. We discussed what I was seeing, in terms of climate change, in the Arctic and Antarctic. Shortly afterwards, Blair introduced the Climate Change Bill to Parliament and appointed the first climate change minister in the UK. I was not the only person calling for these changes, but I hope the pictures of me swimming down a dried-out river in the middle of England contributed to the discussions.
What part of the swim was the most difficult?
It's a long river. It's 202 miles [325km] from its source in Gloucestershire to the North Sea. As the river had stopped flowing, it was a long slog! It took me 21 days to complete. I had to swim the equivalent of half the English Channel every day.
What obstacles did you face on the busiest part of the Thames?
The Port of London Authority wanted to stop the swim. They even threatened to arrest me. They said swimming through London was too dangerous and I might get sucked under due to "dangerous currents". Given where I have swum in the world, I didn't think this was their strongest argument. So I just cracked on and swam to the North Sea. After an anti-elitist campaigner [Trenton Oldfield] dived in front of the Oxford-Cambridge Boat Race in 2012, the Port of London enacted a law that prohibits swimming in the Thames from Putney to Gravesend. So I will unfortunately be the only person to swim the full length of the Thames. It's sad, because it's a great swim.
How did it feel to reach the end of your mission?
Physically, I was exhausted. Mentally as well. It was the certainly one of the toughest swims of my life up at that point.
Lewis Pugh is the United Nations Patron of the Oceans. He's currently preparing to undertake a series of swims in Antarctica. lewispugh.com
Interview by Stuart Messham
Sign up for workout ideas, training advice, reviews of the latest gear and more.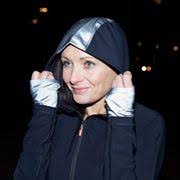 Charlotte Thomas is a freelance journalist and health and fitness blogger at Lunges & Lycra.