Freerunning lessons from the world's best
We interview freerunners and stars of new documentary From Here to There, Cory DeMeyers and Jesse La Flair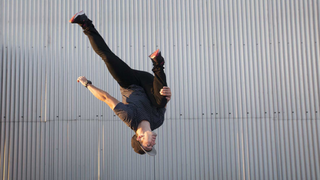 (Image credit: unknown)
Champion freerunners and best friends Cory DeMeyers and Jesse La Flair star in From Here to There, a documentary about the world's best parkour and freerunning athletes. Following them throughout their 2013 world tour, the film documents their journey to become the world's best freerunners, and also features interviews and appearances from other top athletes.
Was the 2013 Red Bull Art of Motion your first freerunning competition?
Cory DeMeyers: Actually it was my 4th time competing in the Art of Motion. I had previously competed in Boston 2010, Switzerland 2012 and also at Santorini in 2012.
Jesse La Flair: That wasn't my first freerunning competition. In the past I mostly stuck to speed competitions and placed in almost all of them.
How did you guys get involved?
CD: Until 2012 the only way to enter the competition was by a private invitation from Red Bull, but in 2012 and 2013 they opened a local qualifier for a few additional positions. The top eight every year were invited back and since I missed that by one position in 2012 I had to do the local qualifier. Thankfully I did because I not only qualified, I also won the qualifier taking first place 3 days before the main event.
JF: After winning a freerunning competition with Cory in Seattle, we both got invited to the largest freerunner competition held in Sweden called the Air Wipp Challenge. There were over 5,000 spectators and a course built on a castle in the middle of Helsingborg. I ended up winning 3rd place and that qualified me for a guaranteed spot at the Red Bull AOM.
How did you get involved in parkour and freerunning?
CD: I always wanted to be a Pro Action Sports Athlete, and with my Martial Arts background I was very acrobatically inclined. I saw a video on YouTube of a guy, running, jumping, climbing and flipping off things! After a little more research I found out he was freerunning and that there were competitions and a handful of pro athletes. I thought I might just have a shot at going pro, so I literally did everything I could think of to get there and never looked back.
JF: Growing up I had a passion for action sports and movement and while in college I stumbled upon a few kids who introduced me to freerunning. From that day on I've continued to train. Everything I learned was self-taught, I came from a background of Motocross, BMX, skateboarding, surfing and snowboarding. In each sport I would just explore movement and techniques until I got better just as I did with freerunning.
What's the hardest course you've done, and why?
CD: Each course is challenging because its architecture may not compliment your style well, therefore you have to find the right parts of it to showcase your best abilities. But if I were to say which one is the most nerve-racking then it would be the Air Wipp Challenge in Sweden. There are 5,000 spectators every year and they're all standing at the bottom of the course staring at you so that adds an element of pressure.
JF: For me, Red Bull's AOM in Santorini Greece is still one of the craziest courses I have competed on. Outside of the fact that everything is solid, the surfaces and ledges often switch back and forth from round to flat and everything is painted white. When you're flipping and spinning through the air it can be difficult to differentiate between the ground, sky or walls.
How should we go about doing some basic freerunning moves?
CD: Like anything else, repetition is key, the more you practice the more natural the movements will feel to you, so do them until they don't feel awkward anymore, but I think this is an awesome question for Jesse. He's the tutorial king on YouTube with over 240,000+ Subscribers, so I'll let him handle this.
JF: If you're interested in getting started in parkour or freerunning head over to my YouTube channel. When I teach, my biggest focus is starting from the easiest point and working your body and mind into understanding and doing the move. Even the smallest of steps can equal the biggest of strides.
How can someone incorporate freerunning techniques into their gym routine?
CD: If were talking about gym routines, box jumps and modified box jumps that are working on explosiveness as well as landing can be a great supplement, if you focus on technique as well then believe it or not you are doing freerunning. If you can climb up on a wall or have access to a small wall in your gym, these will greatly improve your upper body strength as well as make you much faster the next time you 'need' to climb a fence.
JF: I'm a huge fan of CrossFit and mixing more creative movement into my gym routine. Learning any freerunning fundamentals and giving yourself the respect to take some time to understand how and why something works will give you better control of everything you do. You should also try getting out of the gym and challenging yourself in a new environment.
Pro Tip: Boost your balance
Cory DeMeyers says, 'One workout I love for improving balance is to focus on all the proprioceptive muscles or stabilizer muscles in the legs.'
– Start with feet shoulder-width apart and stand tall on the balls of your feet.
– Squat down as slowly as you can until you're in a seated position with your heels not touching the ground but still on the balls of your feet.
– Hold for 10 seconds and then return to the standing position with your heels still off the floor.
DeMeyers does three sets of 10. Do as many as you can with perfect form and slowly build your reps up. For an additional challenge return to the standing position as slowly as you lowered to the seated position.
Sign up for workout ideas, training advice, reviews of the latest gear and more.
Khaliha Hawkins worked as an intern for Men's Fitness UK in the summer of 2015, while studying for a bachelor's degree in journalism from Klein College of Media and Communication at Temple University. Khaliha went on to work at Glamour magazine in New York.