James DeGale shows you how to throw a punch
The British super middleweight boxing champ breaks down the art of punching.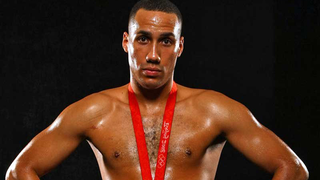 (Image credit: Unknown)
Check out the above video of DeGale explaing how to throw jabs and hooks. Below he explains how to get a good workout out of the heavy bag.

Warm up properly
'Throwing a proper punch is all about your hips, so I'll warm up by holding a pole across my shoulders and twisting to really loosen them up. That'll let you throw punches faster and get more power into them.'

Keep your hands up
'Dropping your hands after every combination is the easiest way to look like a total beginner. Keep your hands up and your chin tucked in to one shoulder, and get your guard back in place quick after a shot. Your arms will burn at first, but you have to protect yourself.'

Twist your wrist
'Just before you land any punch you should turn your wrist, so your four knuckles hit the bag. This'll keep your arm straight, which gives you a harder punch and makes it less likely that you'll injure your wrist with bad technique.'

Start simple
'Work on single punches at first. Try to throw a nice jab, a nice single right hand, a nice hook. Once you've got those down, then you can start working on simple combinations – a nice one-two, or maybe a jab and a left hook. There's no point flailing away with bad technique.'

Technique, then power
'A proper heavy bag shouldn't move that much, so it's great for working on your power. Try a solid body shot – drop your shoulder into it and twist on your front foot, really digging it in. Keep your back hand up.'

Don't just punch
'One of the reasons I like the heavy bag is that you can lean on it, give it a dig with your shoulder and throw shots at it from close range, just like you might end up doing in a real fight. Don't just restrict yourself to punching.'
Now have a butchers at this video fo DeGale taking on UFC fighter Paul Taylor in our fitness face-off.
Sign up for workout ideas, training advice, reviews of the latest gear and more.
Former editor of Men's Fitness UK
Joe Warner is a highly experienced journalist and editor who began working in fitness media in 2008. He has featured on the cover of Men's Fitness UK twice and has co-authored Amazon best-sellers including 12-Week Body Plan. He was the editor of Men's Fitness UK magazine between 2016 and 2019, when that title shared a website with Coach.