MF tries downhill mountain biking
MF's Max Anderton went to the French Alps to ride at one of Europe's biggest mountain biking events - Passportes Du Soleil.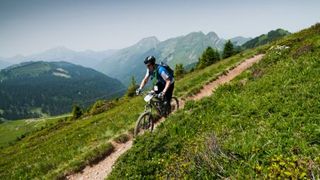 (Image credit: Unknown)
As a downhill mountain biking novice it's fair to say MF's Max Anderton was more than a little apprehensive when arriving at the French mountain town of Morzine to take part in the annual Passporte Du Soleil event. Now in its ninth year, PDS is one of the largest public MTB events in Europe, attracting thousands of riders who come to challenge themselves on some of the most technical trails in Europe.

Mountain access is provided by 15 chairlifts that take riders and their bikes up to 2,500m above sea level, with some runs even crossing the Swiss border at points. For three days each summer the entire area is closed off specifically for downhill mountain biking, attracting some of the world's best riders... and Max.

Kitted out with a Voodoo Zobop bike and Boardman helmet from Halfords, a Garmin Edge 200 GPS and GoPro camera - Max was as ready as he would ever be. Starting with some gentle runs, the inclines and pace quickly started to increase, along with his confidence levels. Loose rocks, tight turns and narrow paths require total concentration and lightning relfexes to navigate safely, and it wasn't too long before he had his first tumble, gaining a nasty gash on his right arm in the process.

Realising serious injury was a very real possibiity Max became more cautious as the difficuly of the runs increased. Typically, he didn't manage to catch the crash on camera and watching the runs back doesn't get across just how how terrifying they were to ride. However, imagine that every turn could result in rolling down a mountain and you should be able to get some idea of the fear involved.


Watch the video and head down to the event next year to conquer Passportes Du Soleil 2013.

Max rode a Voodoo Zobop, for more info or to buy Halfords bikes visit www.halfords.co.uk (opens in new tab)

He stayed at Rude Chalets, for bookings or more info please visit www.rudechalets.com (opens in new tab)

For more action-packed stories, subscribe to the magazine (opens in new tab). You can download a digital issue here (opens in new tab).
Sign up for workout ideas, training advice, reviews of the latest gear and more.
Max was the head of digital content for Men's Fitness which worked alongside Coach between 2015 and 2019.