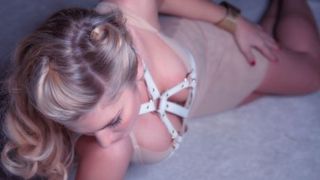 (Image credit: Unknown)
Your question
'I love the idea of exchanging X-rated snaps with my girlfriend and perhaps even involving a camera when we're together. I'm not a professional photographer, though, and I'm definitely not a model. How can we ensure our intimate images are sexy and flattering, not cringey?'
Flynn, via email
Sending and receiving saucy selfies can be a big turn-on. But you must consider the composition of your shots. One guy sent my friend a picture of himself taken while standing up, the camera pointing down his otherwise faultless naked body at such an angle that it looked like his big toe was growing out of his ballsack. Endearingly hilarious, but not so horny.
Equally, taking explicit photos of your partner or both of you together can be hot. But if they're unflattering, they can wallop your self-esteem and leave you worrying whether you always look so strange in the bedroom.
Here are a handful of hints to help your love life look lush through a lens, with advice from some expert friends.
• Andy, founder of Ruffled Sheets sex blog and writer for Erotica, says, 'First, check what's in the background of your photo. Tidy the room, remove anything distracting and shut out pets!'
• Good lighting = good looking. Photographer Anna Sampson, head of visuals at lingerie firm Playful Promises, says, 'Dim, moody lighting may feel sultry, but if you're using a basic camera or phone you may struggle to get a good picture. Experiment with lamps, ensuring light falls from above rather than shining from below.' Move lights around to play with shadows until you find what looks best.
• We often associate naughtiness with nighttime, but don't discount daylight from your private portraits. 'Posing by windows with billowing curtains can look stunningly sensual,' says Sampson.
• 'Avoid using the flash if possible,' says Sampson. 'It has a habit of making nudes look like the recently deceased.'
• Throw a cotton shirt or sheer scarf over a lamp so it shines less harshly. Be careful just to set desire aflame, though, and not your house.
• Using a decent digital camera? Let pro Marcus Tucker be your guide. 'Slightly increase the exposure setting to lighten your pictures, which should improve skin tone and reduce wrinkles. Also tweak the white balance towards yellow/orange to give an attractive warm glow.' Don't overdo it, though: you want a little oomph, not full-on Oompa-Loompa.
• If, on the other hand, you're having trouble balancing hues, 'try shooting in black and white or converting colour photos to monochrome for a classy solution', says Andy.
• 'When it comes to posing, holding natural-looking smiles and positions for more than a few seconds is tough,' says Tucker. 'Take three shots in quick succession and pick the best one rather than stringing things out.'
• Delete dodgy shots immediately. Don't get down by dwelling on them. Likewise, if you've taken a snap of your girlfriend she dislikes – even if you love it – bin it.
• Photographer Emma Bailey recommends checking out creative porn Tumblrs such as LetMeDoThis.com for inspiration on locations, themes and body positions.
• Popping an automatic filter on a photo can be an easy way to improve it. You can use apps such as Instagram to alter images without publishing them – but proceed with extreme caution!
• Only share shots with people you trust, so pay attention to basic digital security. If you're worried, consider taking Polaroids instead. A classic instant camera would make a perfect kinky gift for a dirty weekend.
Sign up for workout ideas, training advice, reviews of the latest gear and more.
Chirpier than a gargantuan aviary and saucier than an HP factory, Alix Fox was the resident expert on sex and relationships for Men's Fitness UK, which predated, and then shared a website with, Coach. She has also been seen on the BBC, Channel 4, E4, ITV and The Discovery Channel. Alix has also written for Bizarre magazine, Time Out and The Telegraph.