First Dates' Fred Sirieix Tells Us How He Stays Sexy
First Dates' maître d' and all-round charmer Fred Sirieix on why being a lover and a fighter don't have to be mutually exclusive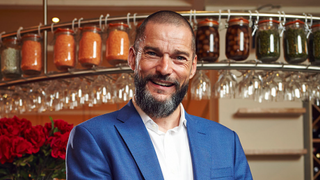 (Image credit: Unknown)
The voyeuristic appeal of watching two – possibly horribly mismatched – people on a date is only half the fun of First Dates. The suave maître d', Fred Sirieix, has become an unlikely hero of the Channel 4 show, thanks to his megawatt charm and unique proverbs about love. Example: "The first date is like a game of poker. Which card do you keep close to your chest, and which card do you put down on the table?" Indeed. We caught up with Fred to talk salads, sex and staying in shape.
Should you ever order salad on a date?
Yeah, if you like a salad, have a salad, and if you like a steak, have a steak. It depends what you want to have, right? Look, romance is all in the head at the end of the day, so if you feel like oysters and you think it's romantic, have them – it all depends on you and how you feel on the date; how it's going, what you're sharing and what the connection's like.
Are you a lover or a fighter?
Both. But I like to think I'm more of a lover. You've got to love to fight, and fight for what you love, you know? Also, I love boxing, I really love it – what a sport. It's got everything: it's about the physical fitness, but also your mental fitness – you've got to condition your mind and body to be in the ring. You can be very fit in your body, but if your mind is not conditioned and you don't believe in yourself enough, or you don't have courage and determination, then you go down. You really go down.
Fred Sirieix/Instagram
Which excuse for not exercising out are you most ashamed of?
I never have any excuses, because I'm the only one who knows if I'm not going, so I just do it. Every morning I wake up and do 306 press-ups, then I do some exercises with 10kg dumbbells, and that takes me about 25 minutes. That's just before I have my coffee and breakfast, and then I cycle to work. Then, if I have time in the afternoon, I'll do half an hour of boxing, then I'll cycle back home. My training has changed now – it's more in small doses, but throughout the day, so it suits my lifestyle and my working day much more than before.
Have you ever had a mishap on a yoga mat?
No, ha! I've never done any yoga – I think I should though, because I'm not flexible enough and I think it would help because a lot of the exercise I do is more towards strength, or involves running or boxing. I don't stretch because I find it boring – that's very bad, and I should do it. But yoga is very very hard, it's tough.
Have you ever secretly impressed yourself with a feat of strength?
You've got to pat yourself on the back. So whenever I do something that I think is good I just pat myself on the back. There isn't a single day where I want to do my morning press-ups – I never want to do them. But I always kick myself out of bed and within five minutes of waking up, I'm on the floor pushing up, and every time I think, "Yeah, that's good Fred, you've done it" every morning.
Fred Sirieix/Deliveroo/Instagram
What's the most extreme thing you've done in the name of good health or fitness?
I ran the ultramarathon between Glasgow and Edinburgh when I was 40 just because I wanted to show that I could do it. It was 42 miles [67.6km], which was extreme but it was OK because you just pace yourself, you prepare for months and you just do it. It was OK really.
Have you ever bought a piece of exercise equipment but never used it?
No. I use everything I buy, but mainly, I think that your body is the best piece of equipment. I don't need tools for exercising – it's just me and my press-ups and running. You can do whatever – you can shadow box, you know? Your body is just amazing.
What's the longest you have gone without alcohol in the name of good health?
I don't know, a week? I don't do all this stuff like Dry January – I don't believe in it, I think it's just rubbish. People have these extreme ways of dieting and cutting down on things, but I think it's better to be balanced throughout the year than to employ drastic measures, like the 5:2 diet or whatever. I think it's about a balanced approach to your diet, for example, like eating butter, but not too much, and using more energy than you're actually putting in your body.
Fred Sirieix/Instagram
Do you ever lose control, calorie-wise, after a gym session?
No. You know what? I enjoy life and it's important for me to have fun, and eating is part of what I do, but I don't want to just pig out, I want to make sure that I have as much of a balanced lifestyle as I can. Exercise is a part of me because I'm a very energetic person and if I don't exercise, I just don't feel well. I need to get the energy out of my body, otherwise it stays inside and it makes me feel sick – I need to move, I need to do something.
Have you ever pulled a muscle in less than heroic circumstances?
While making love!… No, I'm quite healthy, never broke a bone, never seriously pulled a muscle. Although before Christmas I was at Winter Wonderland and I went in the haunted mansion. It was in the dark and some guy started tickling my neck, and I got frightened and tensed up – my neck was stiff for two days. I mean, what a plonker – I was screaming like a little girl.
The new series of First Dates starts on Friday 15th January on Channel 4
Sign up for workout ideas, training advice, reviews of the latest gear and more.
Coach is a health and fitness title. This byline is used for posting sponsored content, book extracts and the like. It is also used as a placeholder for articles published a long time ago when the original author is unclear. You can find out more about this publication and find the contact details of the editorial team on the About Us page.