How to stay fit at any age
Tailoring your training to your age is crucial if you want to be your best. MF provides the plan to suit your needs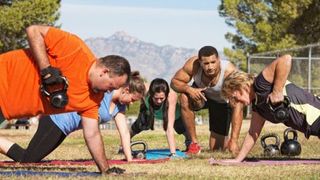 (Image credit: unknown)
20s: Your recovery will never be better, but that doesn,t mean you should push your luck
The problem
Bad lifestyle choices. At this age, you're much more likely to binge-drink, according to the Office of National Statistics' 2010 General Lifestyle Survey, which found that 16% of men in their early 20s consumed more than 12 units of alcohol in one sitting at least once a week – the highest of any age group. To make matters worse, you're also far more likely to eat junk food and far less likely to get a good night's sleep after an evening on the demon sauce.
The upside
Recovery. 'In your 20s your ability to recover is high, so to an extent you can get away with bad lifestyle choices,' says Chris Burgess, head personal trainer at the University of Bath. This capacity for recovery means your body can cope with frequent high-volume training, which gives you plenty of scope to counteract the effects of your social life in the gym.
The prescription
High-volume gym sessions. 'The benefit of doing higher-volume work is you'll burn more energy, which will help to offset some excess calorie intake,' says Burgess. 'I'd recommend doing three full-body workouts each week, with two muscle-building sessions and one energy-depletion session with higher reps.'
This will also help to strengthen your connective tissue and your joints. 'I've seen a lot of guys in their late 20s who've spent years lifting crazy weights develop over-pronated shoulders, rotator-cuff injuries and lower-back problems,' says Burgess. 'If you take the ego out of it and concentrate on intelligently using high-volume work, you can strengthen your body against these injuries and prime it for lifting heavier loads and fulfilling your strength potential in your 30s.'
30s: The strength decade. Training intelligently now will stand you in good stead for the coming years
The problem
Physical decline. A study at the University of Michigan found a gradual but inevitable decline begins to set in during your early 30s. 'You may start to lose your speed, your ability to recover, even your flexibility,' says Jack Lovett, strength coach at Spartan Performance (spartanperformance.co.uk). Luckily, there's one key training attribute working in your favour during this decade – strength.
The upside
The famous 'dad strength'. 'You'll be stronger in your 30s than you were in your 20s,' says Lovett, 'and although you'll have to reduce the volume of your workouts and rest more, with the right training you can make huge strength gains. If I were training someone in their 20s I might spend time working on speed or explosiveness, but with someone in their 30s I'd focus on maximum strength.'
The prescription
Maximum-strength workouts. 'For guys in their 30s I'd generally recommend three workouts a week, with two upper-body sessions and one lower-body one,' says Lovett. 'Focusing a whole session on your upper or lower body allows you to get a lot more out of it, as you're able to fit plenty of assistance work in. Plus for guys in their 30s it also helps with recovery, because you're not working your whole body three times a week.'
40s: The secret to staving off a mid-life crisis? Eat smart, for the sake of your hormones
The problem
Testosterone levels. As you get older, your body experiences a drop in testosterone – by about 1% each year, according to research by the Mayo Clinic – which has a significant impact on your body's ability to build muscle, not to mention your libido.
The upside
Money. By the time you reach your 40s, you're more likely to be earning a decent living and have some disposable income to play with. Put it to good use and attempt to counteract your flagging testosterone levels by treating yourself to some high-quality, testosterone-boosting food.
The prescription
Eating right. 'Certain nutrients can help to boost your testosterone levels,' says Aaron Deere, a functional medicine consultant at KX Gym London. 'Eating plenty of lean protein will help to ensure your body is in the right condition for testosterone production.
'Getting enough B vitamins and zinc is also important, while lots of fibre will help to regulate the sex hormone-binding globulin, which affects the amount of free testosterone available in the body.' Our 40s meal plan (right) contains plenty of testosterone-boosting foods to help you fight back against father time.
50s: This isn,t the age to quit on fitness – with smart training, you,ll outpace men half your age
The problem
Injuries. As you get older, the risk of getting hurt during training increases. 'Your shoulders, back and knees all become more prone to injury, and those injuries take longer to heal,' says Graeme Marsh, director of Foundry Studios. 'Regular breaks from heavy loading become essential to allow your joints to recover properly.'
The upside
Experience. By the time you reach your 50s you'll have up to three decades of training knowhow to help ensure you train smart. Plus your goals are likely to change. 'The clients I train who are in their 50s tend to have more general fitness goals,' says Marsh. 'Absolute strength tends to be less important than all-round fitness, and flexibility and movement are prioritised over size and strength.'
The prescription
Smart sessions. 'For most guys in their 50s it's only necessary to train twice a week,' says Marsh. 'I wouldn't recommend working with percentage lifts, as they require max testing, but I would work with gradually increasing weights and seek improvements where possible – just not all the time. Guys in their 50s can still progress and build muscle, it just becomes a slower process. I wouldn't recommend maximal work, working to failure or high-intensity training involving heavy eccentrics, forced reps or drop sets, because the risk of injury is too high to justify the potential benefits.'
Sign up for workout ideas, training advice, reviews of the latest gear and more.
Coach is a health and fitness title. This byline is used for posting sponsored content, book extracts and the like. It is also used as a placeholder for articles published a long time ago when the original author is unclear. You can find out more about this publication and find the contact details of the editorial team on the About Us page.