Gethin Jones Six-Week Swim Transformation
Can joining the Get Speed Fit training programme for six weeks really improve your body?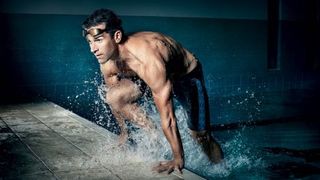 (Image credit: Unknown)
How ripped can you get in the swimming pool? TV presenter Gethin Jones undertook a bespoke six-week swim fitness training programme, written and instructed by Speedo instructor Dan Bullock, as part of the Get Speedo Fit campaign. By the end his VO2 Max had increased 13%, his body fat percentage had dropped 1% and his leg and arm strength had increased by 8%. We caught up with him to find out how he got on.
What made you do the challenge?
It just really appealed to me since it was something I haven't done for ages, you know I've swum as a boy, but I never thought of it as a fitness thing. I was happy to be the guinea pig, and as you've probably seen from the results it's been quite amazing.
Was the first session a shock to your system or did they deliberately start you off easy?
You know I wasn't in bad shape when I started and the guys at Speedo knew that too but there were still plenty of giggles on my first session, I'm not going to lie to you. I took a little while to find my feet. We spent two weeks working on techniques. I'd use the pull-bar and that would work on my arms, the paddles would help with my technique and the central snorkel would just align my body.
And how long was it before you felt you were starting to see the results?
I suppose it's when I found I could do the 1km sessions! At first they were a serious struggle to finish and then one day they suddenly weren't so bad.
What would a typical session look like?
We'd start with a 200m warm-up and then I'd do a 400m swim wearing hand paddles without kicking and then four 200m swims with fins [flippers], just kicking, to make sure I was working from the hips. Then another 400m with the paddles and another 400m swim with the central snorkel just to make sure the body was aligned. At the end we'd finish with a normal 1km swim to try and incorporate all of those techniques. That was pretty much it for the whole programme. It was became that bit easier and I was becoming more efficient in the water and covering a longer distance.
Sounds like you spent a lot of time in the water. Did any of your training happen away from the pool?
There were a few dry-land exercises – I was encouraged to do the plank – but that was really it.
Do you think you would have been able to get into such good shape if you did just a standard gym routine?
I'm going to be honest and say I don't really know. I didn't change my diet massively I definitely had a few drinks and I still ate whatever I ate. When I came back to do the VO2 max I was far more superior in terms of fitness than I was six weeks before without doing any kind of running.
Do you think that with more diet tweaks you could have taken it even further?
Yeah, totally, but with Speedo it wasn't like, "make sure you hit the next goal", it was more, "here's your nutritionist, please swim four or five times a week on Daniel's instruction". That's what I did. I'm not a massive drinker and I do try and eat well anyway... but, you know, there were a couple of pancakes along the way. What surprised me was I did nothing else, I didn't lift a weight in six weeks but I did put muscle mass on and I did decrease my body fat. What I'm surprised about is muscle because I'm 37 and to put muscle mass on without going to the gym is pretty cool.
See related
Now you're finished, how much have you kept up with the swimming?
It hasn't been the same because of work commitments but that's the whole point of it. I've been on average twice a week but it's hard to do that with live tapings of Dancing With The Stars [Jones presents Dancing With The Stars: All Access on US TV] every night. I'm actually going to do a QuadRac run in July because that's a long swim in open water, just to put my skills to test.
What are you most proud of?
Probably the muscle mass. A lot of guys will go to the gym and do their biceps for the summer and I feel like I've kind of done that in the swimming pool. I think you can really see that in the before and after pictures, it's quite obvious. Oh, and a tan helps as well – let's not lie.
For more information about the Speedo Swim Fitness range go to speedo.co.uk
Sign up for workout ideas, training advice, reviews of the latest gear and more.
Khaliha Hawkins worked as an intern for Men's Fitness UK in the summer of 2015, while studying for a bachelor's degree in journalism from Klein College of Media and Communication at Temple University. Khaliha went on to work at Glamour magazine in New York.