The Key to a Moustache This Good Could Be Mo-Yoga
If your Movember 'stache is lacking, then we've got the workout to help. Introducing…Moga (yes, really)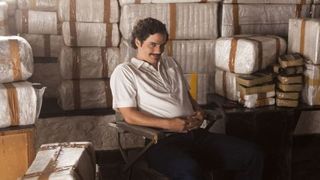 (Image credit: Unknown)
The beauty and terror of Movember, of course, is that everyone starts from scratch: if you're approaching things properly, there's no starting early, no trimming the beard into a 'stache – just a clean face on the first and commitment to growing one as badass as Narcos' very own Pablo Escobar. But if you're ten days in and in need of a growth spurt – like, now – then there's an unlikely solution at hand: Mo-ga, otherwise known as yoga for your mo. Stay with us, because there is some logic in our lunacy.
In fact, the logic is threefold: increasing testosterone production and blood flow to the follicles stimulates growth, while staying stress-free allows them to do their job better. Use this short, sharp workout – provided by the creators of workout craze Broga - to do all the above, and as a bonus you'll grow a set of shoulders to befit a man of your newfound 'stache stature.
Downward Dog
Get into a press-up position, then bring your hips into the air until your legs are straight and your hips are bent at 90°. Let your head hang down so that you're looking at your feet. Hold the position for five breaths, rest and repeat once.
Forearm Plank
Get into a plank position with your fingers interlaced, brace your abs and hold for ten breaths.
Dolphin
Start in a forearm plank with your abs tucked in. Next bring your chin in front of your fists, then exhale back and bring your butt in the air with straight legs. Bring the shoulders back past the elbows. Finally, bring your chin back down in front of your fists. Hold for five breaths.
One-Arm Camel
A chest-opener. Start off up on your knees and your toes, then twist around and look back at one of your heels. Firmly drop the palm down onto that heel, press your pelvis up and forward, and drop the shoulder down. Look up at the opposite hand, pushing your pelvis up and visualising an arch in your back. If you've got the flexibility, plant the other hand for the full camel.
For the full Broga workout check out broga.uk.com
Sign up for workout ideas, training advice, reviews of the latest gear and more.
From 2008 to 2018, Joel worked for Men's Fitness, which predated, and then shared a website with, Coach. Though he spent years running the hills of Bath, he's since ditched his trainers for a succession of Converse high-tops, since they're better suited to his love of pulling vans, lifting cars, and hefting logs in a succession of strongman competitions.