Do Something: Run Some Mancunian Pop-Culture Landmarks
Clocking in at 18.5km this is no jog in the park – but just think how fit/cool you'll be at the end of it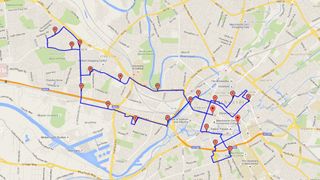 (Image credit: Unknown)
0km - FAC51: Factory Records offices
112-118 Princess Street, Manchester M1 7EN
The spot where Tony Wilson and his merry band of chancers, geniuses and reprobates plotted some of the most dazzling musical manoeuvres of the 20th century.
1.45km - Hulme Arch Bridge, Stretford Road, Manchester M15 5JH
The bleak, brutalist footbridge that once stood here was the location for Kevin Cummins's iconic 1979 shots of Joy Division – the photoshoot that came to define the band's chilly, alienated image. The bridge has since been replaced by the Hulme Arch Bridge, which, while less of a musical landmark, is frankly far nicer to look at.
2.81km - The Hacienda, 11-15 Whitworth Street West, Manchester M1 5DB
Ground zero for Britain's dance music explosion, and arguably the most influential nightclub to ever exist. It's since been transformed into apartments, but if you listen very carefully you can still make out a distant "bumf-tsst bumf-tsst bumf-tsst..."
4.21km - Manchester Town Hall, Albert Square, Manchester M60 2LA
Manchester's lofty, Gothic town hall has graced many a movie and TV show – most recently, it was used as a location for the new James McAvoy/Daniel Radcliffe film Victor Frankenstein. Showing its full acting range, it's even doubled as the Houses of Parliament in The Iron Lady (2011) and Sherlock Holmes (2009).
5.42km - Dry Bar, 28-30 Oldham Street, Manchester M1 1JN
Liam Gallagher and Shaun Ryder are both barred from this Northern Quarter institution – the former for fighting, the latter for firing a handgun while attempting to blackmail Tony Wilson. You can still see the bullet-hole, if you fancy popping in for a gander at a particularly ridiculous piece of Mancunian history.
8.94km - Salford Lads' Club, St Ignatius Walk, Salford M5 3RX
A place of sacred pilgrimage for thousands of fans of Smiths every year, Salford Lads' Club was, of course, the backdrop for the classic 1985 shot of Morrissey and co that adorned the cover of The Queen Is Dead.
12.8km - Pendleton Sixth Form Centre, Dronfield Road, Salford M6 7FR
The greatest British actor of his generation – Sir Ben Kingsley, of course, dear boy - went to college here, and his presence still looms large over the place thanks to the centre's 100-capacity Ben Kingsley Theatre.
14.96km - Jubilee Street, Salford M6 5EP
In the film 24 Hour Party People (2002), this is the street on which Bez makes his grand entrance, beamed down to the sodden Manchester tarmac from a hovering UFO. (NB May not or may not be Bez's actual origin.)
18.59km - Free Trade Hall, Peter Street, Manchester M2 5GP
Now home to the five-star Radisson Blu Edwardian, the Free Trade Hall once hosted one of the most influential gigs of all time. On 4th June 1976, the Sex Pistols played a ferocious set to an audience of around 150 (although thousands have since claimed "I was there!"), including future members of the Smiths, Joy Division, the Fall and Buzzcocks. Britain's punk and indie scenes properly began, right there and then.
View the route at http://www.gmap-pedometer.com/?r=6750731
Sign up for workout ideas, training advice, reviews of the latest gear and more.