Five Ways to Go Further on Your Bike
How to cycle more efficiently with pro tips from Team Ford EcoBoost's Nikki Juniper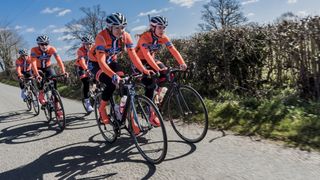 (Image credit: Unknown)
OK, you've got your brand-new bike and maybe squeezed yourself into some regrettably wacky Lycra – but with a little pro know-how you can go further and faster, and feel a lot less sore the morning after.
One expert who definitely has the credentials to offer such advice is Nikki Juniper. The 34-year-old is one of the most successful female riders in UK, with a collection of medals and yellow jerseys to prove it (most notably the Women's Elite National Road series, a title she's won and defended since 2014).
Last year she established Ford EcoBoost women's cycling team, a 10-strong group of handpicked female riders. In a rare moment of downtime in their first competitive season, Coach asked Nikki for the skinny on what to eat, choosing your route and, most importantly, how to get to the top of a huge hill without feeling the need to be sick.
Rule #1 - Eat a Big Breakfast
"It's important to eat a good breakfast with carbs and protein to help fuel the first part of your ride," says Nikki. "Things like porridge, protein pancakes, or scrambled eggs on toast are perfect. Take snacks – energy bars, gels, bananas – in your pockets to eat on longer rides and also use energy drinks to keep you hydrated [they provide some power-boosting carbohydrate too]."
Rule #2 - Ensure You're Set to Go
"Riding a bike that's not properly set up, such as the saddle height being too low or too high, is probably the most common beginner's mistake. If your bike isn't set-up right your ride will be less efficient, and you'll get tired quicker. Other than that, I see lots of riders grinding out massive gears because they think it will make them stronger. This is OK occasionally in a carefully constructed training plan, but not every time you go out on the bike."
Rule #3 - Be Prepared for Punctures and Bonks
"It should go without saying that a puncture repair kit is essential," warns Nikki. "Spare inner tubes, tyre levers, mini pump… Just as important is taking on enough food and fluid for the ride. You never know when you might need that 'emergency bar' if the dreaded bonk strikes!"
Rule #4 - Pace Yourself in the Hills
"Don't start off too hard – if you go into the red, you risk blowing and then having to ease right back or stopping for a rest. Keep a good cadence [pedalling rate], rather than grinding out the higher gears, to help save your legs and allow you to keep a good tempo all the way up the climb. It can also be beneficial to do short spells out of the saddle, to use muscles slightly differently and give other ones a rest."
Rule #5 - Follow in the Path of Others (Mostly)
"There are lots of excellent apps to help you find routes that other people have done and have shared online. You can download these to your GPS device and use it for guidance during your ride. Paper maps are useful too and a good back-up to have in your pocket if technology fails. Sometimes though, I like to have a quick look at a map, to get my bearings, then just head out and ride new roads – it's a great way to explore!"
Sign up for workout ideas, training advice, reviews of the latest gear and more.
Joe Barnes was the editor of Men's Fitness and the Coach website from 2015 to 2016.