Train Like an Animal at Virgin Active's Iron Zuu class
Unleash the beast at Iron Zuu, Virgin's new heavy lifting-mobility hybrid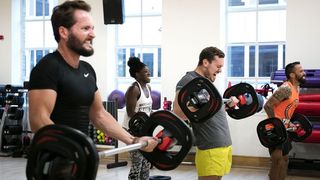 (Image credit: Unknown)
The massive variety of fitness classes available nowadays means that almost every kind of exercise enthusiast is catered for, but when it comes to the weights, communal sessions tend to steer clear of the heavier stuff, instead focusing on multiple reps with lighter loads.
Virgin Active's new class Iron Zuu bucks this trend, with heavy weights and a willingness to work its participants to failure, where you have to stop due to the physical demands involved, rather than preset times or reps. To break up these muscle-busting sets of weights, you get a chance to indulge your inner animal with a series of Zuu moves. It all adds up to a total-body workout that you've almost certainly not tried before.
What is Zuu?
You're probably pretty clear on what weightlifting is – it's lifting weights – but you're likely less familiar with the concept of Zuu. At its heart, the Australian-born workout is a series of movements that mimic various animals, be it bears, crocodiles or frogs. The result of these critter capers is a bodyweight workout that improves strength, balance and cardiovascular fitness.
Iron Zuu?
Slow, heavy weights sets interspersed with animal movements are the order of the day at Iron Zuu. You'll hit a maximum of 12 reps on any one exercise, with squats, bicep curls and bent-over rows all in the mix.
Although 12 is the target, expect to fall short of that number as often as not. In between sets of weights, you'll be doing bear walks, snake slithers and all manner of other animal movements. These will loosen up the joints and warm up the muscles so you don't hurt yourself during the lifting.
The Coach Says
The combo of Zuu moves and weights is a winning one, in that it's hard and refreshingly novel. Measured, heavy lifts will test strength and you'll have to embrace failure at some point. Remember that it's a good thing at Iron Zuu: it means you're working as hard as possible.
Iron Zuu encourages a lot of shouting and high fives to provide motivation, which might all seem a bit much at the start of the class, but when you're halfway through a set of bicep curls, any support from your classmates is very welcome indeed.
Discover your inner animal with a 30-minute Iron Zuu class, available now at select Virgin Active gyms
Sign up for workout ideas, training advice, reviews of the latest gear and more.
Gary Ogden wrote for the print edition of Coach between 2015 and 2016, writing features, interviewing celebrities and covering entertainment. He has also written for ShortList.