Don Broco's Rob Damiani Has a 75m Hurdles Record
The lead singer on gym fights and the mouth-watering magnetism of Greggs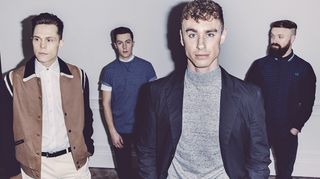 (Image credit: Unknown)
Which excuse for not going to the gym/working out are you most ashamed of?
On tour I can find any excuse. Sleep is very important, so you can always justify not working out, because of the show. At home the main excuse is Game Of Thrones. I don't want to see any spoilers, so if I'm being sensible about it, I should watch it instead of going to the gym.
What's your most impressive personal best?
That would've been in year eight – I think I still hold the 75m hurdles record at my old school. That could be a complete lie – I haven't been checking back, but that was my first and only sporting accolade. I was like "I'm at the top of the game here, a record-breaking hurdler at this age." After that, my hurdle game wasn't quite up to standard and I couldn't jump as well as before, so I don't hurdle any more unfortunately…
How do you avoid the lure of the service station pasty?
There's no way of completely avoiding them. One of my biggest vices is Greggs on tour – it's so delicious and so cheap. You're spending a couple of quid and you can get five sausage and bean melts and they go down an absolute treat. The trick is not to do it every day. It's worth googling somewhere relatively healthy to stop at, somewhere that isn't a chain – a lot of places are quite good at the whole no-carb alternative thing.
Have you ever pulled a muscle in less-than-heroic circumstances?
We went out the other night and I fell over. I got absolutely tanked and I've got a mental bruise up my whole arm – I shouldn't be falling over at this age. It's always my elbow that I land on, and it's not one of those things you notice as using every day, until yesterday when I thought "Oh, I haven't really done anything fitness-wise on tour," so I tried to do a press-up and failed miserably – my elbow couldn't even support my left arm.
Who's the Arnie of the band?
I got my head start by not really doing any work at university and just going to the gym every day – somehow I've maintained it without going to the gym too much. Simon (Delaney – guitar) got hench a year ago – he just decided to take on this brutal diet. We didn't realise at first and then one tour he just turned up in the tiniest vest and shorts and we were like "F**king hell what have you been doing? Where the hell have you been?" We've always been quite health conscious as a band compared to other bands.
What's the worst type of gym behaviour?
The most commonplace annoying gym behaviour is people on their phones sat on a bench. But I think the worst gym behaviour – and also the most hilarious because it doesn't happen that often – is fighting over a bench. A month ago there were these two huge, next-level meatheads – they must have been on 'roids – and one of them left to grab a weight, but came back to find another guy using the bench. It just kicked off – they were shouting and screaming at each other in this gym, everyone was looking and it was super awkward...
Have you ever "let yourself go" at any point in your life?
No, not really. I've always been alright, although I think I went a little bit overboard when I was at university – you've got a lot of time on your hands and you're hitting the gym, but you're drinking a lot. Back then you don't really care about it, but you look back and think "Wow, you were packing a few pounds." But now I'm on stage and burning calories, just from performing and jumping around, getting sweaty – that keeps you fit on tour.
What's the longest you have gone without alcohol in the name of good health?
Not long. Probably a week, which isn't anything to shout about, but it's not terrible. I've never been someone to cut anything out of my diet completely. The thing with touring is just the beers: on the rider, before you go onstage, during the set, loads afterwards. So the reason I got so destroyed the other night was I thought "Right, I'm not going to drink any beer," so I had juice and vodka. The venue owner basically poured half a litre of vodka into my orange juice…
Don Broco play the O2 Arena on October 31, their new single Everybody is out now
Sign up for workout ideas, training advice, reviews of the latest gear and more.
Gary Ogden wrote for the print edition of Coach between 2015 and 2016, writing features, interviewing celebrities and covering entertainment. He has also written for ShortList.