Kris Meeke: "You Need a Sixth Sense to Survive in Rally Car Racing"
The World Rally Championship hero on lessons from idols, navigating blind corners and driving like a dad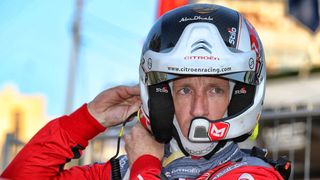 (Image credit: Unknown)
Kris Meeke is the man we all think we can be when we're 45 minutes late for Sunday lunch with the in-laws. We imagine ourselves hurtling down roads at breakneck speed, getting serious airtime over speed bumps, taking corners on two wheels and handbrake turning into the driveway just as the gravy hits the table. The 36-year-old World Rally Championship pro driver has 71 nail-biting, white-knuckle races under his belt, doing battle with terrain right across the globe. And he's done it without so much as a minor injury. We asked the Northern Ireland-born hero how on Earth he manages it.
Can rally car driving really be as much fun as it looks?
It's even more fun. It's unique in the way we're up against the elements and the countryside all over the world, going from frozen roads in Sweden to hot gravel events in Australia. And there's just no sensation quite like sliding a car down a mountainside.
What sets rally driving apart from other forms of motorsport?
I like to describe it as this: a circuit driver will see one corner 10,000 times, whereas a rally driver will see 10,000 corners just once. There's a phenomenal amount of diversity when it comes to the World Championship. We need to be ready to face what each and every country has to throw at us.
Is there a special skill that rally drivers possess?
When you get to practise on the roads during the week before the rally, you're so aware that you could be driving on a completely different track come race day. The weather and conditions might have changed, so you need to remain wholly adaptable and open. Everything's blind for us, which is what makes our sport so exciting.
How integral is fitness to the success of a rally car driver?
Some stages, like the ones in Corsica, can be as much as 55km long. We're in the stage for 35 minutes and we can do that five or six times in a day. That's where it gets very physical. When you're under that amount of intensity and with that amount of adrenaline, I think you need to be supremely fit to cope. If you're fit in the body, you're fit in the mind.
What does your training regime look like?
The best form of training is driving the car! Behind the wheel, you're working everything that you need and under the level of intensity you'll come to expect. But we can't drive a rally car every day. I enjoy cycling a lot. I also do a lot of core work in the gym, because you need stability in the car. And obviously, I work on my arm muscles to work the wheel. Diet is a big one too. Engineers are always putting you on the scales, because in motorsport kilograms are the enemy.
What part of the sport do you like the least?
We have to understand that manufacturers get into motorsport as a marketing exercise to promote their products. Sometimes the marketing side of things can seem long-drawn-out, especially when you're trying to concentrate on your race. That's part of the sport – you need to be able to do that and to enjoy it – but it can be difficult.
And what part do you like the most?
The driving. The competing. The competition is what we all do it for. When you're winning, it's the best feeling.
Has your attitude to fitness in the sport changed during your career?
I've learned that enjoying training is the most important thing. You definitely learn your body too, and learn when it's tired. You learn when to rest. I'm so aware now that resting is just as important as training. I've also learned not to concentrate on just one particular area.
What's the worst injury you've sustained?
Touch wood, I've never sustained an injury in a rally car. My pride sometimes gets a bruising, but honestly I've not been injured. I'd like to keep it that way!
How do you mentally prepare for a race?
It's a big part of the game. It's a mental sport and you almost need a sixth sense to be open to the ever-changing conditions and survive. You need to be in a good mental state when you're facing down a corner that's completely blind. But what do I do specifically to prepare?… I like to keep that one to myself.
Who gave you your big break in rally driving?
It's been a long road for me to get to the top. Probably the biggest influence for me was Colin McRae. In the early stages of my career he helped me progress from the British Rally Championship to the Junior World Championship. It's the biggest step you can take – going from national to international. It was fascinating to be at such a young age and working with Colin because he was an idol of mine growing up, even before I considered driving a rally car for a living.
What did he teach you?
A lot of things, and not necessarily just about driving. He was very much of the belief that a driver should develop his own talent. Talent in a rally car is not something you can teach – you just have it from a young age. But he helped with so much else, from the politics to the fitness to dealing with manufacturers. These are the things you can learn from drivers that have been there and done it.
Finally, aside from your rally car, what vehicle do you most enjoy driving?
I'm a family man now, so I need some extra space… My Citroën Grand C4 Picasso is the vehicle of choice at the moment! For sure, we all enjoy sports cars and driving fast, but I'm lucky enough to do that as my nine-to-five. It's about practicality when I'm home.
Kris Meeke will be driving for the Certina sponsored Citroen Total Abu Dhabi rally team at WRC Wales, which begins Friday 28th October. Certina is Official Partner and Timekeeper of the FIA WRC World Rally Championship.
Sign up for workout ideas, training advice, reviews of the latest gear and more.
Coach is a health and fitness title. This byline is used for posting sponsored content, book extracts and the like. It is also used as a placeholder for articles published a long time ago when the original author is unclear. You can find out more about this publication and find the contact details of the editorial team on the About Us page.