The New York City Marathon Route According to Finishers
The New York City Marathon course may feature too many inclines to set a new PR, but knowing what's in store can help you prepare for your best race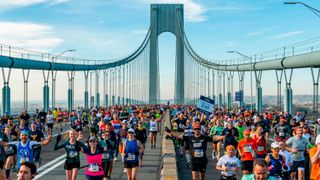 (Image credit: Scott McDermott /New York Road Runners via Getty Images)
The New York City Marathon will always hold a special place in my heart because it was my first marathon in 2010, in the city where I became a true long-distance runner. With the inclines of five bridges to conquer, the course is not conducive to setting a personal best. However, most people who have run this iconic race would agree that you can't beat running through all five boroughs in one day supported by arguably the largest crowd of spectators you'll ever find at a road race.
Now that I've run the Boston Marathon as well, I can finally choose when asked "New York or Boston?" My answer is New York, partly because it's the city where I spent some of my formative years in my early 20s, and because I love that you get to run through the heart of the city and visit some of its most culturally diverse neighborhoods, as well as seeing landmarks such as the Statue of Liberty, the Brooklyn Academy of Music, the Guggenheim Museum and the famous Central Park finish.
"The diverse neighborhoods, each with their own distinct character, add to the vibrant tapestry of the event," says Louisa Warwick, a New York City-based runner who has run the marathon twice. "The energy and encouragement from the spectators, who come out in full force, uplift runners and make every step an unforgettable experience."
I've run the New York City Marathon three times now, and those experiences, along with living and running there for several years before my first one, mean I know what to expect during my upcoming fourth attempt. Even so, I still feel like I haven't mastered the course, but I hope to run a well-executed race this fall, now armed with a bit more running wisdom and experience.
In the meantime, I'm sharing my tips for conquering the course along with advice from several other experienced New York City marathoners. Once you've taken these pointers in, Coach also has NYC Marathon tips from elite American runner Molly Seidel.
Miles 1-2
The New York City Marathon starts on the Verrazano-Narrows Bridge, which connects Staten Island and Brooklyn, and is not normally open to foot traffic. This is actually the highest elevation you'll hit for the whole race, says Alison De Noia, a 16-time New York City Marathoner from Colts Neck, New Jersey.
"As you wait for the start gun, a Broadway star may be singing the national anthem, and when the gun goes off, they'll play Frank Sinatra's 'New York, New York' to begin the race," she says. "If you are on the upper level [orange and blue bibs], prepare for wind. It's less windy on the lower level [green bibs]."
The first mile is uphill, which is great because it prevents most runners from starting out too fast. In contrast, mile 2 is a steep downhill all the way to the end of the bridge, and it's very easy to get carried away. Remember the key to how to pace a marathon is to not go out too fast, so keep your pace in check during these early miles.
One more thing to be aware of: "I'm noticing more and more people running and taking pictures and/or stopping to take pictures and selfies, so it's important to pay attention," says De Noia.
Miles 3-13
When most people think of New York City, they're inclined to think of Manhattan, which makes it easy to assume that will be the highlight of the course. While Manhattan won't disappoint, the Brooklyn neighborhoods of Bay Ridge, Sunset Park and Park Slope along Fourth Avenue are where the crowds really bring the noise. And while there are some gradual climbs, the first half of the course is easier—which is why it's important to rein it in, says Sage Canaday, a professional ultrarunner for HOKA who ran the 2008 New York City Marathon in 2hr 30min 6sec.
"A lot of NYC Marathon first-timers—myself included—can get going way too fast from miles 3-10 as the crowds around Brooklyn are super-encouraging and the excitement level is sky-high," he says. "This is still the time to pace yourself and hold back from going too fast."
Mile 8 is the convergence of the two paths, where everyone will be running together, De Noia adds. "You will be at the Brooklyn Academy of Music and the crowds will be screaming for you and the music will blaring out of speakers onto the street," she says. "As you approach Williamsburg, it will get quiet. Each neighborhood has its own unique qualities."
You'll then run a couple of miles in Downtown Brooklyn before reaching the halfway point at the Pulaski Bridge, which, unsurprisingly, is another uphill.
"The response from the crowds in Brooklyn is the first part of the large amount of spectator support you get from the race," says Warwick. "It's hard to notice you are halfway through the marathon before even entering Manhattan as the adrenaline keeps your momentum going."
Miles 13.1 to 15
After spending the first half of the race almost entirely in Brooklyn, the time spent in the borough of Queens is short in contrast. The crowds will be out in full force in Long Island City, gearing you up for one of the NYC Marathon's hardest stretches.
Miles 15-16
The famous Queensboro Bridge is one of the toughest climbs of the race at just over a mile long. When I lived in Astoria, Queens, I ran across this bridge and back almost every day. As a result, the bridge was a piece of cake on race day. But when I returned the following year, after moving back to my pancake-flat hometown of Houston and doing zero hill work, I felt like I was crawling up that bridge.
Hill training is essential if you don't want this bridge to break you. But even if you are as prepared as you can be, my best advice would be to just accept that you're going to slow down here and don't kill yourself trying to maintain a certain pace for this mile.
"The Queensboro Bridge can really set the tone for the rest of your race," says Canaday. "Go too fast and too hard up and down this massive hill and you can really pay the price in the remaining 10 miles."
The Queensboro Bridge is also known to be extremely quiet, as spectators aren't allowed to line it on race day. Take this opportunity to check in with yourself and offer some words of encouragement to fellow runners before you're confronted with the famous "Wall of Sound" on the other side when you descend onto First Avenue in Manhattan.
"From the bridge, you'll be able to hear the roaring of the crowds waiting on First Avenue," says Ashley Mateo, a five-time New York City Marathoner and UESCA-certified run coach based in Denver. "That cheering is especially motivating because the previous mile and a half is very quiet. It gives a kind of zombie apocalypse vibe because with no spectators on the bridge—all you can hear is the slapping of people's running shoes on the ground. It's actually a nice place to recenter yourself and get your head in gear before entering the final 10 miles of the race."
Miles 17-19
Just after mile 16, you'll cruise down the end of the Queensboro Bridge and around a little jug handle that spits you out onto First Avenue. Once you're off the bridge, the rest of mile 16 all the way through mile 19 is a straight shot up First Avenue, from 59th Street to 125th.
"This stretch is one of the more crowded of the race, especially between miles 16 and 18, which is super-helpful because you're at that point where you've got a lot of miles on your legs already, but still have a lot more to go," says Mateo. "Use the crowd energy here. Most spectators stick to the runners' left, and they're often four or five deep with people literally hanging over the barricades."
You do descend around 82 feet in mile 17, but the rolling nature of First Avenue and the point of the race at which it comes does make this whole stretch feel like a subtle uphill grind, according to Mateo.
"Heading up First Avenue towards the Bronx can be a really tricky point in the race as it is certainly not flat and you'll be undoubtedly feeling fatigued this late in the race," Canaday says. "However, if you've paced yourself appropriately, and stayed hydrated and fueled, you can really harness the energy of the cheering crowds that line the course."
After you hit mile 18 and the Upper East Side neighborhood transitions into Harlem, the crowds thin out a bit. But you can also start to see where you're headed: bridge number four, the Willis Avenue Bridge.
"It is a slow incline up to the Willis Avenue Bridge, so be prepared," De Noia says. "It's another quiet space where both the physical and mental training will kick in."
Miles 19-20
Another bridge, another borough. "This is one of the easiest bridges of the race, with a short climb—less than 50 feet, and make sure to look for the photographers towards the middle of the bridge—before the downhill brings you into the Bronx," says Mateo.
You're only in the Bronx for a short distance, but it might be the most memorable part of the course because of the running crews that line the streets, says Kari-Ann Wanat, a two-time New York City Marathoner and RRCA-certified run coach based in New York City, who also puts out cheer zone guides on the Instagram account @runnracenyc.
"From the moment you step off the bridge, running crews—most representing the Bronx—will be cheering for all runners, waving their team flags, and playing music to pump you up for the final 10K," she says.
Mateo agrees. "Some people say the Bronx is lacking in spectator support compared with the rest of the course, but more and more run clubs have been moving up there to bring the hype," she says. "Keep an eye for the Boogie Down Bronx Runners dance party on the runners' right. That energy will help you smash through the 'wall' at mile 20."
"You will make quite a few turns before you make your way over the Madison Avenue Bridge onto Fifth Avenue in Harlem," says Wanat.
Miles 21-24
Before you know it, you're back in Manhattan.
"Crossing back on the Madison Avenue Bridge into Manhattan, and then when you land at 135th Street, it's quiet," De Noia says. "But as you approach Marcus Garvey Park, be prepared for spectators to be closer to you. The street gets a little narrow and when you are tired, it can be hard."
From there, you will run around Central Park and then down Fifth Avenue to 90th Street, where you will enter the park. This is a fairly flat portion of the race until you get to 110th Street, where you will run parallel up a notoriously steady incline before you make your way into Central Park. Fortunately, though, this is another spot that will be packed with supporters to get you through it.
"The park has rolling hills and both sides of the road are packed with people screaming as you run the length of the park and then exit to run along Central Park South," De Noia says. "This is longer than you think because you are running the square bottom of the park and not the oval loop."
Miles 25-26.2
It might seem cruel to make you leave the park, but it'll pass quickly as you re-enter the park on Eighth Avenue at Columbus Circle. From there, it's a short uphill to the finish, which you might not even notice after all the ups and downs it took to get there. Don't be surprised if you get emotional as you finally cross the finish line with cheers erupting from the grandstands. The New York City Marathon truly is a race like no other and it'll be hard to not be proud of your finish, no matter where those numbers on the clock land.
Sign up for workout ideas, training advice, reviews of the latest gear and more.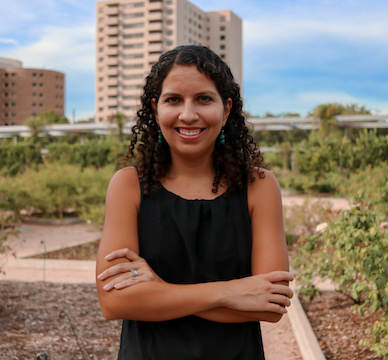 Emilia Benton is a freelance journalist primarily covering running, health, and fitness. She has more than 15 years of writing and editing experience and her work has appeared in publications such as Runner's World, SELF, SHAPE, Women's Health, Healthline, the Houston Chronicle, San Francisco Gate, and others. Emilia has also been a runner herself since she was a 16-year-old high school sophomore. She ran her first marathon at the 2010 New York City Marathon and has since gone on to run 11 more marathons including the Boston Marathon, as well as more than 30 half marathons. She is also a USATF Level 1-certified run coach.