Add This 15-Minute Finisher To The End Of Strength Workouts
Maximise your gains and get your heart rate up with this AMRAP workout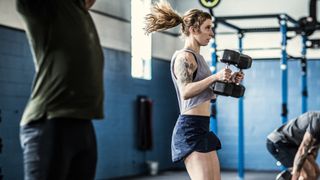 (Image credit: Getty Images)
Strength sessions are a great way to spend time in the gym, but one way to upgrade your weights sessions is by adding a short workout finisher to get your heart rate up and put your functional fitness to the test.
Short CrossFit workouts called metcons are an ideal way to finish a session. They typically combine strength and cardio work at a high intensity to boost your athleticism and stimulate greater fat loss.
The workout below comes from fitness trainer Mark Thompson (opens in new tab) and it's an AMRAP-style session, which means you'll be completing as many rounds as you can within 15 minutes. It involves three exercises, incorporating the SkiErg machine, a pair of dumbbells and a box. If you own a pair of dumbbells and would like to recreate the session at home, opt for a different cardio exercise, such as a 100m run or 30 single skips or double-unders, and switch the box step-overs for walking lunges.
Watch Thompson demonstrate each of the movements below and take note of his form. Bear in mind that the hang clean and press isn't suitable for beginners – you should be confident your form is on point before diving in.
Move through the exercises as quickly as you can, because this workout is designed to get your heart rate up – but avoid rushing. Make sure your core is braced throughout the dumbbell clean and press, and you're placing your foot on the box with a deliberate movement so you don't trip.
Thompson recommends resting between rounds if you need to and it's important to choose dumbbells that feel manageable because you'll rattle through a serious number of reps in 15 minutes.
Thompson says he used this routine after an upper-body session so if you want to follow suit, pick from the selection in our upper-body workout plan.
Of course, you can also use it as a standalone workout, perhaps as a way of fitting in a quick sweat over a lunch break. If that's the case, make sure you limber up beforehand. This gym warm-up is our go-to routine.
Sign up for workout ideas, training advice, reviews of the latest gear and more.
Alice Porter is a journalist who covers health, fitness and wellbeing, among other topics, for titles including Stylist, Fit & Well, Glamour, Cosmopolitan, Grazia, VICE and Refinery29. When she's not writing about these topics, you can probably find her at her local CrossFit box.