The best smartphones for fitness
Our pick of the best Android, iOS and Windows smartphones for fitness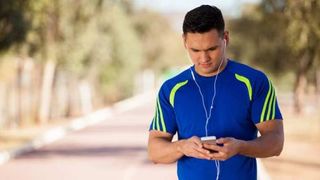 (Image credit: Unknown)
A smartphone can be as important a piece of fitness equipment as your trainers. Thanks to a plethora of apps it can count the miles you run, tell you what to eat, tell you how well you've slept and can even critique your performance in the bedroom. It really is the modern day Swiss Army knife.
We've tested Android, Windows and iOS handsets. Here are our three favourites:
---
Apple iPhone 5s
BEST FOR: APPS
Apple has kept pretty much the same form factor for the 5s as its predecessor so it's a case of scratching beneath the surface to see where the present differs from the past. Its tantalising selling point may be the revolutionary fingerprint activated Touch ID, but the huge app library, new iOS7 operating system and state-of-the-art 64-bit A7 processor are where this phone shines.
iOS7 represents a radical re-design for Apple's mobile operating system, with an overhaul of the user interface meaning fresh icons, brighter, bolder colours and a sharper look. Overall, it remains true to the principles of its predecessors in that it's effortlessly simple to use and lightning fast. The A7 is the first 64-bit chip in a consumer smartphone or tablet, which means a greater whack of power coursing through its digital veins. So far, it doesn't seem like there is any particular app that really uses this extra processing power, but it can certainly handle multi-tasking better than any of its competitors can.
Apple has made a more pronounced move into the world of fitness tech with the M7 co-processor. It takes a load off the A7's back by working through sensor data ensuring that it can accurately and efficiently store the stats from your latest run without wasting power from the CPU. What's most impressive is it can tell whether you are running cycling or in a car and instantly adjusts your GPS settings accordingly. However, like the 64-bit memory, this feature isn't specifically used by any fitness apps right now but expect them to start being released in 2014 as more people upgrade to the 5s and other phones start including the technology.
Like all Apple products though, the area where the 5s really outdoes the competition is the huge library of quality apps on the App Store. There are thousands of free and paid-for training programmes, diet planners, cycling routes, step counters, motivators and even apps that pitch you against other athletes in online leader boards. While they're not all amazing, the big advantage of the App Store is that every app is designed specifically for Apple products (as opposed to Android apps that have to work across countless different devices) and have passed the stringent quality-testing that's required to be added to the library.
Here's a note of caution though. The iPhone has never been the cheapest smartphone on the block and the 5s has furthered that reputation. Months after launch, it's still a tad on the expensive side for a SIM-free handset or on contract. Plus, the battery life – though an improvement on earlier models – will still melt away quicker than a snowman in the sun making daily charges a necessity.
One last thing we haven't mentioned is the super slow motion video - not that relevant to fitness, but nothing beats catching your mate slam face first in glorious 120 frames per second!
---
Nokia Lumia 1020
BEST FOR: PHOTOGRAPHY
Turning the Lumia on for the first time it's immediately apparent it hasn't got the pace to match the iPhone. It's no slouch, just more Dwain Chambers than Usain Bolt.
The operating system may not be as straightforward as iOS7 but its tile design is organised, functional and smart. However, if the Windows 8 operating system is a hard working, team player then the shell is a mercurial talent that might not be to everybody's taste. The yellow case of our review unit divided opinion, while the protruding camera can make the already fairly large phone awkward to hold.
But that's what makes this smartphone stand out from the crowd. No not the yellow, the incredible camera.
Nokia have coupled their PureView technology – reducing images to a lower resolution yet achieving higher definition and light sensitivity – with a 41-megapixel camera, which results in stunning picture quality even in low-level light. The quality is so good that Ellie Goulding shot the entire video for her single 'How Long Will I Love You' with one. During our tests we headed to Parliament Square at dusk, played around with the settings and got some seriously good shots. The picture below was taken by slowing the shutter speed to a crawl. The cool effect is leagues above what you'd get with any other smartphone.
The 1020 comes with a meaty 2GB of RAM and meaty storage capacity of either 32GB or 64GB so there's plenty of room for pictures and videos. Despite this, the phone itself is a bit on the basic side as it feels like the other features were a secondary thought after the camera. That's not strictly a bad thing but for its price you would hope for a more exciting whole.
There are plenty of well-rated free and paid-for apps ranging from MyFitnessPal to Blood Pressure Tracker to Gym PocketGuide and the Windows store is easy to navigate. However, the selection is severely lacking compared to the App Store or Android's Google Play shop.
But how many fitness apps does one person really need? And besides, the high-quality camera is what you should buy the 1020 for. Nothing beats going for a run, spying something amazing and being able to casually take a picture that's not far off a professional quality DLSR.
Just please don't be one of those guys who takes selfies in the gym.
---
Google Nexus 5
BEST FOR: VALUE
The Internet giant has teamed up with LG once again for the fifth generation Nexus, which is the first device to have the Android 4.4 KitKat operating system.
Thanks to the powerful Snapdragon 800 processor you aren't left waiting as you start-up the phone and swipe through all the different options. The user interface is simple and smart and it's all showcased in glorious 1080p HD on the 4.95" display. So far, so good and it seems similar to the iPhone – fast and intuitive. The one big difference? The price.
With a price point that's a few hundred quid shy of the 5s asking price you'll probably have enough cash left over to buy all the running trackers, route recommenders and diet logging apps you'l ever need to turn your Nexus 5 into an indispensable training tool. Which is handy because the operating system works in tandem with the hardware to process sensor data in batches, as opposed to individually, saving power and working brilliantly for your fitness, location and monitoring needs. They also work hand-in-hand for counting and detecting steps.
The Google Play shop rivals the App Store for the number of fitness apps available, but quality does vary and we've experienced a few free apps we downloaded wouldn't work at all. However, that's largely irrelevant because it has all the same leading apps that are available for the iPhone. All of which worked perfectly in our tests. However, due to the fragmentation of Android software and hardware there is a potential chance that some apps will suffer due to the greater difficulty facing coders.
The main camera isn't anything to shout about, but at 8-megapixels with a HDR+ feature it's still capable of taking some decent shots, even in low light. It's not a patch the 1020 and 5s camera's though. overall, we were very impressed with the Nexus 5. It's a high-quality device at a rock bottom price that, crucially, never makes you wish you'd gone for a more pricey option.
All three of these handsets are available now on Three. Check three.co.uk (opens in new tab) for up to date prices and tarrif details.
Click here for our in-depth review of the Samsung Galaxy S5
Sign up for workout ideas, training advice, the latest gear and more.
Coach is a health and fitness title. This byline is used for posting sponsored content, book extracts and the like. It is also used as a placeholder for articles published a long time ago when the original author is unclear. You can find out more about this publication and find the contact details of the editorial team on the About Us page.