Great Scott! Nike Announces Self-Tying Back To The Future Shoes
Where we're going, we don't need laces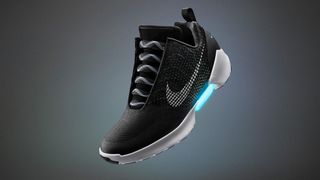 (Image credit: Unknown)
Back To The Future Part II – released in 1989 – has remained memorable for many reasons but one of the most iconic of those is Marty McFly's self-tying sneakers.
Last year saw the unveiling of the Nike Mag, a shoe based on the ones seen in the film. The catch? Only one pair was produced, and they were given to Michael J Fox.
However, the technology will soon be available to the masses. Nike has just announced that its Hyperadapt 1.0 will go on sale for Christmas 2016 – but only to users of the free Nike+ service (you'd better sign up (opens in new tab), then).
There's no word on price yet, but we do know how these magical things work: when you put your foot in the shoe, your heel activates a sensor inside, triggering the upper to tighten, while buttons on the side allow you to adjust for more comfort.
Professional sportsman will no doubt find these a godsend – just watch the NBA any night of the week to see basketball players constantly unlacing and relacing their shoes. And if priced within reach, they're a thrilling development for any man who simply likes to be active and do something without being distracted by discomfort.
While brainstorming ideas on how to bring the vision of a Back To The Future shoe to reality, Nike's engineers experimented with adding a generator to a pair of snowboard boots. Over time, the technology was shrunk down to a more manageable size, to the point where an underfoot lacing mechanism could be added to a shoe.
"It is amazing to consider a shoe that senses what the body needs in real time," says Tinker Hatfield, the legendary Nike designer who spearheaded the self-lacing concept at the company. "That eliminates a multitude of distractions, including mental attrition, and thus truly benefits performance. Wouldn't it be great if a shoe, in the future, could sense when you needed to have it tighter or looser? Could it take you even tighter than you'd normally go if it senses you really need extra snugness in a quick manoeuvre? That's where we're headed. In the future, products will come alive."
OK, so that's the shoe. Now when are we going to get real hoverboards?
RECOMMENDED: Best Road Running Shoes
Sign up for workout ideas, training advice, reviews of the latest gear and more.
Ben Isaacs was the features editor of the print edition of Coach until it shuttered in 2016. Ben is currently the features editor at The Week Junior.