The Best Cycling Gear You Can Buy Right Now
All the kit that'll make your time in the saddle extra stylish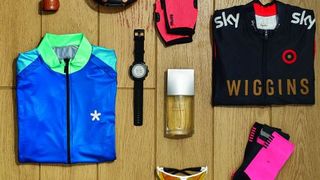 (Image credit: Unknown)
Making your ride into work look good often seems like an impossibility. You've got an oily imprint of your chain tattooed up your trouser leg. A neon green waterproof on that looks like its been in a scrap with a paper shredder. Sweat beading down your reddened cheeks. And a perpetual scowl etched into your face because you've just been cut up for the third time this week at the same crossroads again. By all means, this is not a good look.
But even with the stresses, strains and stains of your saddle-bound commute taking their toll, there is a way to look pin-sharp as you ride. The proof? It lies just down there. Scroll on and you'll find our pick of the very best cycling gear money can buy right now, all of which will add a sartorial edge to your cycling when it's attached to your frame.
We've got head-saving helmets from British high-street style icon Paul Smith, some techy wrist action from Suunto, two really tasty pro jerseys to choose between, and some exceptionally bright and beautiful cycling socks from Rapha.
Like what you see? Of course you do. Click on the item(s) that tickle your fancy, and take your morning pedal-powered commute to new levels of stylishness…
Photograph: Adrian Volcinschi
Sign up for workout ideas, training advice, reviews of the latest gear and more.
Craft beer drinker, Devonian, fisherman and former content director of Coach online, Chris contributed style coverage and features between 2016 and 2019.