How To Choose A Sports Bra That Fits
From what size to buy to the signs your bra isn't offering you enough support, here's what you need to know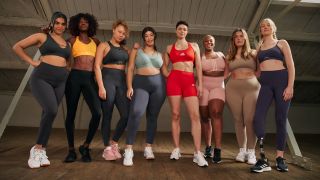 (Image credit: Adidas)
For women who exercise, there is nothing more important than a well-fitting sports bra – with an emphasis on well-fitting. You can spend as much money as you like on one of the best sports bras or best running bras, but get the wrong size or fit for your body and you'll be at risk of experiencing the breast pain and even damage that can come from wearing a bra that doesn't offer adequate support.
The importance of sports bras has been given its due by Adidas, which worked with the breast biomechanics research institute at the University of Portsmouth while developing a new collection of 43 new sports bras. To find out more, we asked Adidas's Amy Charlton for advice about size and fit.
How do you find a well-fitting sports bra? Do you get measured as you would for your normal bra size?
Charlton has a three-step guide to making sure you're getting a sports bra that fits, and it's important to follow it, because, as she says, "we know globally 90% of women are wearing the wrong size sports bra… This is what we wanted to address with this launch." Follow her step-by-step process below..
Step 1 – "Check the band that sits under the breast tissue – 80% of your support comes from the band, so this is important to get right. The band should sit flat under your bust and around your rib cage. If it digs in, go up a band size. If it gapes, or the back rides up, go down a size."
Step 2 – "Check the strap length. If they are too loose, they will slip off your shoulder; too tight and they will dig in and be uncomfortable. If the straps are adjustable, tighten them, so they feel comfy, snug and supportive."
Step 3 – "Check your cups, where your breast tissue sits. Lift and scoop the breast tissue into the cups. Check this in the mirror. If you are spilling out at the top, or sides, the cup is too small. If you see gaps anywhere it's too big – go down a size."
To find the right size for you, it's a good idea to check the size guide of the bra you're buying against your bust measurement (use measuring tape to find this). Don't be tempted to size up – bras designed for running or HIIT training are often designed to be tight, or slightly compressive, to minimise movement as you run and jump.
What are the signs that a sports bra isn't offering you enough support?
If your breasts hurt after a workout, the chances are it's not offering you the right amount of support. Ideally you want to match the level of support to the activity you're doing: a high-support running bra may feel restrictive to do yoga in, for example. Here's Charlton on three types of activity and useful features to look out for in each.
Yoga/Pilates – "A bra that feels lightweight and has a smooth, soft finish, but also provides adequate support. You should be able to still move freely when wearing the bra and the fabric should feel like a second skin to aid flexibility."
HIIT – "A bra that provides medium to high support. Clean edges will also help to reduce chafing, while subtle openings in high-sweat zones will be great for added airflow when you are training."
Running – "A high-support bra that has technology which helps manage moisture. A good running bra should also help distribute the weight of your breasts evenly and adjustable straps are always great so you have more control over your fit."
What is the best fastening for a sports bra?
"Racerback sports bras help distribute the weight of your breast tissue better, which is why most sports bras are racer or can be converted to racerback," Charlton says. But not everyone gets on with them, and there are other options including zip fronts or the traditional hook-and-eye clasp of your everyday bra.
"Fastenings all depend on your activity and breast size," Charlton says. "A zip front suits larger breasts, and hook-and-eye back fastenings help give a more tailored fit, especially for those with larger breasts and a smaller ribcage."
What should larger-breasted women look for in a sports bra?
"Breast support is important regardless of the size or shape of your breasts, or even your activity level," says Charlton. "However, a key factor that influences the movement of the breast is how much it weighs. The breast itself is made of two components, fat and glandular tissue.
"The amount of fat and glandular tissue varies massively from woman to woman, even between women with the same size breasts. Some women could have 20% fat and 80% glandular tissue in their breasts, while others could have 80% fat and only 20% glandular tissue. More fat means a more plump, squidgy breast that can be squashed into lots of different bras. More glandular tissue means a firmer, denser breast that is likely to be heavier, sitting lower on the chest wall and requiring more support.
"However, breast weight and size are not the only factors. When choosing a sports bra, you should also take into account the activity you will be carrying out and therefore the support level needed, and also the overall fit and size. Ensuring your breasts are properly supported will aid comfort and let you experience sport without restraint."
How long should a sports bra last? How should you look after your sports bra to ensure it lasts?
"The industry-wide recommendation is that sports bras should be replaced every six to 12 months, but it all depends on how well you look after your sports bra and how often you use it," says Charlton. "With our new collection, we've used high-quality materials that are built to last. If you make sure to follow the care instructions on the label, an Adidas sports bra could certainly take you to the 12-month mark and beyond." Although it's worth noting that you should continue to look for the signs listed above to check your bra is still fitting correctly.
Sign up for workout ideas, training advice, reviews of the latest gear and more.
Jane McGuire is a fitness enthusiast, with years of experience writing about running shoes, sports bras, and just about everything in between. When she's not training for a marathon, you'll find her walking the dog (and documenting it on Instagram).