The Best Beard Oils
Soften that chin wig with these essential tonics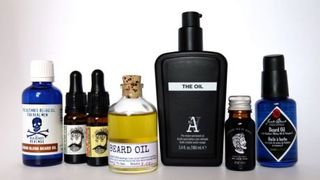 (Image credit: Unknown)
Your bathroom cabinet is probably stacked with ointments, creams and elixirs that you haven't used since 2009, so the idea of adding to your collection may seem like a terrible idea – but if you're a man with a beard, you'll want to find a bit of space for one of these.
RECOMMENDED: Men's Grooming Gifts and Gift Sets For Christmas 2016
Beard oils are essentially conditioners for your facial hair, using range of botanicals to keep your beard healthy, flake-free, strong, hydrated and smelling great. Just warm a drop or two in your palms and apply after your shower to take your facial fur to the next level.
The days of a wispy, stringy, greasy little chinstrap will be gone, replaced by a new dawn as rays of sunshine emanate from your luscious new Spartan jaw bush.
RECOMMENDED:How To Trim a Beard
We tested ten of the best oils to see which can help you achieve peak beard.
Bulldog Original Beard Oil
Key ingredients: Aloe vera, coconut, sweet almond, camelina (it's not a little camel, we checked) and green tea
First impressions: Properly check-the-receipt cheap, this one. Gloriously cheap. Or maybe suspiciously cheap? Nah, we're going gloriously. Probably saved a wedge by not bothering with a Dr Frankenstein's lab-style squeezy dropper thing to pull the elixir out of the bottle.
Face test: Madness on the nose. Absolute head-scratching madness. Quite how it went from smelling like a primary school tuck shop in the bottle but magically transformed to a healthy and posh high-street apothecary scent on our face, we just can't work out. Witchcraft aside, does our beard feel less flaky? Yes. Does it feel way softer? Absolutely. Are we flummoxed by how reasonably priced this little doozy is? YES. We demand answers. £5.50, buy on bulldogskincare.com
---
Brisk Unfragranced Beard Oil
Key ingredients: Sweet almond, avocado and jojoba
First impressions: Aside from the alienating statement that this one's "for grizzly beards" (that means grey, lads, and that's one problem we don't have just yet), this is saying all the right things: natural oils, fast absorbing, ultra-light. Unfragranced too, which is real iiinteresting.
Face test: No fake news here, chaps – pure truth bombs, start to finish. No smell to report. And we're into that, especially if you like to spritz on your eau de toilette in the AM. Rubbed in rapidly, too. And was real light to touch. Didn't think we'd like this after all the "grizzly" shenanigans, but we do. All is forgiven. £6.99, buy on Waitrose.com
---
Ruffians Organic Argan Beard Oil
Key ingredients: Argan, apricot, something called crambe seed, lemon and tea tree
First impressions: We're 11. Mum's got our head over the bathroom basin. She's on a head lice-killing spree, massacring the little ratbags with gallons and gallons of tea tree oil. One whiff of this super-cleansing beauty and you'll be right back there too. With your mum, not ours. Get your own mum.
Face test: We really like this one. A proper 7am wake-up call: super fresh, just the right amount of greasiness to cling to our beard without it leaving our skin feeling uncomfortably lubey, and totally organic too. Guilt-free follicular greatness! Until you see that spicy price tag and feel your wallet recoil in horror from deep in your pocket. £35, buy on ruffians.co.uk
---
Percy Nobleman Beard Conditioning Oil (Signature Scented)
Key Ingredients: Sweet almond, argan, marula, avocado and jojoba. Welcome to the big time, boys
First impressions: Of course we want to have the same signature scent as a man named Percy Nobleman. He's definitely got a 12-bedroom house in the Lake District decked out with portraits of his forefathers and a beautiful golden retriever called Iris or Windsor or something else posh as hell. He definitely has at least three corduroy suits. We like this guy. Oh, and you get a free little pin badge inside the box too. Aw, thanks Percy!
Face test: The smell is a grower, by which we mean it gets better and better through the day. It's far more subtle that the others too – ideal for anyone not wanting to overdo their expensive pre-date splash of aftershave. It is a little on the greasy side, but we probably used about ten times too much by mistake – one little squirt from the big 100ml pump-top bottle went for miles. You won't need to buy another one of these in a hurry. Around £20, buy on Amazon.
---
Key ingredients: Orange and ginger
First impressions:It came in a fancy steel box with a "face rag", but no instructions on how to use said rag. We're currently using it as a coaster.
Face test:The tasty scent really woke us up in the morning, what with all that ginger rushing off our 'tache and up our nose. It rubbed in a treat too, with no greasy residue. The biggest drawback is that you'll need a steady hand to pour out just a few drops – a tall order at 7am. £20, buy on Wiggle.
---
Mr Natty Emergency Flair Beard Set
Key ingredients: Tons of wood, pepper and citrus
First impressions: Packaged into a tube with not one but three products – a "famous" beard elixir, another (clearly less famous) beard elixir, and a moisturising butter.
Face test: The elixirs get brownie points for their screw-top pipettes, making it simple to extract only the required few drops. Scents are subtler than the others, but that's no bad thing – they still smell grade-A manly. Still, we're not sure of the need for two beard oils – the less famous one is only marginally fresher than its buddy. Oh, and the butter does not taste nice on toast. £25, buy on asos.
---
Good Old Boys Winter Spice Blend Beard Oil
Key ingredients: Christmas! It's got Christmas in it! Either that, or a lot of cinnamon.
First impressions: Look at it! It's tiny! It's actually smaller than our little finger! Even so, we're getting a big hug of wintry spice. One for the colder months, for sure.
Face test: Remember those little red Atomic FireBall sweets you used to break your teeth on as a kid? That was the last time we had such a comforting hit of cinnamon around our face. £8, buy on asos.
---
Key ingredients: Kalahari melon oil, whatever that is
First impressions: Not our favourite smell of this lot, due mainly in part to the fact that we can't quite put our finger on the slight sweetness that's going up our schnoz. It makes up for that with its push-top dispenser. If all these bottles had one, our bathroom sink would be a whole lot cleaner right now.
Face test: The silkiest one of them all. This one doesn't wake you up as such, but gently cradles you into full morning consciousness. £19.50, buy on lookfantastic.com
---
Bluebeards Revenge Cuban Blend
Key ingredients: Cedarwood is the star striker here
First impressions: The name Cuban Blend conjures images of open-collar shirts, warm winds and super chilled evenings on the beach. Fortunately, we get that from the smell, too.
Face test: The scent gets stronger as soon as you rub it into your skin, which is a welcome surprise. This is what Tom Selleck's moustache must smell like. Around £9, buy on Amazon.
---
Key ingredients: You've got your jojobas, your olives and your bergamots
First impressions: It's the Giant Haystacks of the crowd. The André the Giant, even. It's massive. The smell is more like a shower gel than the others, though, and perhaps lacks that masculine musk we've come to expect from beard oils now that we're such connoisseurs.
Face test: This one's a shaving gel and beard oil combo, and as such it took a lot longer to rub into our skin. It's worth it if you want your beard to smell super-fresh and clean rather than manly and rugged. £26.32, iconproducts.com
Sign up for workout ideas, training advice, reviews of the latest gear and more.
Craft beer drinker, Devonian, fisherman and former content director of Coach online, Chris contributed style coverage and features between 2016 and 2019.