The Best Men's Grooming Gifts And Gift Sets To Give For Christmas
For the man who likes to look and smell reeeal good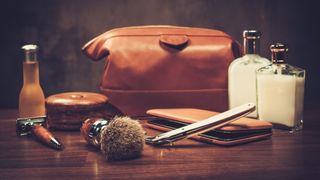 (Image credit: Shutterstock)
If you're sniffing out grooming gifts, your nose has led you to the right place. We've compiled this list of absolute winners, from a couple of our favourite fragrances to the best beard trimmer that we've unleashed on our artfully crafted stubble. There's a sponge too, which sounds underwhelming, but it's not just any sponge. It's a super-sponge.
If you're trying to nail all your Christmas shopping at once be sure to check out our other Christmas gift guides – we can help you pick out gifts for runners, gifts for cyclists and fitness gifts for gym-goers. And for those who have everything, check out the best experience days that make great gifts.
Best Grooming Gifts And Gift Sets For Christmas 2022
Nivea Men Travel Essentials
RRP: £7.50
You get two gifts in one here. The first is a set of excellent lotions and gels that will cover all your giftee's shaving and showering needs when travelling. The second is the gift of them not having to buy those things themselves at an airport branch of Boots when they inevitably forget about liquid regulations until they're in the security line.
Erborian Charcoal Konjac Sponge
RRP: £10
"Just" a sponge? No, no, no. This is not just a sponge. This is a cleaning essential that harnesses ancient Asian botanical knowledge. It's made from konjac, a plant that's been used in Korea for facial cleansing for a really long time, as well as bamboo charcoal, which is famed for its mattifying benefits. Just a sponge? No. But just a tenner? Oh yes.
Noble Isle Scots Pine Bath And Shower Gel
RRP: £22 for 250ml
Pick up this, perhaps with the shampoo (£15), wrap it up and hand it over confident you've just given your giftee the best shower of their life. They probably won't believe you at first, they might even be underwhelmed, but after they lather up and are magically transported to the fresh pine forests of Scotland they'll never doubt your gift-giving prowess again. And if you really want to drive the point home, there's a conditioner you can get them next year.
Neal's Yard Frankincense & Mandarin Body Polish
RRP: £17.50 for 150ml
There's an obvious line here about giving someone frankincense at Christmas, and the combination of that powerful scent with mandarin essentially creates the perfect festive moisturiser. It's not just for Christmas, though – this citrusy lotion smells so good the recipient will want to slather it on all year round.
Malin + Goetz Eucalyptus Deodorant
RRP: £19 for 73g
So popular is this fresh and medicinally scented roll-on that, it's claimed, it has a bit of a cult following. All we know is, it'll become the charismatic leader of anybody's post-workout cleansing routine.
Oriflame NovAge Men Purifying & Exfoliating Cleanser
RRP: £21 ($28.49)
This is a top-tier face scrub and the kind of product many men shy away from buying for themself, so it makes an ideal gift. The scrub uses charcoal and feels gentle on the skin despite the deep clean it provides.
RRP: £24
Everything you need for a top-quality shave in one stylish gift set. The Winston package includes a razor handle, three blades, a travel blade cover and foaming shaving gel. If you want to up the ante, get the razor handle engraved with three letters.
Jack Black Takes Two To Turbo Set
RRP: £26 ($29)
The two turbo products in question here are a body wash and a moisturiser, both of which contain rosemary and eucalyptus to create a refreshing scent. They are great products to use after sweaty workouts in particular, since you'll leave the gym feeling fresh and energised thanks to the slight tingle on your skin.
Bulldog Original Ultimate Grooming Kit Giftset
RRP: £25 ($22)
There's a lot of products in this set to cover every aspect of a grooming routine. They all carry Bulldog's Original scent, which fortunately is a very pleasant odour that will brighten up every shower, shave and scrub you perform with the products.
Malin + Goetz Rum Body Lotion
RRP: £30 for 250ml
Did we expect a rum-scented lotion to be our favourite scent when we tried a ton of the best men's moisturisers? We did not. But this blockbuster fragrance of Malin + Goetz's moisturiser has to be smelled to be believed. Trust us when we say the entire family will be wowed when your lucky giftee unwraps this bodacious body lotion and offers it around for a sniff.
RRP: £30
Unless you're really into your brushes, you probably haven't heard of Kent Brushes, but rest assured these folks are all about brushes and any bristle-bearing item you pick up from them will make a luxurious gift. We've picked out the INF2 shaving brush, which uses super-soft synthetic bristles to provide the perfect lather without – *puts on sunglasses, looks to camera* – up-sett-ing any badgers at all.
Cornerstone Mini Shaving Gift Set
RRP: £25
If there's any reason to keep the great British postal service alive and well, it's subscription services like Cornerstone – straight-to-your-door deliverer of genuinely fantastic and brilliantly engineered shaving supplies. And this is the kit to get your favourite hirsute person started.
King C Gillette Style Master
RRP: £39.99 ($39.99)
This small-but-mighty stubble styler will whip your giftee's face-fuzz into shape. It comes with three combs and lasts 45 minutes on a charge, and it's reduced to £20 on the Gillette UK website at the moment, bringing it into Secret Santa range for many.
Triumph & Disaster Road Less Travelled Kit
RRP £45
Now this is a travel kit. In the hardy, water-resistant canvas bag you'll find three little pucks of hair products (including T&D's impressive Coltrane Clay), a face cloth and some really nice shampoo and conditioner. Next time your giftee goes on a trip, they're going in style.
RRP £79.99
It took months for our poor writer to grow, trim, regrow, trim again and so on and so on until he got through the best beard trimmers all the top brands sent to him. This one took the top spot, thanks to being a fine all-rounder with plenty of extras, including a detail trimmer head for fine-tuning and a mini foil shaver for extra-close cutting.
More About Grooming
Sign up for workout ideas, training advice, reviews of the latest gear and more.