The Best Electric Shavers To Keep Your Face Fuzz In Order
Time to lose that lockdown stubble – here's our list of the top five electric shavers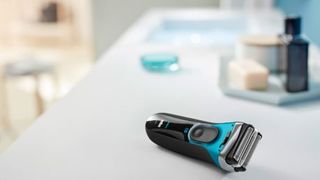 (Image credit: Unknown)
Whether you want stylish stubble or totally smooth skin, you'll find a high-quality electric shaver can help. But as soon as you start looking into buying one you'll discover that shavers vary wildly in price. To help you invest your money wisely, here's our pick of the best electric shavers available – and scroll further down to find our guide to choosing the right shaver for you.
See related
The Best Electric Shavers 2020
Braun Series 3 ProSkin 3080s
Best Wet And Dry Electric Shaver
Not only can you rinse this shaver clean under the tap, you can also take it into the shower with you. It has three blades: a trimmer and a foil blade either side of it, one of which is retractable to let the trimmer do its work unhindered around your neckline. There's also a pop-up trimmer on the back for sorting out your sideburns.
The battery takes an hour to charge and will deliver 45 minutes of shaving, but if you're in a hurry, it will go from flat to usable in the space of five minutes. It first entered the market at £150, but these days you'll find it for under £70 – an excellent asking price for a mid-range shaver with additional trimmers and a travel pouch.
Philips OneBlade Hybrid QP2520/30
Best Electric Shaver For Sensitive Skin
The OneBlade has the look of a traditional non-electric razor, but that doesn't mean it will only give you a clean shave – it comes with stubble combs that will do an equally good job of trimming your beard. The shaver's blades oscillate 200 times a second, which guarantees a swift and comfortable shave. If you have sensitive skin and are prone to stubble rash, put this one at the top of your list.
The QP2520's NiMH battery takes a full eight hours to charge, which isn't great, but our main issue with this model is that while the sub-£40 asking price is attractive, the blades have a four-month lifespan and cost £11 a pop, so you'll be spending a lot more in the long term. But for those with high-maintenance skin, this can't be beaten.
Wahl Lifeproof Shaver
Best Electric Shaver For The Shower
Not a morning person? Us neither, so we can recommend this showerproof shaver as a way to save precious minutes in the AM. And, being the not-morning person you are, you'll be familiar with forgetting to charge it, so you'll be delighted that plugging it in for five minutes will give you that all-important five minutes of use.
It's also a good choice for those who are a tad clumsy, thanks to the ruggedised, shock-proof body that Wahl markets – cautiously – as "practically indestructible". It doesn't shave quite as close as the very best foil shavers, but it makes short work of stray hairs and the stubble that always seems to loiter under the jawline.
We're also impressed by the Lifeproof's lithium-ion batteries, which last for an impressive 90 minutes on an hour's charge. There are no extra frills, but it's built to last and will get the job done.
Panasonic ES-LV95-S
Best Foil Electric Shaver
If you're prepared to spend more than £100, you'll want an electric shaver that delivers a lot. Enter Panasonic's ES-LV95-S.
It has four foil blades surrounding a comb blade to tackle longer hairs, a shaving sensor that toggles between hard and soft cutting depending on the heaviness of the beard, arced blades, a flexible head, and a "sonic vibration" system that uses the included oil to clean the blades. You also get what's essentially a sterilising bath for the razor that cleans it while charging.
It's like an electric razor built for Arnold Schwarzenegger in his late bodybuilding period – there's just something so '80s about it. The head is bloody huge, and it's got a liquid blue crystal display to let you know how long you've been shaving and the percentage of battery left. It made short work of our stubble, and left nothing remaining in those hard-to-reach nose and chin areas. The sonic vibration feature is easy to use and should keep the blades in good nick. The cleaning station is a little chunky – but ultimately, we're calling the ES-LV65 the pick of the bunch.
Panasonic ES-LV9Q
Best High-End Electric Shaver
Yes, £240 is a lot to spend, but think how many disposables it will save you buying – while you get the benefit of an absurdly high-tech shaver. The ES-LV9Q boasts a five-blade cutting system that cuts at an unbelievable 70,000 actions per minute, as well as a pivoting head that moves in alignment with the various planes of your face, while its sensor checks your bead density to give the heads more firepower when required. Ultimately, the shave it gives you is close, smooth and flawless.
You can use it wet (we'd hope so, at this price) and once you're done, you can pop the shaver upside down in its cleaning station. That involves a rather noisy 80 minutes as the fan sets to work – but if you're happy doing the cleaning yourself, you can buy the standalone shaver for a less costly £170.
How To Pick The Perfect Electric Shaver
Lots of electric shavers are waterproof, so you can take them into the shower with you or use them with shaving foam or gel – a good approach if you do have sensitive skin. Do pay attention to the small print tough: there's a difference between waterproof and water-resistant.
Look out for a quick-charge function, which will provide a dead shaver with enough power for one shave at very short notice (ie you can jump in the shower and it will be ready when you're out).
What type of shaver is right for me?
That depends on the thickness and general unruliness of your beard growth, and how often you need – and indeed want – to shave. If you're a particularly hairy guy, or if you're happy only shaving every few days, a rotary blade shaver is your best choice. High-quality rotary blades cut effortless through thick and tangled hairs with no trouble.
Foil shavers, by contrast, work best on those with relatively light growth, and those who like a clean daily shave. These shavers are softer on your skin, and they also tend to give a closer shave. Better still, they often last longer without a recharge.
Which shaver brands are best?
Names to look out for as a hallmark of quality are Braun and Philips above all else, while Remington, Panasonic and Wahl are also highly respected manufacturers.
How are electric shavers powered?
You'll find shavers that are mains-powered, battery-powered and rechargeable. Most electric shavers these days fall into the final category, and it's not hard to see why: they're easy to charge frequently at home, and good ones will stay charged for a few days if you're away. There are other shavers that operate both cordlessly and from the mains, which means you needn't despair if it's run out of charge.
We'd steer you away from battery-powered shavers, to save you spending needless cash on batteries (you can buy rechargeable ones, but using a battery charger feels a bit too 20th-century).
Sign up for workout ideas, training advice, reviews of the latest gear and more.