The Best Hair Clippers Of 2020
Keen to do some DIY barbering? Here are the best hair clippers available online now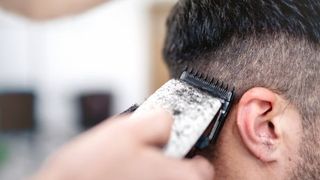 (Image credit: Unknown)
Hair Clippers ExplainedThe Best Hair Clippers To Buy 2020
As barbershops across the UK remain closed for business, many of us find ourselves in dire need of a haircut. And while lots of us would never consider cutting our hair at home, desperate times call for desperate measures. Time to invest in a set of hair clippers.
If you're concerned that you – or your nervous assistant – might make a pig's ear of the job and leave you looking terrifyingly shorn, just turn to YouTube. There, you'll find a wealth of videos that will show you how to trim your hair to perfection.
However, you might find it harder than you thought to choose a pair of clippers. There's a wide array to pick from, with some costing as little as under £10 and products from big names such as Oster and BaByliss coming in at over £100. So here's our guide to choosing the perfect pair of clippers, followed by our selection of the best products available right now.
---
Get the Braun MultiGrooming Kit for £23 less
Deal alert
Do you need to trim not just your hair but your beard and other particulars too? This nine-in-one grooming kit from Braun should have all your needs covered, which is why we've included it in our selection of the best hair clippers. The fact it's been given a 32% discount at JD Williams is an added bonus. Scroll further down for more details on this handy product.
Buy at JD Williams (opens in new tab) | £46.99 (was £69.99)
---
Hair Clippers Explained
How much will it cost?
Most hair clippers cost less than £50, which is definitely a fair sum for dealing with something as visible as your hair – and you'll save the money you'd have spent at the barber's within two or three cuts. Many in this price bracket perform to an impressively high level. That being said, if you ask a barber how much they invested in their clippers, it will probably be over £100. You certainly won't use yours as often as a pro would, but a top-of-the-range product will be ultra-reliable and still save you money in the long run. We've included one professional-grade clipper in our round-up below to give you all the options.
Mains-powered vs. cordless
There's a school of thought that maintains mains-powered clippers will always deliver an extra level of power in comparison with cordless models. But good cordless clippers use top-quality batteries that provide full power right until they run dry, so you're not left with the dull whirr of a dying set of clipper blades chewing at your hair. Cordless clippers are certainly the more convenient option – they're lighter and can be used anywhere – and that means they're typically more expensive than mains-powered products. In making our selections we've taken into account the lifespan of the battery-powered clippers.
Clipper grades
Grades describe the length to which the clipper cuts your hair. Grade 1 is roughly 0.3mm; grade 8 is 25mm. Most clippers come with a range of combs to give you the full grade 1-8 spectrum and many include asymmetrical tapering combs that can cut the hair around your ears.
Aesthetics
If you want a set of clippers that looks as good as your finished haircut, manufacturers like Oster and Wahl offer vintage-style products that look like they're straight out of the rock n' roll era while also delivering impressive and reliable performance.
See related
The Best Hair Clippers To Buy 2020
1. Wahl Home Cut 9155-2217X
Best budget hair clipper
If you want to spend as little as possible on your hair clippers - probably because you'll be the first in line when your barbers re-opens - then take a look at this entry-level set from Wahl. Despite being priced barely in the double figures, this is a piece of kit from a reputable brand, so while features are limited, they'll still have that pedigree. It cuts from grades 1 to 6 (that's 0.8mm to 19mm) and comes with a cleaning brush, scissors, oil, comb and blade guard. The ideal budget hair clipper.
Buy on Argos (opens in new tab) | £10.99
---
2. BaByliss for Men PowerLight Pro
Best all-round hair clipper
You might be doubling your expenditure on the Wahl Home Cut - but this hair clipper kit from Babyliss is still very much affordable. And between the two kits, we'd push for this one. As you would imagine from an industry-leading brand, this kit offers a range of attachments, and cuts grades 1 through 8 (3-25mm). Sixteen hours of charge will get you 40 minutes of power, so you needn't rush through your first domestic haircut. That said, if the clipper does run out of juice, it can also be connected to the mains.
Buy at Argos (opens in new tab) | £22.99
---
3. Braun MultiGrooming Kit
Best hair clipper with extras
Chances are it's not just your barnet that's getting unruly - there might be, ahem, other bits of you that could benefit from a trim. This styling kit from Braun should have you covered: its various attachments will trim between 0.5 and 21mm, each designed for a different part of your body. We particularly like the beard attachment - it features a sensor that automatically detects the thickness of your whiskers and adapts duly. Perfect if you're keen for a total overhaul.
Buy at JD Williams (opens in new tab) | £46.99 (was £69.99)
---
4. Oster 606-60 Pro-Power Adjustable Pivot Clipper
Best high-end hair clipper
The price leaps up into the triple figures with this high-end clipper set from Oster - but with it comes quality and durability. This is a set of clippers for those who like to keep their super-sharp by cutting it on a regular basis. The steel blades will trim your hair to between 0.5mm and 2.4mm in length, and although it's corded, the wire's 3m length should be enough to prevent you for tripping up. After all, slipping is the last thing you want while you're in the middle of a haircut.
Buy at Sally Beauty (opens in new tab) | £130
Sign up for workout ideas, training advice, reviews of the latest gear and more.