The Best Men's Moisturisers
Say goodbye to dry skin by choosing one of our favourite men's moisturisers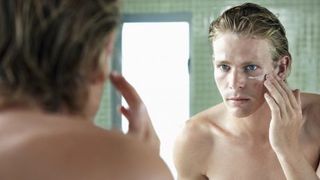 (Image credit: PR)
You don't need to follow a full-on Patrick Bateman-style grooming ritual every morning to look after your skin. Dabbing on a little moisturiser after you shower, maybe more often when the weather is cold or when you have dry patches, will do the job for most people.
Which moisturiser you use will depend on your skin type. People with very dry skin need a rich moisturiser, while those with oily skin should use a lighter product that won't block their pores. If you have sensitive skin you'll also want to avoid products that use any chemicals or fragrances that irritate – sadly, the only reliable way to discover this is through trial and error. If you're lucky to have skin with no clear type, then just go nuts and pick the moisturiser that pleases you most, whether that's down to the scent, texture or price.
We've tested a wide range of moisturisers and that extensive research has yielded both silky-smooth skin and the following selection of our absolute favourites.
---
Neal's Yard Frankincense & Mandarin Body Lotion
Frankincense and mandarin are two big, bold scents, and in combination they only become bolder, producing a sweet, spicy and festive mix that lingers on the skin in the best way. The lotion itself doesn't linger, though, sinking in quickly so you're not left feeling greasy, and it spreads easily so a little goes a long way.
---
The Fellowship Toning Body Moisturiser
This luxurious moisturiser is a little thicker than others, but still sinks into the skin quickly so you're not left feeling uncomfortably slick after applying it. The scent is rich too, and the combination of the texture and smell leaves you in no doubt that your skin is going to be seriously hydrated after application. It might be a little too much for those who prefer a lighter lotion, but it's a great pick for the winter months when your skin needs all the help it can get.
---
Eurosport Multi-Tasking Moisturiser
If you, like us, are excited to find out what other tasks a moisturiser can tackle beyond moisturising, then you, like us, are probably a bit disappointed that the second task is just moisturising after a shave. However, the product itself is not disappointing in any other way, offering a delightfully refreshing herby scent and a tingly feel that lingers on the skin in the best way.
---
Jack Black Black Reserve Hydrating Body Lotion
The Black Reserve range at Jack Black is where you'll find the company's really fancy stuff, such as this excellent body lotion. The combo of cardamom and cedarwood is a winner on the scent front, especially since it's supplemented by bergamot, lavender, coriander and patchouli notes – it's a roll call of the best smells. The lotion is also light on the skin and absorbed quickly, despite containing shea butter and oils to lock in moisture.
---
Triumph & Disaster Dark Moon Hydrating Cream
Designed to keep your skin hydrated at overnight, this facial moisturiser for faces feels light on the skin and has a pleasant, slightly floral scent. The list of ingredients includes such exotics as kakadu plum and horopito, which sound to us like items from a Legend of Zelda game, something that only makes us rate the moisturiser more highly. No doubt these impressive ingredients are partly behind the high price of the cream, but on the morning after an application of the stuff we noticed the difference.
---
Noble Isle Fireside Body Lotion
This is not just the best-smelling moisturiser on this list, it's probably the best-smelling thing we've come across in our lives. Even better, the smell lingers on the skin after application, so you keep getting hints of that warming, spicy scent for hours. It's the kind of scent that makes you pause when writing about it and go put more on, in fact. The lotion sinks in quickly and doesn't leave a greasy feel on the face or body – and there's also a fireside shower gel, if you want a double hit during your morning routine.
---
Bulldog Protective Moisturiser
Bulldog's moisturisers do a great job of hitting the sweet spot between budget skincare options and luxury lotions, offering great quality for under £10. They're often found in big supermarkets too for extra convenience. The Original Moisturiser has the best scent, but the Protective Moisturiser carries a delightful bergamot-heavy fragrance and it's a very handy option for the summer, boasting an SPF 15 rating without feeling thick and sticky like standard suncream does.
---
The key ingredients in this light moisturiser are hyaluronic acid and allantoin. The former is one of nature's most hydrating molecules, according to Manual (Mother Nature did not respond to our request for comment), and the latter soothes and regenerates skin. It's a winning combo on paper and in practice too – Mr Moisturiser rubs in easily and smells fantastic, and it's designed for use on your face, body and hands.
---
This is a great everyday option for the budget-conscious. It's priced very attractively in the first place, and it also has a pump dispenser that limits the chances of squirting too much on your hand so it'll last longer. It hydrates so well that we found Brisk's directions to apply twice a day overkill – once did the trick for us. It requires more rubbing in than other moisturisers we've tried, but it doesn't leave an oily residue.
---
If you're a man keen on avoiding any kind of scent with your moisturiser, either because you have sensitive skin or just hate the idea of your skin being slathered with something smelly, then this is a good bet. It's odour-free, non-greasy and aims to hydrate sensitive skin without causing any irritation.
---
Bullet & Bone Protective Moisturising Spray
When the temperature falls, outdoor exercisers face an unpleasant choice: let your skin face the cold unprotected during your activities, or moisturise beforehand and risk excessive sweating due to the cream. This light moisturising spray provides a third way, offering protection from the elements without blocking pores or making your skin feel greasy. It has a subtle, refreshing scent and sinks in the second it hits your skin. While it might not be as richly moisturising as the other options on this list, it's a great option for runners and cyclists venturing outside during winter.
---
Malin + Goetz Rum Body Lotion
The dark rum fragrance of this lotion might lead you to think you'll walk around smelling like you've had a heavy night out, but you'd be wrong. The scent is subtle and it's one of our favourites of all the moisturisers we tried, which is saying something. The lotion rubs in easily and doesn't feel greasy at all.
---
Nivea Men Creme is good value and available at all supermarkets, making it a great pick for those who want to keep things simple. It takes a little time to sink in, but has a refreshing scent and it's designed to be used on both the body and face.
---
The Bluebeards Revenge Cooling Moisturiser
Rubbing in a cooling moisturiser like this one on a sunny day or after a sweaty workout is one of life's great pleasures, and this refreshing lotion is also great to use after shaving. It's absorbed by the skin quickly, leaving a pleasant tingle in its wake.
---
People No3 Cooling Moisturiser
We were unimpressed with this moisturiser when we first put it on because it's not so great at sinking in. Be prepared for smeared, white skin for a little while after application. However, it's very much worth it because the cooling menthol tingle on your skin is a treat, especially after exercise or a day in the sun.
---
Natural Spa Factory Wild Lavender, Aloe And Comfrey Body Lotion
The fragrance sounds aggressively floral but in reality it's very subtle, with a pleasant hint of lavender. The lotion itself is the most fluid we tried, which means it's absorbed instantly, making it easy to apply to large patches of skin without excessive rubbing.
---
Tropic Look Good Daily Moisturiser
A more divisive scent this, with a fiery ginger fragrance that only fades a little over time. We like ginger, however, so it's two thumbs up from us, especially as the zingy smell is somewhat invigorating. Tropic has marked this down as a face moisturiser, hence the diminutive 50ml tube – you'll go through it in a week if you use it on your body as well.
Sign up for workout ideas, training advice, reviews of the latest gear and more.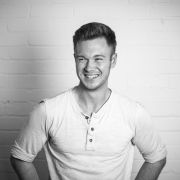 Jake was formely an intern for Coach and now contributes workouts from some of London's top trainers. As well as training in the gym and running, he's competed in the eight-hours-long overnight event Europe's Toughest Mudder twice and the 24-hours-long World's Toughest Mudder once.