The Best Face Scrubs For Men
Refresh your mug with these cleansing exfoliators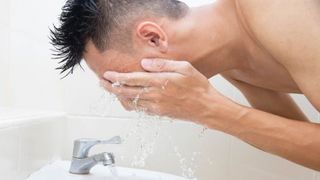 (Image credit: Unknown)
It is good to be clean. We're sure we don't have to persuade you of that. But even if you wash your face daily and after exercise, we'd wager that you'd be surprised by how much cleaner you'll feel if you use a face scrub from time to time. They help to shift dead skin cells and other gunk that builds up, leaving your skin looking and feeling fresher.
But with such an abundance of choice nowadays, which one should you choose? To help in that regard we've been tirelessly testing face scrubs to help you make a decision.
The Bluebeards Revenge
Best For First-Timers
Just starting with this exfoliating lark? Then this scrub's refreshing texture combined with a pleasant but unobtrusive fragrance will break you in gently. The mix of moisturiser, olive stone and ginger makes for a creamy consistency, and it leaves your face feeling cleansed and awake – like being roused from your sleep by a gentle hand on the shoulder rather than a bracing slap round the chops.
Buy on Amazon (opens in new tab) | £9.99 for 100ml
Green People Exfoliating
Best Organic Face Scrub
The only people permitted to speak of silky-smooth skin are Green People people. That's because this shea butter and bamboo-enriched face scrub really grabs on to the dirt and dead skin on your face – and the cherry on top is the, er, cherry powder and grapefruit extract that gives this scrub its scent. Also, Green People is registered with the Vegan Society so you can be assured this scrub is suitable for vegans.
Buy from Green People (opens in new tab) | £13.50 for 100ml
Black Leopard
Best For A Deep Cleanse
If you want a serious scrub that leaves your face soft and glowing, this is the one for you. The black rice and essential oils get deep into your skin to cleanse your pores thoroughly. So much so, in fact, that the blurb advises you to use it no more than two to three times a week.
Buy from Black Leopard (opens in new tab) | £13.72 for 100ml
Jason Apricot Scrubble
Nicest Smelling
The apricot oil and walnut powder had us questioning whether this was a fruity snack or a face scrub. Thankfully our survival instinct kicked in and we didn't eat it – and it did the job when it came to cleaning our face. The brightening formula is also kind enough on the skin to warrant daily use, which is handy because you'll certainly want to fill your nostrils with this fragrant face grub as often as you can.
Buy on Amazon (opens in new tab) | £6.91 for 113g
Harry's Face Wash With Peppermint
Most Refreshing
Fresh – that's how you'll feel after using Harry's gently exfoliating face wash. That's because the essential oils of eucalyptus and mint leave you feeling awake and energised, and the volcanic rock buffs your face to make it feel smoother than ever. What's more, the balance of ingredients makes it suitable for daily use. This is an awesome face scrub to start your day with – just brace yourself the first time you try it. It's minty.
Buy from Harry's (opens in new tab) | £6 for 150ml
See related
Oriflame NovAge Men
Best Splurge
Charcoal has become known as something of a wonder substance of late, being employed to reduce your acidity levels one moment and whiten your teeth the next. Here it's put to work picking up dirt and cleansing your skin, and it's noticeable how deep a clean the charcoal provides. However, what's particularly impressive about this scrub is that it doesn't feel as harsh as the others that cleansed to the same degree.
Buy from Oriflame (opens in new tab) | £18 for 125ml
Procoal Activated Charcoal
Best Charcoal Face Scrub
The second charcoal face scrub on our list enlivens the face with its powerful formula. It dislodges the grime and dirt on your face in a way that feels enjoyably effective, and the inclusion of calendula oil serves to restore the skin's water balance. While we can't be sure that the calendula oil is responsible for the feeling of rejuvenation, we do know this face scrub left our face feeling impressively fresh. At this price, it's also a steal, plus Procoal claims to be cruelty-free which is something we can all – vegans or otherwise – get down with.
Buy on Amazon (opens in new tab) | £9.99 for 100ml
Malin + Goetz Jojoba
Best For Dry Skin
Many face scrubs will tear up dirt and dead skin like a gardener tears up weeds, but if you're concerned that will leave your face a bit barren, try this scrub for sensitive skin types. It will work to subtly bring back the life to your skin while gently cleansing the pores. The scent is enjoyable but not overpowering, and the creamy texture is agreeable. It's a little more expensive than most face scrubs, but it achieves what it sets out to do.
Buy from Space NK (opens in new tab) | £30 for 118ml
Sign up for workout ideas, training advice, reviews of the latest gear and more.
Jake was formely an intern for Coach and now contributes workouts from some of London's top trainers. As well as training in the gym and running, he's competed in the eight-hours-long overnight event Europe's Toughest Mudder twice and the 24-hours-long World's Toughest Mudder once.