Simon Clark: The Face Of Mont Blanc Legend
Meet the model and self-deprecating action man who's fronting Mont Blanc's new fragrance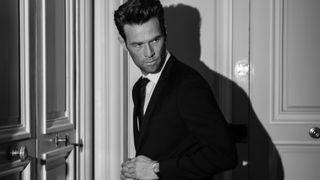 (Image credit: Unknown)
What does your grooming routine consist of?
I wish there was more of one! Moisturising is a good idea, and I'm not anti-exfoliating. I always wet shave and let it grow out. A lot of guys buzz it now but I like that feeling of having it scraped off with a blade. And I like the sting of Mont Blanc Legend. The thing I've enjoyed in the last few years is going to a traditional Turkish barber for a wet shave.
Do you feel under pressure to look great all the time?
No. I'm not on social media but if my career was on Instagram – and the industry is going in that direction – I can imagine that pressure would be tough. I know in advance that I have to look a certain way in two weeks' time so I can get my shit together. But if you're having to do that daily then, yeah, the pressure would be huge.
What does looking good mean to you?
I like to have a signature look. I'm wearing a suit now but I'm also wearing skater shoes. You can feel pressured to look a certain way but I think it's about being authentic and not leaving your real self behind.
How do you stay in shape?
I smash myself to bits. My routine? Break yourself over two or three days training hard, usually mountain biking – that's my big obsession. Then get a day of rest in. The training theory I was taught was about overload. You're damaging your muscles and then in that day off repair takes place and you come back stronger.
Anything else in the training mix?
We did the Mont Blanc Legend fragrance launch in Chamonix, the winter sports resort in the Swiss Alps, which was great because I've spent half my life in Chamonix. I finished an apprenticeship in a factory in east London when I was 18 and thought, "I'm not doing this" so I went out there and did a lot of climbing.
See related
Do you still climb?
The thing I pursue more now is ski touring. Some routes include ski mountaineering, but since having kids the whole rock climbing thing has naturally petered out. Some people are more dedicated but I was looking for an excuse to stop!
Who were your climbing heroes?
Kurt Diemberger, an Austrian climber who wrote a book called The Endless Knot. And the British climber Doug Scott. I worry about saying who my heroes are in case they read that I'm saying they are my heroes and they think, "Who's that prick?" But they are heroes. They're incredible.
Mont Blanc Legend Night is a classic and self-assured masculine scent, with peppery top notes and a strong base of vetiver and patchouli wood. £67 for 100ml, montblanc.com
Sign up for workout ideas, training advice, reviews of the latest gear and more.
Coach is a health and fitness title. This byline is used for posting sponsored content, book extracts and the like. It is also used as a placeholder for articles published a long time ago when the original author is unclear. You can find out more about this publication and find the contact details of the editorial team on the About Us page.