The Best Boxing Gloves, As Recommended By A Top Trainer
Aaron McLeish, boxing coach of champions, imparts the knowledge you need to find the perfect pair of punching mitts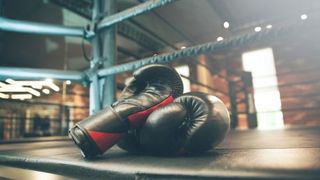 (Image credit: unknown)
Whether you're hitting the bag for the first time or swinging with a sparring partner, one thing's for sure – you're going to want to invest in your own pair of boxing gloves. Why? Because on top of a perfect fit that will help to keep your hands injury-free, you'll also avoid the pungent damp-sock scent that comes with slipping into rental gloves.
With that in mind, we enlisted the help of Aaron McLeish, personal trainer and boxing coach at Fight City Gym (who counts Samuel Antwi, current Southern Area title holder, as one of his fighters) for some buying advice for a first-timer as well as his glove recommendations.
What do I need to know before buying boxing gloves?
The main thing you need to know is how much you weigh. The size of glove you need is dependent on your weight. For example, if you're 65kg, you're going to be sparring with 16oz gloves. The heavier the individual, the bigger and heavier the glove. It all comes down to minimising the impact of your punch. Gloves that are too light are going to impart too much damage to your sparring partner. Pro gloves are completely different in that respect, as they're designed to inflict more damage.
When they're on, take note of where the weight is. Some gloves – they tend to be the cheaper ones – will feel front-loaded, which means there's a lot of weight around the knuckle. Avoid these. You want the majority of weight to be around the wrist area, as this is what will look after your hands. Too much weight around the top of the glove is a classic recipe for injury, especially in beginners.
After that, you want your hands to feel comfortable and secure, and in a nice tight fist. It's all about feel, really. The best thing to do is get hands-on with a few pairs and compare them at a physical shop. Two top stores are Boxfit UK in Romford or Sugar Ray's in Brentwood.
Make sure you're trying gloves on with hand wraps, as you need to allocate a little more space for these, too.
I'm a beginner on a budget. What do you recommend?
There's only one pair of gloves that I'd buy from Sports Direct, and that's the Everlast Protex3 (£64.99 on Sports Direct, or £45.95 on The Boxing Gloves). The weight distribution is perfect, especially at that price. That's the budget-friendly option to go for. I wouldn't touch anything else that's around that price range.
If your budget is a bit more generous, then look at Winning (£224.99). They come from Japan, and might be the best on the market. They're the type of glove that Floyd Mayweather uses in training, more of a protective glove. They're built with a form of memory foam and are brilliant for taking care of your hands when sparring.
We use the Winning gloves. They're beautiful, hand-crafted gloves, and I find they're so effective at keeping my fighters injury-free. They really look after your hands and when your hands are your work tools, that's the most important thing. They're pricy, but worth the money.
Or try Reyes, which come from Mexico. They're a type of puncher's glove. The way the weight is distributed through that glove allows you to fully exert your power.
See related
Should I always go for red gloves?
Colour choice is down to preference. For me personally, I'm very much into how different-coloured gloves can give you an edge. For example, black gloves seem to make your hands appear smaller, whereas white gloves give the impression of making your punches faster.
Velcro or lace?
All my pros wear lace-ups, but if you're going to be doing bag work on your own then Velcro is easier to do up without anyone to help you. My tip is that, once you put your gloves on, no matter if they're lace of Velcro, tape up your wrists. It'll stop you from cutting your sparring partner by accident.
Leather or vinyl?
Leather. They're more expensive, sure, but they're longer-lasting. You really get what you pay for.
What should I do to keep my gloves going for longer?
It's really important to dry them out. Don't leave your gloves in your sports bag with all your sweaty gear – they'll stink. Hang them out to dry when you get home, and maybe throw a couple of Odour-Eaters in there for good measure.
Sign up for workout ideas, training advice, reviews of the latest gear and more.
Craft beer drinker, Devonian, fisherman and former content director of Coach online, Chris contributed style coverage and features between 2016 and 2019.