3 Simple Spiralising Recipes That'll Make You Healthier
Get more nutrition – and excitement– into your meals with the help of one ingenious gadget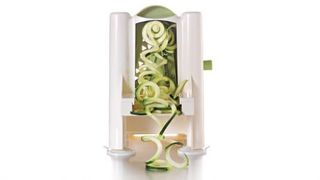 (Image credit: Unknown)
Once you get past a toaster and perhaps a slow cooker, your kitchen counter-space is at a premium – and a gadget designed to slice courgettes into pleasing shapes isn't the obvious next step. But there's a reason food bloggers and fitness hipsters are turning to the spiraliser in droves: by letting you reinvent starchy, processed staples like noodles and spaghetti using the magic of fresh green veg, it'll let you hit your five a day while still getting your Lady & The Tramp on with an appropriate partner.
Courgettes in particular are a spiralising dream. As well as being a slightly annoying portmanteau word, "courgetti" is actually worth its hype. It only takes 20 seconds to boil, and contains around 300 fewer calories per 100g than pasta. It's a go-to substitute for those wanting to cut down on carbs, too – a medium courgette has just 6g of carbs, compared with 22g in a 100g serving of pasta. Plus it provides over 50% of your RDA of immunity-boosting vitamin C.
Of course, courgettes aren't the only thing you can shove in a machine and turn into satisfyingly perfect curly strips (we used a Lurch Spirali, £24, FYI). Here's your entry-level guide to putting body fat on a downward spiral.
For breakfast: Energy waffles
Ingredients
1 sweet potato
1tsp cinnamon
1tsp coconut oil
1tbsp natural yogurt
Drizzle of honey
Handful of blueberries
To make
Spiralise the sweet potato and mix with the cinnamon and coconut oil. Spread the mixture evenly in a waffle maker or lidded grill and cook until crisp. Serve with blueberries, yogurt and honey to supercharge your morning.
For lunch: Slimming noodle salad
Ingredients
1 cucumber
40g mozzarella, shredded
2tsp extra virgin olive oil
Handful of baby plum tomatoes, halved
Handful of black olives, sliced
Fresh basil leaves
To make
Create a carb-free feast by simply mixing the spiralised cucumber in a bowl with the mozzarella, olive oil, tomatoes and olives. Serve garnished with the basil.
For dinner: Bulk-up pasta bake
Ingredients
1 courgette
2 tomatoes
1 garlic clove
½ an onion
1tbsp olive oil
1tsp Worcestershire sauce
50g cheddar, grated
To make
Spiralise the courgette and place it in a baking dish. Blend the garlic, tomatoes, onion, olive oil and Worcestershire sauce in a food processor and spread over the courgette noodles, then sprinkle the protein-rich cheddar evenly over the top. Bake at 160°C/gas 3 for 30 minutes or until the cheese is browned.
Sign up for workout ideas, training advice, reviews of the latest gear and more.
Coach is a health and fitness title. This byline is used for posting sponsored content, book extracts and the like. It is also used as a placeholder for articles published a long time ago when the original author is unclear. You can find out more about this publication and find the contact details of the editorial team on the About Us page.