Getting Dental Implants Abroad: One Man's Dental Tourism Adventure in Hungary
Coach correspondent Matthew Wilcher joined the thousands of British people who are turning their face ache into a happy holiday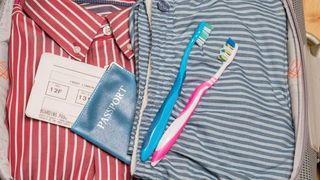 (Image credit: unknown)
"Dental tourism" is a trend that is rapidly on the up – and with ever-increasing costs and lengthy waiting times for dental treatment in the UK, that's no surprise. A growing number of people in the UK are now opting to get their dental work done abroad for a fraction of the price, cutting out waiting times and providing an excuse for a holiday at the same time. Every year over 50,000 people in the UK travel overseas for medical treatment – and 40% of these do so for the sake of their teeth.
This says a great deal about the difficulties patients face in getting NHS-provided dental surgery in this country. When you're in mind-numbing pain from a tooth infection, the last thing you want to hear from your dentist is that you face a three-month wait for your operation. Added to this, there's also a referral process which may take a further few weeks. I recently found myself in this rather sticky situation – I also had additional dental work to get done including a crown and dental implants, so the outlook was pretty bleak.
Faced with the prospect of a three-month toothache, I started to research the alternative options. I looked into having my teeth done privately, but the costs were astronomical and my company's health insurance was useless. I was in so much pain I remember joking with my friend that maybe he could pull my tooth out for me (YouTube provides numerous video examples of those who have gone down this route). Later that day, I stumbled upon a DIY dental kit in the local supermarket (yes, I'm afraid these things do exist) and found myself contemplating a horrible last resort.
RECOMMENDED: The Secrets of Dental Health
Fortunately, one of the many colleagues I was moaning to at work explained how she had travelled to Hungary when she had needed her tooth crowned. The surgery had cost a fraction of the private fees I had been weighing up in the UK, she had been treated a matter of days after enquiring, and she assured me that Budapest was a fantastic city which truly lived up to its reputation as the "Paris of the East". It all seemed too good to be true.
At first I was a little apprehensive, imagining myself arriving at a back-street dentist in a dark corner of an unfamiliar European city, sitting down to have my teeth removed with a pair of pliers. However, after a few hours of research online I saw that this relatively novel practice of dental tourism had been covered in almost all of the national papers – it seemed to be a legitimate and popular choice, and more importantly, I wasn't going to be a pioneer. Budapest also seemed like a good choice of destination – it's one of central Europe's dental tourism hotspots, came recommended by a friend and offered the chance for a welcome break in a city brimming with culture.
The differences in prices can be huge – a standard filling can start from as little as £6 in Hungary, compared with £51.30 on the NHS and £100+ when done privately. With such obvious savings to be made and some positive coverage in the UK press, I no longer felt alone in the dental tourism wilderness. Armed with my new-found knowledge, I decided to take the plunge. By using budget airline scanner momondo.com I found flights for £77 return – meaning that the whole trip remained a cost-effective alternative to private treatment.
Budapest as a tourist destination did not disappoint. I wandered the city's picturesque streets, relaxed in its iconic thermal baths and enjoyed a tranquil cruise down the Danube – not bad, even with a violent toothache. I had my surgery done in a modern, tasteful practice called Nador Dental, located in a charming old building just a stone's throw away from the picture-postcard Houses of Parliament. The level of treatment was like nothing I had experienced before, and far better than I had expected. I found myself in a beautiful waiting room where all of the receptionists spoke perfect English. The head surgeon greeted me and explained what I was to expect. The actual operation was over quickly and seemed to go flawlessly. It felt as though I had been treated in a spa rather than a dentist's.
As part of the package, Nador Dental also included accommodation situated just two doors down from the surgery. My room was comfortable and beautifully furnished, and I was greeted with a welcome surprise after my journey – a batch of home-made zsemle, a Hungarian bread, had been left on the counter for me to try my new teeth on.
The whole trip lasted just three days, and then I was on the plane back to London, with the journey back giving me some time to reflect on my experience. Initially I had been somewhat sceptical, but in the end I returned a satisfied customer. I saved myself a considerable amount of money by avoiding going private. I also skipped the queue and saved myself three months of agonising pain waiting in line for the NHS, with my surgery being completed the first weekend after I made the call to Nador. Three months on, and I have no troubles whatsoever with my wisdom tooth, so clearly it was a job well done. I also have the lasting memory of a fantastic few days in one of Europe's most exciting and vibrant cities. Certainly beats getting a lollipop on the way out.
Nador price list
Extraction of wisdom tooth: £50
Ceramic crowns per tooth (porcelain fused on metal): £194
Titanium implant without crown, Alpha-bio System: £480
nadordental.hu (opens in new tab)
In the UK, the surgical removal of a wisdom tooth could cost up to £500 and then £1,000 per crown. Some practices would be cheaper; London dentists tend to be even more expensive. Dental implants would cost £2,000-£2,500 per tooth.
Top Dental Tourism Destinations
Five other countries whose dentists are among their worthwhile tourist attractions.
1. India
The savings aren't great enough to pay for your trip, but with tooth extractions from just £6, you'd be crazy not to include a visit to a dentist as part of an Indian holiday. Waiting times are much shorter than in the UK and the standard of care is generally high – dentists will train for four years as an undergraduate and undertake a year's internship before specialising for three years. English is also widely spoken.
2. Poland
A short low-cost flight from the UK, dentists in Poland train for five years and are required to pass further exams every five years to continue practicing. Most major cities, including the capital Warsaw, offer care for visitors from overseas and prices can be up to 50% cheaper than in the UK.
According to the UN, Costa Rica has the best healthcare system in Latin America and is ranked in the top 20 worldwide. It's popular with Americans seeking dental treatment as many materials are approved by US agencies and imported from the United States. Costs can be around 25-33% cheaper than in the UK.
4. Czech Republic
Not just for stag dos, Prague is an emerging hotspot for dental tourism owing to high standards of treatment and prices around 15% lower than the UK. All dentists in the Czech Republic must be registered with the Ministry of Health and the Czech Dental Chamber. While the capital is more expensive than the rest of the country, it has the highest concentration of dentists and a reputation for advanced care.
Marketed as the Land of Smiles, Thailand seems an obvious place to get your gnashers seen to. Prices are around 50% cheaper than the UK and some 1.2 million dental tourists visit each year. The Thai government's Ministry of Health is actively trying to make Thailand a leading spot for health tourism and as such English-speaking dentists and modern clinics can be found easily.
Sign up for workout ideas, training advice, the latest gear and more.