The Best Shampoo For Hair Loss 2019: Options For Men And Women
Thinning up top? You're not alone – but you can address the problem with the right shampoo. Here's our pick of the best products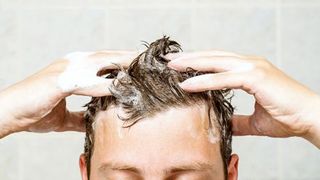 (Image credit: Unknown)
In these enlightened times, baldness isn't necessarily the source of embarrassment it used to be – you don't see as many toupees around as in your grandparents' day – but it can change your whole look in ways you may not be ready for. Fortunately, there are now shampoos specifically made to target hair loss.
These shampoos don't work miracles, but they do help stall the hair loss process by improving your scalp condition and promoting healthier hair growth, and some shampoos can also make your hair look thicker than it is. Don't wait till you're more Larry David than David Beckham to start using one – the sooner you do so, the more likely it is you'll retain a full head of hair.
Hair loss isn't only a male issue. Men and women both suffer from hair loss, and for different reasons. This means it's important that women use products made for female hair (although some of these can also be used by men). And remember, no product, no matter how sciencey-sounding, can reverse hair loss and you shouldn't believe any hyperbolic marketing copy that suggests otherwise.
We put a number of hair loss shampoos to the test, and you can find our favourites below. First, though, we've put together a guide to the causes of hair loss and what you need to know to find the right shampoo for you.
What causes hair loss?
Normal hair loss in men, commonly known as male pattern baldness, is caused by testosterone, which all men have. However, hair loss in men and women can be caused by illness, stress, weight loss or nutrient deficiency, particularly iron (anaemia). If you think this may be the case, ask your GP for a diagnosis, and start treating the issue with the appropriate shampoo as soon as possible. Some trichologists (hair and scalp experts) say that washing your hair more than two or three times a week can also lead to hair loss, so that could be a factor. But hair follicles can simply shrink naturally and produce finer and shorter hairs over time, so it's never too soon to start using a shampoo to combat thinning hair.
What causes hair loss in women?
It may seem more of a male issue, but an estimated six million women in the UK are affected by hair loss. Many women suffer from post-pregnancy hair loss – in fact, it affects half of all women six to 12 weeks after giving birth or stopping breastfeeding. The menopause is another female-specific cause of hair loss.
I'm noticeably losing hair. Do I need to worry?
Severe hair loss doesn't tend to occur quickly because hair growth happens in cycles. If you notice it, you'll have time to deal with the problem. Sudden hair loss might be scary but there's almost certainly a specific cause that can be addressed. If you're experiencing daily hair loss on a significant level, see your GP or a trichologist.
How can a shampoo help my hair?
As we say, no shampoo can stop hair loss. What it can do is work to improve the condition of your hair and scalp, and help promote healthier future hair growth. There are also thickening shampoos that make your hair look fuller than it is.
What should I look for in hair loss shampoo?
Some products contain finasteride or minoxidil, which are treatments for male pattern baldness. Women can use products with minoxidil but should not use finasteride. But there isn't a definitive list of ingredients to look out for in a shampoo designed to combat hair loss. They each work in different ways. And, yes, some are of the snake oil variety – but thanks to our tests, none of those are in the selection below.
See related
The Best Shampoo For Hair Loss
Forticea by Rene Furterer Stimulating Shampoo for Thinning Hair
Best for fast results
One tried-and-tested means of reducing hair loss is to increase circulation around each follicle. This means hair is more likely to grow, and to be stronger and thicker when it does. While you'll need to spend a little time massaging this shampoo into your scalp to allow those microbeads to do their work, the results are quick in comparison with other products, which justifies the effort (and the price). It also smells genuinely pleasant.
Buy from allbeauty | £11.90 for 200ml
---
ArtNaturals Argan Oil Shampoo for Hair Regrowth
Best for women experiencing menopause-related hair loss
One common cause of hair loss is a hormone called DHT, which blocks the blood supply to follicles, causing hair to fall out. This thick, creamy shampoo contains DHT blockers, as well as fortifying antioxidants and proteins. It also has plenty of ingredients that are associated with healthy hair growth, such as argan oil, aloe vera, white willow bark and burdock root. This is an all-natural, vegan-friendly product that's ideal for stimulating regrowth in menopausal women – it's pricy, true, but it's also long-lasting.
Buy on Amazon | £12.95 for 473ml
---
Nourkrin Shampoo and Scalp Cleanser
Best for fragile hair
This shampoo is designed to both protect and stimulate your scalp, as well as to make your hair look thicker. It's an excellent choice for those with sensitive scalps because it's gentle while still being effective. It needs to sit in your hair for a few minutes after you've worked up a lather, and it's so kind to fragile and brittle hair that it can even be used daily.
Buy on Amazon | £12.07 for 150ml
---
Klorane Flax Fibre Shampoo
Best for boosting your roots
Flaxseeds are full of healthy fats and fibre, making them a great addition to your diet, and they also help your hair look fuller when applied to the roots of your hair. Klorane has packed this shampoo with flax fibre which produces a natural lifting effect to your hair that will last all day – without any iffy-sounding chemicals involved. You'll find it goes a long way too, but it's easy to use too much with some going to waste as it's more watery than the others here.
Buy on Amazon | £12.40 for 400ml
---
Lee Stafford Hair Growth Shampoo
Best for strengthening your hair
This shampoo works by strengthening the hair from within, so you're less likely to lose any more, and it fertilises each follicle to encourage growth. It will also keep your existing hair at maximum length, health and thickness.
Unfortunately, all this comes at a price: it doesn't smell that nice and it doesn't lather too well either. However, you can't fault it for effectiveness, especially when used alongside other products in the company's range (such as the conditioner, leave-in conditioners and treatment). Like the Nourkrin, it needs a few minutes to work its magic, so don't rinse it out too quickly – in fact, the brand recommends that you wash your hair twice for the best results.
Buy on Amazon | £7.49 for 200ml
---
Nioxin System 2 Cleanser Shampoo
Best for unblocking hair follicles
People with extra-fine hair will take to this shampoo very quickly indeed: it's garnered a loyal fanbase – among women in particular – because it leaves your hair feeling considerably fuller after just one wash. And the reason it also works well for people suffering from hair loss is that it prevents the build-up of things like sebum, fatty acids and environmental residue – the things that can block nutrients from getting to your hair follicles. It does all this caretaking while also keeping your locks shiny and thick. We also highly recommend the matching conditioner.
Buy on Amazon | £12.89 for 300ml
---
L'Oréal Elvive Fibrology Fine Hair Thickening Shampoo
Best for hair thickening over time
This product isn't specifically for hair loss, but it does offer an instant thickening effect for fine hair, which is one effective way to conceal the extent of hair loss. More importantly, it won't leave your hair feeling fragile as a result – in fact, the complete opposite. And don't let that low cost make you doubt its quality: it offers a rich, thick lather, smells seriously good and adds long-lasting body to your hair.
Buy from Superdrug | £2.47 for 400ml
---
Viviscal Gorgeous Growth Densifying Shampoo
Best for professional-quality cleansing
This one will make you feel as though you've just been to the hairdressers'. It lathers beautifully, smells wonderful and gives hair an instant fullness and softness, and we were delighted to find that this was further enhanced with each wash. No frizz, no brittleness, and all those essential oils your follicles need are retained for maximum volume. Even though it's less than half the price of the most expensive shampoos on this list, it feels distinctly luxurious. The manufacturers attribute this to the Ananta proprietary complex, blended with biotin, keratin and zinc. The irony is that this isn't even a shampoo designed to promote hair growth.
Buy on Amazon | £9.99 for 250ml
---
Aveda Invati Advanced Exfoliating Shampoo
Best improvement on a top-selling product
First launched in 2012, this revitalising shampoo was an immediate best-seller and has stayed that way ever since. This version is a development of that first one, with years of research having made it even better. The all-natural ingredients include wintergreen-derived salicylic acid, which exfoliates, unblocks pores and helps prevent hair breakage, and amino acids that mimic hair's building blocks, leaving it stronger and looking fuller.
It also contains Japanese knotweed (the trait in this plant that makes it hard to remove from your garden is a distinct plus in a shampoo), nourishing milk thistle extract, tangerine peel and an Ayurvedic herb blend – all of which helps invigorate the scalp and boost the roots. The trick with this shampoo is to avoid towelling your hair and letting it dry naturally instead – if you do, you'll have soft, clean and resurrected hair after washing.
Buy on Amazon | £24.10 for 200ml
Sign up for workout ideas, training advice, reviews of the latest gear and more.