How to Prepare for Match Day
The 2003 Rugby World Cup winner Josh Lewsey talks us through the crucial five steps you need to follow to prepare for match day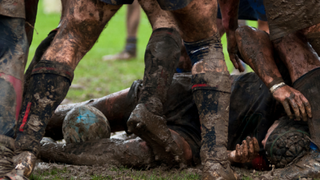 (Image credit: Unknown)
Josh Lewsey, England's full-back during the victorious 2003 Rugby World Cup campaign, learned the importance of precise preparation and discipline for performance early in his career with the army. He brought that knowledge over to rugby when he started playing it professionally, and his commitment to thorough planning helped him to enjoy a successful career and to become a long-serving MaxiNutrition ambassador.
From wing and full-back Lewsey scored 51 tries and 255 points in 186 games for his club, Wasps, helping them win four Premierships, two Heineken Cups and a European Challenge Cup. But his greatest success came with England when they won the 2003 World Cup, while he achieved a personal highlight in the same tournament by scoring five times in a 111-13 thrashing of Uruguay.
Lewsey spoke at at a MaxiNutrition breakfast event along with Emma Gardner, head of nutrition at Northampton Saints. The pair shared their top five tips to make sure you're fully prepared for your match.
1 Fuel your body
In the three days leading up to your match, make sure you stock your body up with carbohydrates to ensure it's well fuelled. Gardner says, "Players are advised to increase their carbohydrate intake in the days leading up to a game to ensure that they have recovered from the training week and have adequate energy stores ready for the match ahead."
Take in slow-release carbs from a variety of sources such as oats, brown rice, sweet potato, quinoa, vegetables and fruit, with your last big hit being the night before a match.
2 Wake your CNS
Lewsey recalls waking up early on the day of a match to fire up his central nervous system in preparation for the kickoff. He says, "Do some drills – just enough to wake up your neurological system, maybe a few flat-out sprints. That way when it comes to the game your body has recently experienced what you're going to ask of it."
Set out two cones 40m apart and complete eight sprints between them, walking back to where you started each time. Start at 50% of your max speed, building up to flat-out, and run in diagonal patterns to get used to changing direction off both feet. Neural activation drills in the warm-up help make sure that your neuromuscular system is awake and alerted, and they also help raise your core body temperature to prepare your body for exercise.
3 Recharge your energy
After you've woken up your CNS it's time to go back to bed. Lewsey recommends going back to sleep, or at least resting with your feet up, for an hour to replenish your energy stores. "Close to kick-off you have to save all of your neural energy for the 80 minutes," he says. "I would try to find myself a quiet corner in the dressing room and try to relax."
4 Eat a well-balanced breakfast
Most of the energy you need for the match will have been consumed in the days leading up to it, but it's still important to eat properly on the morning of the match. ""Every match day morning, without fail, I'd eat eggs, avocado and some low-GI bread," says Lewsey.
"The meal before you play isn't the time to be experimenting with new recipes and ingredients," says Gardner. "Make sure your gut is happy digesting this food on a non-match day first in case it doesn't agree with you."
The healthy fats in the avocado, protein from the eggs and slow-release carbs in the rye bread will all contribute to helping you recover from the day's sport and are light enough to not sit heavy in your stomach during the game.
Ingredients
1 avocado
2 medium eggs
1 slice of bacon, chopped into small pieces
Few leaves of fresh basil
5 cherry tomatoes
2 slices rye bread
Drizzle of rapeseed oil
To make
Pre-heat oven to 200°C/gas 6.
Drizzle oil in a pan and cook the bacon for 5-7 minutes until crisp before removing from the pan.
Halve the avocado and create a large hole for your egg, before cutting a small flat piece off of the bottom of each avocado half and place them on a baking sheet.
Crack one egg into a bowl, then pour it an avocado half. Repeat with the other egg and other avocado half.
Sprinkle with salt and pepper, then bake in the oven for 20-25 minutes until the egg is white and cooked but the yolk is still runny. Add the tomatoes to the tray for the last 15 minutes.
Remove from the oven and sprinkle the avocados with bacon and basil. Serve with toasted rye bread.
5 Play on an empty stomach
"A lion doesn't hunt on a full stomach," says Lewsey, and the same should be true for a human hunting down the ball. "Make sure you haven't overeaten because there's nothing worse than feeling lethargic and chasing shadows." Lewsey reiterates that it is the days building up to the match that are more important when building up your glycogen stores. "I wouldn't eat too much between breakfast and playing, maybe a little snack, a cup of tea, something sweet an hour before the game."
The lack of food before a match makes it all the more important to refuel your body afterwards and aid the recovery process. Lewsey continues, "You have a window of 10-15 minutes where your body acts as a sponge, which is why protein shakes are a great idea as they transport nutrition quickly, which you can then follow up swiftly with a nutritious and balanced meal."
MaxiNutrition is the #1 expert-recommended sports protein brand, with a strong heritage in rugby. MaxiNutrition's products include a unique triple-release fast-acting, slow-release formulation. To find out more, click here (opens in new tab).
Sign up for workout ideas, training advice, reviews of the latest gear and more.