Welsh lamb recipes
Try these Welsh lamb recipes for a protein boost with iron, B vitamins and zinc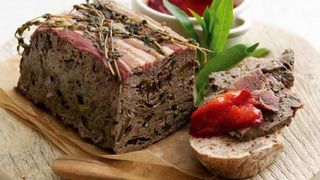 (Image credit: Unknown)
Welsh lamb is uniquely flavoursome and tender, lending itself to all sorts of cooking methods from roasting and grilling through to slow cooking and pan frying. This tasty meat is great for your health too, providing high-quality protein, iron and B vitamins vital for energy, plus zinc for a healthy immune system. Teaming Welsh lamb with some vitamin C-rich greens and a source of healthy carbohydrate, like beans, or skin-on potatoes makes for a well-balanced meal that's perfect for anyone who regularly trains. Give these delicious recipes a go when you get back from the gym, or take them to work for lunch.
Welsh Lamb's Liver and Mushroom Thyme Paté (pictured above)
Time: 2hrs
Serves: 6
Per serving: 151 calories, 8.7g fat (3.1g saturates), 0.98g salt, 6.02g iron
Ingredients
450g (1 lb) Welsh lamb's liver, washed / 175g (6 oz) chestnut mushrooms, thinly sliced / 1 small leek, thinly sliced / 10ml (2 tsp) / green peppercorns in brine, drained or 5ml(1 tsp) / green peppercorns dried, crushed / butter, to grease tin / 3 dry cured streaky bacon rashers / 4 sprigs fresh thyme
To make
Preheat oven to gas mark 4, 180°C, 350°F.
Cut liver into small pieces and place in a food processor until the mixture is smooth. Remove and place in a large bowl. Add the mushrooms, leeks, peppercorns and season, thoroughly mix all ingredients together.
Take a 1.1 litre/2pt loaf tin and lightly grease with a little butter. Place bacon rashers on the bottom of the tin and place onto them the thyme sprigs.
Spoon the liver paté mixture into the tin and smooth the top. Cover with a piece of non-stick baking paper and then a piece of foil.
Place in a deep roasting pan and pour a little hot water into the tin to come about 5cm up the loaf tin. Cover with foil and place in a preheated oven for 1½ hours until mixture is completely set and top starting to brown.
Carefully remove from oven and allow to stand for at least 20 minutes before turning out. Pour off excess juices, cover and place in the fridge to cool.
Benefits
This dish has 43% of the Recommended Daily Allowance (RDA) of iron. The great thing about red meat such as Welsh lamb and lamb's liver in particular is that they provide high amounts of the mineral in its most bioavailable form – haem iron – so you get the maximum benefit.

Another nutritional highlight of this dish is its high vitamin A content - even just an occasional serving will make sure you get enough of this essential immune vitamin that helps maintain the mucous membranes that act as a barrier to bugs. The paté is also a good source of zinc and copper – other important nutrients for our immune defences – and has more folic acid per portion than an equivalent serving of broccoli.
Slow-cooked Welsh Lamb Lemon and Mint Tagine
Time: 90mins
Seves: 4
Per serving: 403 calories, 12.3g fat (4.2g saturates), 1.66g salt, 7.8mg iron
Ingredients
450g (1lb) lean Welsh lamb cubes / 1 onion, cut into wedges / 15ml (1tbsp) ground cumin / 2.5ml (½tsp) ground cinnamon / 2.5ml (½tsp) ground ginger / 400g (approx) can chickpeas, drained / 300ml (½pt) lamb stock / 150ml (¼pt) orange and mango juice / 1 lemon, zest removed / 30ml (2tbsp) fresh mint, roughly chopped / 225g (8oz) couscous / zest and juice 1 lemon / 30ml (2tbsp) fresh mint, roughly chopped
To make
Pre-heat your oven to gas mark 3, 170°C, 325°F
Place lean lamb cubes, onion, cumin, cinnamon, ginger, chick peas, stock, juice and zest into a large casserole dish.
Cover and cook for 1-1½ hours until the meat is tender.
Remove lid and sprinkle on the couscous, lemon and seasoning.
Replace lid and return to oven for about 20 minutes until liquid has absorbed (add a little more stock if a little too dry).
Serve the tagine sprinkled with mint.
Benefits
This simple to make tagine is the very essence of warming comfort food. Best of all the satisfying combination of protein from Welsh Lamb and slow releasing (low GI) carbohydrates from high fibre chickpeas will keep you filled up, stopping the urge for late-night or afternoon snacks.

One serving of the Welsh Lamb tagine supplies over half of your RDA of iron per serving and its high zinc content also helps with muscle development and keeps your immune system fighting fit. An ideal meal to tuck into if your energy levels are flagging during the winter months, this also provides one of your five a day. You can effortlessly bump it up to two with the addition of a serving of frozen peas.
Fruity Welsh Lamb Stir Fry
Time: 10mins
Serves: 4
Per serving: 285 calories, 13.2g fat (4.4g saturates), 0.4g salt, 3.02mg iron
Ingredients
450g (1lb) Welsh lamb leg steaks, cut into thin strips / 15ml (1tbsp) coconut oil / 5ml (1tsp) sesame oil / 1 lemon grass stalk, tough outer layers removed and finely sliced / 1 clove garlic, crushed / 1" (2.5cm) root ginger, peeled and grated / 100ml fruit smoothie e.g. mango & passion fruit / 15ml (1tbsp) mango chutney / 2 pak choi heads or Chinese leaf, thinly sliced / 50g (2oz) mange tout or sugar snap peas, sliced / 50g (2oz) broccoli, cut into small florets / 225g (8oz) precooked noodles
To make
Heat the oils in a large non-stick frying pan or wok. Add the lamb strips, lemon grass, garlic and ginger.
Cook for 4-5 minutes until meat is browned on all sides and cooked through.
Add the mango chutney and stir until it goes a little sticky. Add the vegetables and cook for 2-3 minutes.
Lastly add the fruit smoothie.
Top with noodles and allow to heat through & serve.
Benefits
A tasty twist on a normal stir fry, this fruity Welsh lamb version with delicious Asian flavours is a good source of easily absorbed iron, essential for the manufacture of healthy red blood cells and maintaining healthy energy levels. It's also another great provider of zinc, which as well as aiding muscle growth also benefits your skin and reproductive health.

The tasty crunch provided by the broccoli and mangetout or sugar snap ensures this dish is also a good source of folic acid – another vitamin that's vital for red blood cells – as well as the important antioxidant vitamin C, which plays a role in keeping your immune system, skin and gums healthy.
Welsh Lamb Tikka Wraps
Time: 10mins
Serves: 2
Per serving: 406 calories, 14.8g fat (4.3g saturates), 1.4g salt, 5.2mg iron
Ingredients
225g (8oz) Welsh lamb leg steak cut into very thin slices / 5ml (1tsp) oil / ½ an aubergine, cut into thin slices / 1 onion, cut into thin slices / 3 mushrooms, sliced / 15ml (1tbsp) mild curry paste / 15ml (1tbsp) mango chutney / 1 tomato, thinly sliced / a handful of fresh coriander leaves, chopped up / 2 wholewheat tortilla wraps
To make
Heat up the oil in a non-stick pan or wok. Add the lamb strips, aubergine, onion and mushrooms and cook, stirring until the meat is browned, about 6 minutes.
Add the curry paste and the mango chutney, stir and cook for a further 2 minutes.
Add the tomato and coriander.
Spoon the mixture into the middle of the wraps, roll them up and enjoy.
For fast food that's also healthy, look no further than these delicious wraps that can be whipped up in minutes for a quick lunch or light dinner. Each serving supplies a balanced and energising mix of protein and carbohydrates, which is further enhanced by the great levels of iron and B vitamins found in lean Welsh lamb.
Sign up for workout ideas, training advice, reviews of the latest gear and more.