Healthy, Filling Meals for Breakfast, Lunch and Dinner
Coach shows you how hearty a plateful you can tuck into without causing havoc on the scales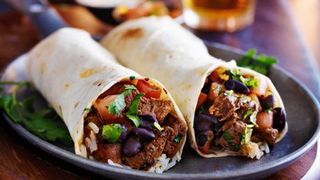 (Image credit: Unknown)
Breakfast
Bacon and Egg Roll
Calories 300
Fat Content 17g
Surely there's no place for a fry-up-based sarnie in a calorie-controlled environment? Surprisingly there is. An egg and bacon in a bun from a greasy spoon weighs in at around 550 calories, the Pret version clocks 485 calories and Eat does a bacon and poached egg roll with only 336 calories. However, if you make it yourself at home, by choosing your ingredients carefully you could get it down to around 300 calories. Here's how.
Brown bread has fewer calories than white (although some manufacturers often add sugar to counter the "bitter" flavour of bran, so always read the nutritional small print). However, brown bread can be too hard or chewy to cope with a filling so go for a light roll with some grain such as Warburtons wholemeal, which is 130 calories for a 56g roll. Cut in half and spread sparingly with a low-calorie spread, such as Flora Pro-Activ (20 calories). Grill two rashers of lean back bacon (80 calories), trim off the fat and keep them warm while you poach one small egg (70 calories).
If you can't resist the urge to slather it in ketchup, use the reduced sugar and salt versions, which have eight calories per 15g versus 18 calories in the regular kind.
RECOMMENDED: Healthy Pancake Recipes
Lunch
Chorizo and Butter Bean Soup with Crusty Bread
Calories 443 (soup 183, half a medium baguette 260)
Fat Content: 17.6g
This makes two generous portions (put half in the fridge for another day – don't eat both in one go) and is incredibly satisfying considering it has only 183 calories per portion.
Skin and cut 25g of chorizo into small cubes, put into a large saucepan and heat over a gentle flame until the oil begins to run. Add one small onion and a clove of garlic, both finely chopped, and fry gently until they are soft. Pour in a 400g can of drained butter beans and a can of chopped tomatoes and stir well. Season with salt and freshly ground pepper and if you like things spicy, add a pinch of smoked paprika or chilli powder. Simmer over a gentle heat for about ten minutes. Although it's called a soup, this recipe cooks into a stew-like consistency, but you can thin with a little water or stock if you prefer, or want to make it go further. Serve half the soup in a large mug or small bowl, with crusty bread to dip.
The beauty of this recipe is that there is no added fat — you fry the onions and garlic in oils released by the sausage and do not need butter on the bread as the soup is so rich. If you took out the chorizo, you'd reduce the calories by 88.
Mexican Steak Burrito
Calories 470
Fat Content 16g
When you look at a list of burrito ingredients, you could be forgiven for thinking it way too complicated for home construction. Most of the burritos in restaurants are also enormous and, therefore, on the forbidden list. But these home-made ones are simpler to make because they use some prepared ingredients such as microwavable rice and canned beans. They are also a whole lot healthier and a more reasonable serving size – though not in any way skimpy.
To make two very filling but healthy burritos, combine two tablespoons of ready-made salsa (such as Waitrose vine-ripened tomato salsa or Sainsbury's salsa dip) with two tablespoons of water in a small saucepan. Bring to a boil, stir in two tablespoons of cooked brown rice, reduce heat to a simmer, cover and cook for five minutes. Stir in 150g of canned black beans, return to a simmer and cook, uncovered, stirring occasionally, until the liquid is absorbed. Trim a 200g piece of skirt steak, cut it into thin strips crosswise, and season with pepper. Heat a small splash of rapeseed oil in a medium frying pan over medium-high heat. Add steak and cook, stirring occasionally for about three minutes or until cooked through.
Then spread two 8in [20cm] soft tortilla wraps on a chopping board, divide the steak between them and top with equal amounts of the rice mixture, plus a generous tablespoon of grated mature cheddar cheese and a good tablespoon of ready-made guacamole, plus a sprinkling of freshly chopped coriander. Put the filling in a strip down the middle of each tortilla. Fold one half over, tuck in each end, then tightly roll up into a fat sausage shape. Wrap it in foil to keep it warm and hold it together so it is easier to eat. Leave out the grated cheese and you'll cut your calorie intake by 50-60.
Asian Chicken Salad
Calories 270
Fat Content 6g
Again this makes enough for two people (or two days), but the calories and fat are worked out per serving. First brush a boneless, skinless chicken breast in olive (or vegetable) oil, season with salt and pepper and grill for about 20 minutes, turning once, or until cooked through. Alternatively, bake it in a 190°C oven for 10 minutes. Then make a dressing by mixing one tablespoon of mirin or rice vinegar, half a tablespoon of tamari or soy sauce, half a tablespoon of toasted sesame oil, one teaspoon of fresh grated ginger (or ground ginger from a tube) and a drizzle (about half a teaspoon) of honey or maple syrup in a jug.
In a large bowl or big freezer bag, place half a chopped romaine lettuce, one grated carrot and some finely sliced red or white cabbage (or cheat and use a ready-mixed bag of crispy salad). Add 125g of cooked rice noodles and a handful of cooked, shelled edamame, chuck in one tablespoon of sliced almonds or black onion seeds and turn it until it is all dressed. Chop the chicken into large bite-size pieces, add them to the salad and serve.
Leave out the nuts or seeds to reduce by 35 calories. Replacing the noodles with extra cabbage and salad leaves takes out 90 calories. If you're taking it as a packed lunch, keep the dressing in a separate pot until you're ready to eat it.
RECOMMENDED: How to Cook Healthy Chinese Food at Home
Dinner
Seared Sesame Salmon with Broccoli and Noodles
Calories 524
Fat Content 27.9g
This is a really hearty and satisfying big bowl of food that needs no adjustments to make it healthy or help it fit into a calorie-obsessed day.
Finely chop a chunk of fresh ginger, a big garlic clove and a small chilli, heat a splash of olive oil in a pan and fry them for a couple of minutes until soft. Add four tablespoons of dark soy sauce and the juice of one lime, cook for one minute or until it forms a sticky sauce. Heat a ridged griddle pan (or an ordinary heavy frying pan if you don't have a griddle one) over a high heat and fry two pieces of salmon for two minutes each side. Add the salmon to the teriyaki sauce in its frying pan.
Meanwhile, cook and drain 200g of soba noodles. Break down a head of broccoli into florets, boil them for three minutes until tender, drain and stir into the noodles. Then add a splash of toasted sesame oil and season to taste. Divide it all between two bowls and serve the salmon on top.
Spaghetti Carbonara
Calories 569 per serving (olive oil 29, pancetta 96, parmesan 86, spaghetti 280, eggs 78)
Fat Content 32.6g
Traditional Italian recipes for carbonara sauce blend eggs, cream and cheese with bacon, registering totals that would make the fat and calorie inspectorate faint in horror – around 800 calories and 48g fat. At the other end of the spectrum, Jamie Oliver has a recipe for "skinny" spaghetti carbonara in Everyday Super Food. He replaces the eggs and cream with a kind of pesto made from peas, almonds, lemon juice and basil and a mix of yogurt and egg. It is very tasty, has 493 calories and 6.4g of fat per serving, and is a perfect example of a bulky meal with minimum dietary impact. Italians and pedants would argue that thanks to the peas, basil and lemon juice it is not a carbonara, so if you can't cope with such cavalier interpretations of the classics but still want a tasty tangle of eggs, bacon and pasta without the full, violent impact of fat, try this (to serve two).
Heat half a tablespoon of light olive oil in a large frying pan on a medium heat, add 75g of cubed pancetta (or two chopped rashers of unsmoked streaky bacon) and cook until golden. Bring a large pan of salted water to the boil and cook 200g of wholewheat spaghetti until al dente. In a bowl, beat together two eggs and 40g parmesan, reserving a little grated cheese for the garnish. Grind in plenty of black pepper. Tip the sauce and the pancetta or bacon into the drained pasta, mix, divide between two warmed pasta bowls, sprinkle a little more parmesan over and eat as near to immediately as possible.
Lamb Jalfrezi with Basmati Rice
Calories 630 (curry 390, 100g rice 130, chapati 110)
Fat Content 16g
The average lamb jalfrezi in an Indian restaurant will conceal more than 800 calories before you've even looked at a popadam or thought about rice and side dishes. But if you make it at home, using vegetable oil rather than ghee and yogurt rather than cream, you can seriously shave off calories without compromising on flavour.
Creamy curries like masala, pasanda and korma are loaded with calories and fat, but this has a tomato-based sauce so you can have a generous portion without doing too much damage. This recipe serves two.
You will need:
2 tbsp vegetable oil
2 black peppercorns
3 cardamom pods
2 cloves
1 cinnamon stick
1 onion, finely chopped
250g lamb shoulder, cut into pieces
1cm piece ginger, peeled and cut in half
1 clove garlic, peeled and cut in half
½ tsp ground coriander
½ tsp ground cumin
½ tsp red chilli powder, or to taste
½ tsp ground fennel seeds
½ tsp garam masala
salt, to taste
1 tomato from a tin of tomatoes
1 tbsp plain yoghurt, stirred
small handful fresh coriander, chopped
Heat the oil in a large pan over a medium heat. Add the peppercorns, cardamom, cloves and cinnamon and fry for one minute. Add the onion and fry until golden-brown. Add the chunks of lamb and fry for three to four minutes, or until browned. Add the garlic and ginger, stir well, reduce the heat and cook for three to four minutes.
Mix in the powdered spices, salt, tomato and yoghurt, cover with a lid, then lower the heat and simmer for ten to 12 minutes. Add two to three tablespoons of water to the sauce and simmer for seven to eight minutes, stirring until the sauce has thickened. Add enough water to almost cover the lamb, bring to the boil, reduce and simmer for eight to ten minutes.
Stir in the coriander just before serving. Serve with plain boiled rice and a chapati. You might be tempted to have naan bread to accompany this, but if you do you will add 350 calories and 10g of fat. Similarly if you had pilau rice rather than the boiled or steamed basmati, you would add around 200 calories and 15g of fat.
Roast Chicken with all the trimmings
Calories 609 (chicken and gravy 250, three roast potatoes 170, four pieces of roast parsnip 102, cauliflower 25; carrots 22, peas 4)
Fat Content 38-46g (chicken and gravy 30-38g, roasted vegetables 8g)
A typical roast fowl dinner may feel like a feast worthy of Henry VIII, but is also a well-balanced plate of lean protein, carbohydrates, fibre and vitamin-rich vegetables. And while you know you've got to say goodbye to the sausages wrapped in bacon, sausagemeat stuffing and Yorkshire puddings (although they are only 36 calories each, so treat yourself sometimes), you only need to make a few other adjustments to have a really good portion of roast chicken with roast potatoes, roast parsnips, cauliflower, carrots, peas and gravy at around 600 calories, leaving lots of wiggle room to enjoy a pudding afterwards and have a good breakfast and lunch in a 2,500-calorie-a-day regime.
Far be it from Coach to mess with your family recipe for roast chicken, so instead of telling you how to do it, here are some tips for keeping it delicious while cutting down on fat and carbs with a few calorie swaps to consider. Do not be tempted to copy your gran and cover the bird in bacon or make like the French and smother it in butter – just rub in a little vegetable oil, season with salt and pepper, keep basting it as it cooks and cover it with foil if you think it's drying out. Also make sure to roast it on a rack inside the roasting tin as this will keep the meat out of the fat that runs off as it cooks.
Forgo the goose fat – roast potatoes cooked in olive oil are just as crisp and delicious and only have 170 calories (for three) rather than the 210 calories packed into three goose-fat roasties. When preparing the potatoes and parsnips, keep the pieces large so that they absorb less fat.
RECOMMENDED: Which Type of Chicken Should you Buy
Sign up for workout ideas, training advice, reviews of the latest gear and more.
Bridget was a freelance journalist who contributed features to the print edition of Coach in 2016.