5 Healthy BBQ Recipes
The backyard barbecue doesn't have to be a superheated calorie generator, try these healthy on-trend recipes instead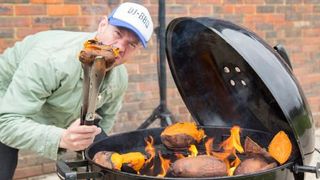 (Image credit: Unknown)
Halloumi and Veg Sandwich
By DJ BBQ, star of Jamie Oliver's Food Tube
"A meat-free burger with home-made ketchup and no-dairy 'mayo' to make all the meat-eating barbecue heads envy you."
Start with a courgette – they love live-fire cooking. Chop one in half then slice each half into thick strips. Put them on a plate, pour a tablespoon of olive oil over, then some salt and pepper, and toss to coat. They take about six to eight minutes on the barbecue.
Slice an aubergine, then a pepper and get them grilling. Turn each bit a couple of times to get those bar marks.
Take a 250g block of halloumi and slice lengthways into four then put that on the barbecue too.
Keep an eye on it all, but while it's cooking, make your sauces. First, a home-made sweet chilli ketchup – chop a red chilli finely and put in a bowl. Squeeze in 200g tomato puree, then 100g honey, 60ml apple cider vinegar, a pinch of salt and six tablespoons of water.
For the "mayo", mix two chopped cloves of garlic in a bowl, four tablespoons of tahini (sesame paste), the juice of half a lime, half a tablespoon of honey and five tablespoons of water.
Toast four buns, spread on the mayo, layer on the veg and cheese then some ketchup on top.
RECOMMENDED: BBQ Tips for a Perfect Cookout
Harissa Hot Wings
By Josh Katz, founder and head chef of Berber & Q
"In Middle Eastern cookery, wings are simply thrown on the grill with a light marinade, so you taste the purity of the meat – a far cry from American wings, which are fried and rolled in hot sauce. This recipe combines that grilling technique with a spicy-sweet glaze."
Start by whisking together four finely chopped preserved lemons, flesh removed (or 120ml lemon juice), 80ml olive oil, 100g good harissa, 160g honey, 10g Maldon salt, and black pepper.
Add two finely sliced red onions and half a bunch of finely chopped coriander to the mix, stir, and pour over 1.5kg chicken wings (approximately 20). I like to leave them overnight in the fridge, but two hours is fine.
After they've marinated, fire up the barbecue, making sure it isn't too hot. Grill the wings over a medium heat for about 15 minutes, flipping occasionally. If the skin starts to blacken before the wings are cooked through, put them in the oven at 180°C to finish.
When they're ready, take them off the grill and garnish with sesame seeds, coriander, sliced green chilli and a squeeze of lemon juice.
Sardines with Caponata
By Italian supperclub dons Forza Win
"A good healthy barbecue dish: no meat-porn!"
Get 16 sardines from your fishmonger. Ask for them to be gutted, descaled and the gills removed.
For the caponata (a traditional sweet, sour stew), take a saucepan and add a slug of olive oil, three diced shallots, one diced garlic clove and five diced celery sticks. Heat and sweat down. Add a splash of red wine vinegar and a squeeze of lemon juice. Reserve this mix in a bowl, leaving the oil in the pan.
Add four cubed aubergines and one teaspoon of honey to the hot oil. Cook down till brown then remove the aubergine. Add 125ml olive oil and 45ml red wine vinegar. Finally, add six diced plum tomatoes and, once they start to release moisture, add back all the other veg. Simmer for 40 minutes, adding two tablespoons of capers and half a bunch of basil after 30 minutes.
Get your grill rolling hot (it should be white ash, hot with embers). Mix the juice of two lemons, 100ml good olive oil, a crushed garlic clove, and some salt and pepper, and pour into a shallow dish with the sardines, coating the fish. Transfer to the grill for four minutes each side, salting the skin as you go. Serve it all warm.
Brick Jerk Chicken
By Dan Cooper, head chef at Weber Grill Academy
"This makes for unbelievably delicious, healthy chicken."
Remove the bones from 12 chicken thighs.
Finely chop six spring onions, two deseeded Scotch bonnet chillies and six garlic cloves, then mix in a large bowl with four teaspoons of ground allspice berries, four teaspoons of dried thyme, one teaspoon of ground ginger, one teaspoon of ground nutmeg, one teaspoon of ground cinnamon, two teaspoons of salt, one teaspoon of ground black pepper, two teaspoons of honey, two tablespoons of coconut oil, two tablespoons of soy sauce, four tablespoons of white wine vinegar and two tablespoons of lime juice. Add the thighs, mix and marinate for 12 hours.
When ready to cook, prepare the barbecue to approximately 200°C. Make sure your cooking grate is clean and oiled with a little more coconut oil.
This next part makes the difference. Get a couple of clean building bricks, around 2.5kg each. Tightly wrap in foil. Place the thighs skin-side down on the grill with a brick on top of them and cook for 10-15 minutes on each side. You should be able to get roughly six thighs under each. Make sure you grill with the barbecue lid down. Once the skin is well coloured and the core temperature of the chicken has reached 75°C, remove it. Serve with salad, sour cream (or low-fat yoghurt) and coleslaw.
Lamb with Aubergine, Peppers, Mint Yoghurt and Red Chard
By Davide Del Gatto and Kristina Gustafsson London street food supremos and authors of Savage Salads: Fierce Flavours, Filling Power-ups (Frances Lincoln, £16.99), savagesalads.co.uk
"Barbecuing is a great method of cooking healthily – a little extra oil is required, as the food is separated from the heat source, and whatever fat comes out during cooking drains away. This recipe is simple and delicious; charred veg and deliciously smoky lamb cutlets evoke the Mediterranean vibe. All you really need to do is keep an eye on things to make sure they don't burn."
Mix 30g chopped mint with 150g of yoghurt ahead of time to allow the flavours to infuse.
Remove the stalks from six baby aubergines and cut them lengthways into halves. Remove the stalks from three peppers and remove the seeds. Cut into equal-sized squares and place the vegetables in a dish together with eight lean lamb cutlets. Season with salt and black pepper and drizzle over one to two tablespoons of olive oil.
Start off with the lamb on the hottest part for a few minutes, turning once or twice, then move to a cooler part, swapping the veg in its place. The lamb doesn't take long for medium rare: six to 10 minutes in total should do it.
Once everything is looking good, toss the veg through with a handful of roughly chopped red chard, place the lamb on top and serve with a good dollop of the mint yoghurt.
Sign up for workout ideas, training advice, reviews of the latest gear and more.