Reasons to Eat More Veg: The Grain Store's Chilli Con Veggie Recipe
Chef Bruno Loubet guides you through his recipe for this meat-free winter warmer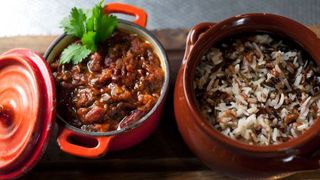 (Image credit: Unknown)
Photograph: Jonathan Lovekin
Can't bear to imagine a world without boss-level burgers, heaven-sent brisket, mouth-watering chicken wings and drool-worthy steaks, but have a slight concern that your meaty intake could be worse for your health and the environment than you'd like? Then listen up, because there's a movement happening right now that could help. And relax, it doesn't involve telling you to quit meat for good.
#Vegcurious, the new campaign from the Eating Better Alliance, is leaving all the "stop eating meat, you're destroying the planet!" stuff to social media evangelists and the hysterical health scares to the tabloids. Instead, it gently tempts you with a more exciting side of veg, which in turn might have you reducing your heavy meat intake, and hell, maybe even going meat-free a couple of times a week.
RECOMMENDED: Why You Should Go Part-Time Vegetarian
Bruno Loubet, the kitchen king at lauded King's Cross restaurant The Grain Store, has just the recipe to help. His chilli con veggie is so full of spicy, belly-warming goodness that it's odds-on favourite to become the weekday staple at casa Coach.
Sure, it's a lot of stuff to fit in your shopping basket, but with zero pricy meat to pick up, you're walking out of the supermarket with a surprisingly cheap, incredibly healthy and utterly delicious dinner plan for this evening.
Want our top tip? Cook up a huge batch of it and keep the leftovers in the fridge or freezer. We've found it to be one of those "tastes even better the next day" winners – even more so when it's there waiting for you after an evening session in the gym.
Ingredients (serves 8)
2tsp cumin seeds
2tsp coriander seeds
1 large onion, sliced
1 fennel bulb, sliced
2 red peppers, deseeded and sliced
100g canned piquillo peppers (or roasted red peppers)
250g button or chestnut mushrooms
2 carrots, sliced
2 celery sticks, sliced
6 garlic cloves, sliced
100ml olive oil
5 sprigs of thyme
2 bay leaves
1tbsp fresh oregano
1tbsp sweet smoked paprika
2tsp chipotle paste
6tbsp HP sauce
4tbsp Worcestershire sauce
1kg canned chopped tomatoes
800g canned cooked kidney beans
1tsp sugar
1 lemon
1 handful of fresh coriander
Salt and pepper to taste
How to Make Chilli Con Veggie
In a dry frying pan, heat the cumin seeds for a couple of minutes until they release their oils. Remove them, and repeat the process with the coriander seeds. Grind them into a fine powder with a pestle and mortar or a spice/coffee grinder.
Place all the vegetables and garlic in a food processor, a few at a time, and whizz until finely chopped.
Heat the olive oil in a large pot and then cook the chopped vegetables until they start to soften.
Add the thyme, bay leaves, oregano, paprika, chipotle paste, cumin, coriander and mix well. Leave to stew for four minutes then add the HP sauce, Worcestershire sauce, diced tomatoes, red kidney beans, sugar, salt and pepper.
Bring to the boil, then reduce to a simmer and cook with a lid on for 1½ hours, stirring the pot from time to time. Check the seasoning and adjust according to taste.
Just before you serve, stir in the lemon juice and fresh coriander. Serve with brown rice and if you like, some sour cream.
The Eating Better Alliance is launching its #vegcurious campaign as part of Do It Day, which sees leading companies come together to change the world through marketing on 10th November.
RECOMMENDED: How to Get Started with a Plant-Based Diet
Sign up for workout ideas, training advice, reviews of the latest gear and more.
Craft beer drinker, Devonian, fisherman and former content director of Coach online, Chris contributed style coverage and features between 2016 and 2019.