Roast Duck With Figs And Farro Recipe
Impress your mates with this restaurant-quality high-protein duck dinner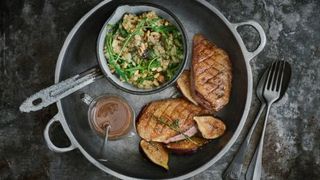 (Image credit: Unknown)
Photograph: Jean Cazals
Duck is always popular at restaurants but it doesn't occur to many people to cook it at home. Sure, duck is more expensive than chicken, but it's also cheaper than a good-quality steak. Why? We've no idea – in fact, duck breast is easy to cook thanks to the ample layer of fat that keeps the meat naturally moist and tender while it roasts.
This is a restaurant-quality dish, but quick and easy to bang out at home and a great choice when company's coming. Farro, also known as emmer wheat, is a type of wholegrain wheat that can be used to make farrotto, a risotto-like dish. If you can't get fresh figs, you can substitute an equal volume of apricots, peaches, apples or pears.
RECOMMENDED: Why You Should Be Eating More Wholegrains
Farrotto Recipe
Doesn't he play left-back for Juventus? No – it's a healthy, delicious wholegrain dish, and here's how you make it
Ingredients (serves 4)
105g farro
1.5 litres chicken stock
3tbsp olive oil
30g unsalted butter
2 small shallots, chopped
Coarse sea salt and freshly ground black pepper
80ml white wine
45g diced fresh figs
30g pine nuts, toasted
3 handfuls of rocket, preferably wild
40g grated parmesan
¼ lemon
Directions
In a bowl, soak the farro in a litre of water for 30 minutes, then drain it. Meanwhile, heat the stock in a small saucepan and keep it warm on a low heat.
In a large saucepan, heat the oil and butter over a medium heat until the butter begins to foam. Add the shallots and season with a little salt and pepper. Cook for about two minutes until softened.
Add the drained farro and stir until toasted. Add the wine and stir until evaporated. Add a ladleful of stock, and stir the farro constantly until it's absorbed. Keep adding stock in the same way until the farro is creamy and cooked through. Turn off the heat and stir in the figs, pine nuts, rocket and parmesan. Season with salt, pepper and lemon.
Roast Duck With Figs Recipe
Ingredients
4 x 280g–340g duck breasts (ideally Pekin or Muscovy)
4tbsp dry sherry
4tbsp sherry vinegar
2tsp honey
120ml chicken stock
1tsp chopped fresh thyme
coarse sea salt
freshly ground black pepper
8 fresh figs, halved and stems removed
1tbsp unsalted butter
Farrotto (recipe above)
Directions
Preheat the oven to 220°C/gas mark 7.
With the skin side of the duck breast facing up, use a very sharp knife to cut through the skin and fat almost to the flesh, forming a grid pattern with the lines 3mm apart. Flip the breast over and if there's any silvery white skin, trim it off carefully.
Heat a large cast-iron pan over a medium-high heat for one minute. Place the duck breasts in the pan skin-side down and cook for about six minutes. When the skin is golden brown, begin basting the tops of the breasts with the fat that's in the pan. Continue basting and cooking until the skin is crisp and deep golden brown.
Put the pan in the oven and roast the breasts until cooked through. Use a meat thermometer if you want – it should read 57°C in the centre for medium-rare.Transfer the duck breasts to a plate to rest, covering them with foil to keep warm.
Pour off the remaining fat and set the pan back on a medium-high heat. Add the sherry and vinegar, and boil for three minutes. Add the stock, honey and thyme and season with salt and pepper. Boil for three more minutes. Reduce the heat and add the figs and butter, consistently stirring the pan.
Slice the duck against the grain into 2cm slices and arrange them next to or on a bed of farrotto. Drizzle with the fig pan sauce and serve.
Taken from Cooking, Blokes & Artichokes by Brendan Collins (£20, Kyle Books). Buy on amazon.co.uk
Sign up for workout ideas, training advice, reviews of the latest gear and more.
Coach is a health and fitness title. This byline is used for posting sponsored content, book extracts and the like. It is also used as a placeholder for articles published a long time ago when the original author is unclear. You can find out more about this publication and find the contact details of the editorial team on the About Us page.