Learn How To Cook Simple, Healthy Recipes
Better health starts in the kitchen, so it helps to know how to cook. Start by mastering the techniques in these simple recipes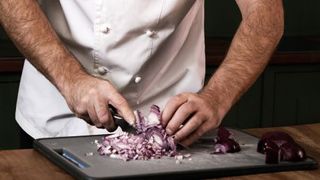 (Image credit: Unknown)
In This Series
"The non-cook is in a helpless position," says former New York Times food editor Raymond Sokolov, author of How To Cook. "Much like that of a car owner who can't change a tyre and has to depend on mechanics to keep his car running."
Movie director Robert Rodriguez puts it more bluntly in his video recipe for puerco pibil, the slow-roasted pork dish fetishised in his film Once Upon A Time In Mexico: "Not knowing how to cook is like not knowing how to fuck."
The point? By learning to cook, you'll be better equipped to prep healthy food from the simplest ingredients, making it easier to eat well without spending too much time or money. And here's the better news: cooking doesn't have to mean squinting at endless recipe books and buying 15 sorts of fresh herbs you'll never use.
Adam Gray, who's executive chef at Bourne & Hollingsworth Group, the owner of a Michelin star and runs healthy cooking courses, has selected many of the recipes in this guide as the best ones to teach you the basics of knife skills, ingredient prep and cooking on the hob. Once you've nailed those, it'll make everything else easier. Dive in using the menu above, or pick up a few pointers from these top chefs.
Salt matures during the cooking process, so adding it at the outset means you'll use less and ensure your food is healthier. For example, if a recipe calls for 20g of salt and you season your dish towards the end rather than at the start, you would actually need 30g for the finished creation to achieve the desired taste. –Joseph Woodland, Barnyard
Add finely chopped shallots to salad dressing. Vinegar loves shallots, and they add great flavour and a bit of bite. They're the "secret" ingredient in my classic French vinaigrette – but I add some to all my dressings. – Judy Joo, Jinjuu
Soak raw almonds to eat as a snack or add to your favourite food. Soaking nuts makes the proteins more readily available for absorption. – Shirin Kouros, The Good Life Eatery
When adding a dressing to salad leaves, drizzle it around the inside edge of a mixing bowl, then add your salad and toss together. This will ensure a lighter and more even coating than you would achieve by pouring it on top of the leaves. – Jo Pratt, The Gorgeous Kitchen
Mustard is a fantastic ingredient because it adds plenty of flavour without contributing a lot of calories. You can use it in protein marinades, add it to dressings and put it in sauces – it's a versatile ingredient that can make everything zestier and more interesting. – Judy Joo, Jinjuu
When boiling beans, flavour the cooking liquid. I like to use a crushed garlic clove, half a peeled onion, two bay leaves and half a fresh chilli. Once the beans are cooked, drain them and discard the aromatics. – Tony Kitous, Comptoir Libanais
To peel garlic more easily, use two bowls the same size. Put the garlic cloves in one bowl, place the other one on top and press down to crush the cloves. Shake vigorously to release the skins. – Rob Bragagnolo
Use the back of a plate to sharpen your knife. Place your knife at a 20° angle on the ceramic ring on the bottom of a plate, then slide the blade back and forth five or six times per side. It will be noticeably sharper. – Rob Bragagnolo
Invest in a quality non-stick pan. You can add a tiny drop of olive oil or low-calorie spray and dry-fry most ingredients, such as chicken breast, up to a point. Then add a tablespoon of intense stock, citrus fruit or seasoning, put a lid on and steam-fry to drive flavour into the food. Serve with salad and drizzle over the leftover liquid. – Antony Bennett, Loungers
Break eggs on a blunt surface instead of an edge to avoid damaging the egg and getting bits of shell in your food. – Rob Bragagnolo
Parsley, coriander and mint can be dried in a cooling oven, crumbled and sprinkled on food before serving. – Tony Kitous
Add fresh herbs such as basil, coriander and mint to salads for a punchy flavour – and some extra all-important nutrients. – Caroline Mili Artiss, The Gorgeous Kitchen
Like cut flowers, fresh herbs benefit from having their stalk ends cut and placed in cold water to freshen the leaves. – Tony Kitous
When poaching or steaming – which are the healthiest ways to cook – flavour the liquid first. Throw in aromatics, herbs and spices. These will infuse the water and steam, making whatever you're cooking more fragrant and flavourful. – Judy Joo
When chopping chillies, rub a little cooking oil into your hands before you start. The oil creates a barrier so the chilli doesn't get into your skin. Then, once you've chopped the chillies, rub some fresh lemon juice into your hands – the acid neutralises the chilli, removing it from your hands more effectively than soap and water. – Jo Pratt
Make a simple herb butter by mixing chopped herbs with soft butter. You can then use this when grilling meat, fish and vegetables, basting them with it while they cook. – Tony Kitous
Use a spoon to peel ginger. The skin comes off easily and you'll waste less flesh than you would with a knife or peeler. – Rob Bragagnolo
Beans – borlotti, haricot blanc, butter, cannellini, kidney and black-eyed – are high in protein and nutrients such as magnesium, potassium and calcium. Either cook them from dried in boiling water or open a can, rinse and throw into a salad. You can use them to replace rice or potato, or crush them with olive oil, lemon zest and garlic for a tasty dip. When cooking dried kidney beans, soak them first and boil for half an hour to remove toxins. – Anna Haugh-Kelly
Use chickpea flour for batter – it's gluten-free and high in protein. To make our classic pakoras we use a batter made from chickpea flour, water, cumin seeds, turmeric, salt, chillies and coriander. Use it to coat spinach and onions and deep-fry in small balls, tempura style. – Raju Rawat, Zumbura
Instead of adding heavy cream to a sauce to make it thick and creamy, make a roux with gluten-free flour and almond milk. It works brilliantly. – Shirin Kouros
Swap the croutons in soups for a mixture of pine nuts, chopped spring onions, chopped chilli and fresh basil for added taste and texture. – Andy Cook, Harrods
Swap white sauces made with cream, mayonnaise and butter for low-fat pesto, tomato and pepper tapenades and vinegar-based dressings. – Antony Bennett
Replace things like pancetta with nuts and seeds in salads. When making a Caesar salad, instead of adding fried pancetta, try pumpkin seeds and Marcona almonds. Both add protein, essential oils and vitamins, and they provide a meaty punch. – Andy Cook
We salt-bake a lot of our vegetables before blending them for soup. It helps us to avoid adding extra butter, oil or salt, and it concentrates the flavour. Bake a butternut squash in its skin on a bed of sea salt, then peel and blend (not the salt) with vegetable stock for a creamy soup. – Andy Cook
Use ground almonds, eggs and honey as natural sweeteners, and for garnishing desserts. Tasty and healthy. – Russell Ford, The Doyle Collection
Trying to remove bitterness? A pinch of salt often works better than sugar – especially when you're using dark chocolate. – Rob Bragagnolo
Sign up for workout ideas, training advice, reviews of the latest gear and more.
From 2008 to 2018, Joel worked for Men's Fitness, which predated, and then shared a website with, Coach. Though he spent years running the hills of Bath, he's since ditched his trainers for a succession of Converse high-tops, since they're better suited to his love of pulling vans, lifting cars, and hefting logs in a succession of strongman competitions.