Healthy Pizza Base Recipe
Change up your pizza game with this gluten-free pizza base recipe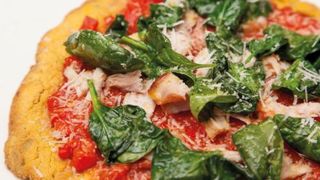 (Image credit: Unknown)
In This Series
Healthy Pizza Base Recipe
Better health starts in the kitchen, so it helps if you know how to cook – and there's an easy way to do it. By mastering the techniques in a handful of simple recipes, you'll be prepared for anything involving a knife and a pan. Grab an apron – it's time to go to culinary school with chef Adam Grey (opens in new tab)
Even if you don't feel the need to go gluten-free, cooking with gram flour and cauliflower makes this pizza a low-GI option, saving you the blood-sugar spike you'd get from your shop-bought American Hot. By going home-made, you'll also cut down on the preservatives and fats your typical takeaway includes as non-optional extras, and you'll be able to add toppings that help, rather than hurt, your efforts to get lean.
Key Skills
Photography: Ben Backhouse
Know your onions
Most people throw away too much of their spring onions, but prep couldn't be simpler. Rinse them under cold water, then chop just above the stringy roots to remove them. Take about 2cm off the top, then "roll" your knife - keeping the tip on the surface of your cutting board - to cut the rest as you feed them through with your other hand.
Use 'flower power
This recipe uses cauliflower to bulk out the pizza dough – but it's a good substitute for carbs elsewhere too. Blitz it in a food processor to make a healthier substitute for couscous and rice, or steam it for ten to 15 minutes and then mash it up like potatoes with a splash of coconut milk.
Pick your toppings
Not feeling the chicken? There's more to life than Hawaiian and pepperoni. Top your crust with red onions for folate and potassium, or mushrooms for selenium and hard-to-acquire vitamin D.
Why cook with…
Gram flour
Otherwise known as besan, gram flour – made from chickpeas – is lower in calories than wheat flour but more nutritionally dense: it's high in fibre, iron, potassium, manganese and vitamin B6.
Cauliflower
Frequently overshadowed by broccoli, the other cruciferous veg that comes in florets is high in betacarotene, quercetin and vitamin C and, according to a study published in Molecular Nutrition And Food Research, is linked to a reduced risk of several cancers.
Rapeseed oil
Rapeseed has half as much saturated fat as your extra virgin olive oil –although the jury's still out on whether that's important – but it's also worth cooking with because of its omega 3 content and high smoke point, which keeps it stable for cooking.
Ingredients
For the base
400g gram flour (chickpea flour)
½tsp baking powder
200g cauliflower, grated
1tsp ground cumin
1tsp ground coriander
3 spring onions, finely chopped
160ml semi-skimmed milk
Natural sea salt
Ground white pepper
50ml rapeseed oil
For the topping
300g organic passata
200g cooked free-range chicken breast, sliced
50g baby spinach leaves, washed
50g fresh parmesan cheese
How To Make
Mix the gram flour, ground cumin, ground coriander, chopped spring onions and grated cauliflower together in a large bowl.
Add the milk and mix until it forms a dough-like consistency. Add salt and pepper to taste.
Wrap cling film around the bowl and leave the mixture to rest for ten minutes in the fridge.
When the dough is rested, remove from the bowl and place on a clean work surface. Use the palm of your hand to gently press the dough flat until you have a disc about the size of a small dinner plate and about ½cm thick.
Lightly grease a flat baking tray with half the rapeseed oil and place the dough base on it.
Spread an even layer of passata over the pizza base.
Place the chicken slices and the baby spinach leaves on top of the passata in an overlapping pattern.
Drizzle the remaining half of the rapeseed oil over the pizza and finely grate the parmesan evenly over the top.
Bake in a pre-heated oven at 180°C/gas 4 for 18-20 minutes, until the base is golden brown and the cheese in the topping is melted.
Sign up for workout ideas, training advice, reviews of the latest gear and more.
From 2008 to 2018, Joel worked for Men's Fitness, which predated, and then shared a website with, Coach. Though he spent years running the hills of Bath, he's since ditched his trainers for a succession of Converse high-tops, since they're better suited to his love of pulling vans, lifting cars, and hefting logs in a succession of strongman competitions.