How To Cook Fish
Any healthy diet includes fish, and it's not as difficult to cook as you might imagine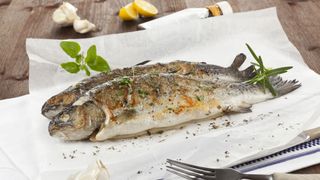 (Image credit: Unknown)
Cooking fish can be intimidating – many people don't have the first clue how to prepare it. However, as Sébastien Noël of paleoleap.com explains, it doesn't have to be intimidating. "Grilling or baking a whole fish isn't very hard once you've done it once," Noël says. "Cooking the fish with the bones will make it taste better, and whole fish are cheaper, fresher and easier to buy wild-caught." That means they'll contain higher levels of important omega 3s, so it's win-win. Noël explains how to cook them like a pro.
No catch cooking
"The best fish to cook whole are salmon and trout. They naturally have a lot of fat and will be more forgiving if you overcook them a bit. Sea bass is another good choice. All the gutting, scaling and removing gills should be handled by your fishmonger."
Liquid lunch
"Put the fish in a snug-fitting dish so the cooking juices can stay around the fish while it's cooking. Interesting flavours can be built by putting vegetables and herbs under the fish and inside the cavity while cooking. Think lemon slices, fennel, garlic, onion, parsley, carrots, thyme and rosemary."
Take your time
"A good rule is to be delicate in the cooking process, so you want to go longer and slower. The recipe below is for grilled trout, but if you wanted to bake it instead, you could put it in an oven at 200˚C/gas 6 for 35 to 40 minutes, or until the flesh falls off the bone."
Perfect Trout Recipe
Ingredients
1 whole trout, scaled, gutted and cleaned
1 bunch fresh flat-leaf parsley, chopped
1 bunch fresh dill, chopped
2 lemons, one sliced and the other halved, a little zest removed
Salt and pepper
Butter or coconut oil
To make
Preheat your grill to 200˚C.
Slash the sides of your fish about eight times on each side with a knife so that the butter or oil can make its way in. Rub the trout with butter or oil and season with salt and pepper.
Stuff the cavity (the hole created when the fish is cleaned) with the parsley, dill and lemon slices.
Put the fish on a baking rack on top of a pan. Sprinkle the lemon zest over the fish and add generous knobs of butter – if you're using it – to form a golden crust. Put the lemon halves on the baking tray.
Grill about 15cm away from the heat source for about six minutes on each side. Squeeze the grilled lemons on the fish before serving.
Bonus Chef Tips For Cooking Fish
Look for interesting dried ingredients such as dehydrated balsamic vinegar, smoked paprika, powdered seawater – yes, you can get this – and kombu dashi. Mixing these together can lift the flavour of a fresh tuna steak when used as a dry rub marinade. Dry-fry in a non-stick pan for an intense taste. Antony Bennett, Loungers
To tenderise squid, cover it with milk and chopped kiwi or pineapple. Store it in the fridge overnight, then rinse and dry thoroughly. The fruit enzymes will break down the meat perfectly. Rob Bragagnolo
Cooking en papilotte – inside paper – is a great way to cook fish and vegetables, and avoids oily frying and baking. Cook organic salmon with fennel and summer squash, and enhance the flavours with fresh basil and lemon. The paper envelope keeps all the flavours together so you lose none of the healthy fats from the fish or the nutrients from the veg. Andy Cook, Harrods
Never season fish before you cook it as it will draw the water to the surface and create steam. That's why you don't get a crisp skin. Also, if you don't want to smell of fish, always wear disposable plastic gloves while preparing it. Andrew Turner, simplyandrewturner.co.uk
Use a toothpick to check that your fish is cooked. If you can insert it easily into the thickest part of the flesh, it's cooked perfectly. Any resistance means it needs a little more time. Gee Charman, The Gorgeous Kitchen
Sign up for workout ideas, training advice, reviews of the latest gear and more.
From 2008 to 2018, Joel worked for Men's Fitness, which predated, and then shared a website with, Coach. Though he spent years running the hills of Bath, he's since ditched his trainers for a succession of Converse high-tops, since they're better suited to his love of pulling vans, lifting cars, and hefting logs in a succession of strongman competitions.