These Bento Recipes Make Fantastic Packed Lunches For Work
Try these simple, traditional Japanese meals from chef Noriko Yuga and food blogger Yuko Yagi to give your lunches a healthy and tasty lift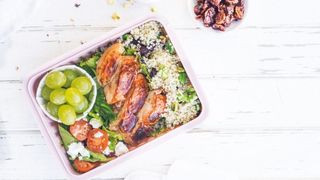 (Image credit: Unknown)
Photography: Anett Velsberg-Tiedemann
In the West, many people have heard the term bento without really knowing what it is – something to do with sushi, maybe? In fact, bento simply refers to a packed meal: many workers take a single-portion, home-made meal packed in a bento box to the office every day, and bento is also a popular take-out food in Japan, sold everywhere from convenience stores and train stations to high-end delis. Many traditional restaurants serve bento only during lunchtime, often in a wood or lacquered bento box.
Bento culture has a long and diverse history in Japan. Records show that people were eating portable, dried rice as early as the fifth century. When the tea ceremony culture developed around the 12th century, elaborate lacquer wares to hold food – similar to today's bento boxes – started to appear. By the 1600s, the upper class were eating food brought in lacquer boxes while enjoying cherry blossom viewing parties.
Ever since then, bento has been a part of Japanese culture. People ate makunouchi bento, an upscale mixed bento, at the intermissions of plays in the Edo period (1603–1867). Lower-ranked samurai, who made less money, brought their own bento lunches to work to save money, just like Japanese "salarymen" today.
Below you'll find a selection of recipes for our book, Simply Bento, that will help you to make quick, tasty and healthy bento meals at home.
Chicken Teriyaki With Shishito Peppers
Prep time 1 minute Cook time 12 minutes
This chicken teriyaki can be quickly cooked in a frying pan. The shishito peppers are sautéed in the pan with the chicken toward the end of cooking, so a main dish and a side are prepared together. Shishito peppers may be hard to find in the UK (if you have a local Japanese grocery, lucky you) but bell peppers are a decent substitute. And you can buy ready-made teriyaki sauce but there's nothing to beat the authentic, home-made version.
Ingredients (serves two)
1tbsp soy sauce
1tbsp sake
2tsp sugar
1tsp mirin
1tsp vegetable oil
2 skinless, boneless chicken thighs
4-6 shishito peppers
Method
In a small bowl, combine the soy sauce, sake, sugar and mirin. Set aside.
Heat the oil in a frying pan over medium-high heat. Add the chicken and cook for four to five minutes. Flip the chicken, reduce the heat to medium, and continue cooking on the other side. Add the peppers to the same pan and cook and stir for three to four minutes.
When the chicken is cooked through, add the teriyaki sauce to the pan and cook until the sauce is reduced and the chicken is coated in the sauce.
Cut the cooked chicken into 1.5cm slices and serve with rice.
Quinoa Salad
Prep time 5 minutes Cook time 18 minutes
Quinoa originated in South America but has become a wildly popular grain around the world because of its health benefits. Quinoa's mild flavour means it goes well with most other foods, and here it's mixed with a red wine vinaigrette as well as green beans, pistachios, and dried cranberries, making for a satisfying lunchtime salad.
Ingredients (serves two)
85g dried quinoa
180ml chicken broth
10 green beans
1tbsp red wine vinegar
1tbsp extra virgin olive oil
Salt and black pepper, to taste
3tbsp pistachios, coarsely chopped
3tbsp dried cranberries
Method
Wash the quinoa in a large bowl, changing the water three times.
Add the quinoa and broth to a medium saucepan, and heat until boiling. Cover and cook over medium heat for ten to 12 minutes, until the liquid is absorbed.
Meanwhile, in a separate pot, blanch the green beans for two minutes and cut into 1.5cm pieces.
In a small bowl, whisk together the vinegar, oil, salt, and pepper to make the vinaigrette.
Combine the cooked quinoa, green beans, pistachios and cranberries, along with the vinaigrette.
Serve with chicken breast or another protein source of your choice.
See related
Sautéed Asparagus With Lemon And Butter
Prep time 7 minutes Cook time 3 minutes
Ingredients (serves four)
24 spears asparagus
1tbsp butter
Salt and black pepper, to taste
2tsp freshly squeezed lemon juice
Lemon zest, for garnish
Method
Blanch the asparagus for one minute and drain. Trim the woody part from the bottom of each spear, then cut each spear in half.
Melt the butter in a large skillet over medium heat. Add the asparagus and cook, stirring, for one minute. Season with salt and pepper to taste. Remove from the heat and add the lemon juice. Garnish with the lemon zest.
Yakisoba
Prep time 7 minutes Cook time 3 minutes
Yakisoba is stir-fried noodles with meat and vegetables seasoned with yakisoba sauce, which is similar to Worcestershire sauce. It is usually topped with aonori (dried green seaweed flakes) and benishoga (pickled red ginger). Yakisoba noodles are sold at Japanese or Asian markets in the refrigerated section, sometimes with packets of powdered "sauce". You can use that or bottled yakisoba sauce, also available at Japanese markets.
Ingredients (serves four)
1tbsp vegetable oil
120g pork mince
60g shredded carrot
50g bean sprouts
3 spring onions, cut into 5cm pieces
2 150g packets yakisoba noodles
60ml water
60ml yakisoba sauce
Salt and black pepper, to taste
Aonori and benishoga, for topping
Method
Heat the oil in a medium nonstick skillet over medium heat. Add the ground pork and cook for one minute, stirring a couple of times.
Add the carrot, bean sprouts and green onions, and stir for a few seconds. Add the noodles and water, cover and steam for one minute.
Loosen the noodles, season them with a little salt and pepper, and stir in the yakisoba sauce. Stir-fry for 30 seconds, or until any remaining liquid is gone. Remove from the heat.
Top with the aonori and benishoga.
Cauliflower Fried Rice
Prep time 7 minutes Cook time 8 minutes
Cauliflower fried rice is just like fried rice, except the rice is replaced with crumbled cauliflower florets. This is a great dish if you're limiting your carbohydrate intake.
Ingredients (serves two)
Around 200g cauliflower florets, crumbled
1tbsp vegetable oil
1 clove garlic, minced
150g pork mince
75g frozen mixed vegetables
2 large eggs, beaten
¼tsp salt
Pinch white pepper
2tsp soy sauce
2 spring onions, thinly sliced
Benishoga (pickled red ginger), for garnish
Method
Chop the cauliflower into very small pieces.
Heat the oil and garlic in a large skillet over medium heat. Add the pork and cook until browned.
Add the cauliflower and stir-fry for a couple minutes, until tender. Add the mixed vegetables and cook for one minute, then add the beaten eggs. Keep stir-frying until the eggs are cooked. Season with the salt, pepper, and soy sauce. Finally add the green onions and stir for a few seconds.
Top with the benishoga
Extracted from Simply Bento: Delicious Box Lunch Ideas For Healthy Portions To Go by Yuko and Noriko (Race Point Publishing)
Buy on Amazon | £13.88
Sign up for workout ideas, training advice, reviews of the latest gear and more.
Coach is a health and fitness title. This byline is used for posting sponsored content, book extracts and the like. It is also used as a placeholder for articles published a long time ago when the original author is unclear. You can find out more about this publication and find the contact details of the editorial team on the About Us page.