The Best Slow Cookers For Healthy Homemade Meals And Batch Cooking
Knock up healthy, delicious dishes the easy way with one of these top slow cookers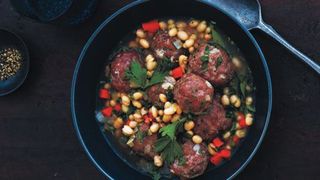 (Image credit: PR)
A slow cooker is a brilliantly useful gadget to have in your kitchen. For healthy home cooking with minimal effort, it can't be beaten. Think of it as a sous chef that'll put in the hours on hearty stews, casseroles and curries while you're slaving away at work instead of over a hot stove.
All it takes is a little sautéeing or searing prep work in the morning, combining a bunch of ingredients, flicking a switch and walking away. In four to ten hours you'll have a delicious one-pot wonder ready and waiting for you as you step through the door. You can use it to transform cheap cuts of meat into melt-in-the-mouth morsels for affordable family meals – and if you're especially organised, you can batch-cook in bulk to fill your freezer with nutritious midweek options.
Slow Cooker Buyer's Guide
Size
No-one wants to end up eating the same stew for the next three days because they made too much, or ending up with a family dinner that's one portion short – it's not like you can ask them to wait five to ten hours while you make another batch. So let's quickly find you the right size of slow cooker.
A slow cooker with a capacity of one to 1.5 litres will suit an individual. A capacity of 2.5-3.5 litres comfortably feed a couple or a small family, while larger households should look for five litres or larger.
Price
A run-of-the-mill slow cooker can be found for around £30 and will probably just have a straightforward slow cooking feature, potentially with a manually operated keep-warm function. You can expect removable and dishwasher-safe bowls, though.
Size doesn't seem to change the price that much, and you can get hold of huge six-litre slow cookers for the same price as a basic three-litre or even 1.5-litre cooker.
Where your money goes is in the features. Paying roughly £50 to £100 for a slow cooker will buy you features like an automatic keep-warm setting, pre-set cooking times, a LCD display and delayed start times, so your food isn't kept warm for too long.
Once you surpass this price bracket you'll be going into the luxury, high-end slow cookers, such as the Sage below. These will probably look flash and have some tricks up their sleeves to justify the cost. However, a slow cooker which is £50 less might do the job just as well.
Cooking bowls
All slow cookers use one main bowl, but some of these bowls bring more to the table than others.
At a minimum the bowl should be removable so you can take the cooked food from the slow cooker straight to the table to serve, saving the hassle of transferring to another bowl and adding to your washing-up.
Dishwasher-safe is another non-negotiable as far as we're concerned, while non-stick pots will do wonders for keeping your slow cooker clean.
A hob- or oven-friendly bowl is also a bonus for those looking for more control because you can sear in the same bowl before adding the rest of your ingredients and transferring over to your slow cooker for the long haul.
---
Best Slow Cookers
Morphy Richards Slow Cooker 460015
Best All-Rounder
One of the stand-out features of this handy home appliance is the removable non-stick bowl, which allows you to sear meat and sauté aromatics on the hob without having to use (and then wash up) a separate pan. You can cook for anywhere between four and 12 hours on low or high heat, and a keep-warm feature automatically kicks in after cooking so your food stays ready to eat even if you aren't. It's large enough for a small chicken or chunky lamb shanks, but it's not as heavy as a traditional ceramic pot so it's easier to transfer the bowl straight to the table to serve.
---
Lakeland 3.5 Litre Brushed Chrome Electric Family Slow Cooker
Best On A Budget
For simple slow cooking, this Lakeland gadget is just the ticket. You can cook on a low setting to let things gently simmer away or crank up the heat to save time; there's also a setting that keeps dishes at serving temperature until you're ready to eat. It's a decent size for a family of three to four and there's a near-identical six-litre model if you have more mouths to feed. The traditional crockpot design features a ceramic cooking pot, which (although heavy) is effective at holding in the heat so it's great if you want to finish cooking way in advance of dishing up.
Buy from Lakeland | £39.99
---
Cookworks 6.5L Slow Cooker
Best On A Budget For Big Families
This chunky pot is capacious enough to feed a family of four and then some. It's also a good option for those who can't be bothered to deal with complicated control systems, because the options on the dial are about as simple as it gets. You have off, low, high and warm – the last being particularly useful if you judge your meal to be ready before the various members of your family have managed to get to the table.
The Cookworks 6.5L might not be as laden with impressive features as the other picks on this list, but it can't be faulted on the essentials of slow cooking. Just make sure you have the storage space for it.
Buy from Argos | £33
---
Crock-Pot DuraCeramic Slow Cooker 5 Litre
Best For Families
The OG slow cooker is a trusty kitchen aid and this jumbo five-litre edition is ideal if you have a big family to feed or want to fill your freezer for a week by batch-cooking on Sunday. The removable die-cast pot can be used on the hob to sauté ingredients first and the keep-warm feature automatically switches on when the cooking time's up. It may be pricy but it's built to last with a DuraCeramic coating, said to be four times more durable than a standard non-stick veneer.
---
Swan Retro Black 1.5 Litre Slow Cooker
Best Small Slow Cooker
Bigger is not always better. If you're looking to buy a cooker for one or two people then a 1.5-litre pot like Swan's will suffice. It might not seem like good value because larger cookers are only a little more expensive, but you'll be saving counter and/or storage space in your kitchen and you won't face the temptation to keep going back for seconds and thirds from the large batch you intended to freeze for another day. The Swan Retro Cooker also has an appealing design and comes in several colours. There are three heat settings, a keep warm feature, and the ceramic bowl can be removed to make serving easier. Cleaning is a doddle too because the bowl is dishwasher safe.
---
Sage Fast Slow Pro
Best For Extras
The most expensive of our picks could also pass for the best value, because along with a hefty six-litre bowl, dishwasher-safe lid and "keep warm" function, you can also sear your food right in the slow cooker rather than transferring the bowl to a hob. There are also plenty of preset options for hassle-free cooking, along with the option to customise if you know what you're doing. Basically, it matches or surpasses every other slow cooker and adds a pressure cooker too. If you're the forgetful type who's liable to do everything except press the start button on your lamb shanks before you leave for work in the morning, being able to switch to the pressure cooker in the same machine will be quite the face saver.
Buy from John Lewis | £199.95
---
Sage By Heston Blumenthal Risotto Plus
Best For Foodies
Designed with food lovers in mind, this slow cooker can knock up a faff-free risotto. Just throw all the ingredients into the pot, select the innovative risotto setting and watch the stock bubble over to agitate the rice in such a way that it mimics a stirring motion. Hurrah for hands-free home cooking! It also does a good job of producing fluffy rice and quinoa, as well as cooking veg and fish using the steaming tray, not to mention all the slow cooking staples like stews, casseroles and tagines. The 3.7-litre capacity is ideal for family meals and you can sauté and sear in the same bowl to save on washing up.
---
See related
Tefal RK302E15 8-in-1 Multi Cooker
Most Versatile
True to its name, this Tefal unit is an excellent multi-tasker. The 8-in-1 claim might be a bit of an exaggeration but it works well as a rice cooker and steamer in addition to its slow cooker duties, and there are special settings for cooking porridge and desserts. Made from lightweight metal, it's easy to carry to the table and serve from and there's a handy delayed start function for precision post-work dining. It features a non-stick removable bowl for easy cleaning and comes with a recipe book so you can get going straight away.
Sign up for workout ideas, training advice, reviews of the latest gear and more.
Coach is a health and fitness title. This byline is used for posting sponsored content, book extracts and the like. It is also used as a placeholder for articles published a long time ago when the original author is unclear. You can find out more about this publication and find the contact details of the editorial team on the About Us page.