The Best Bread Makers Of 2019
How do they work? Which should you buy? How much dough should you spend? Use your loaf and read our round-up of the best bread makers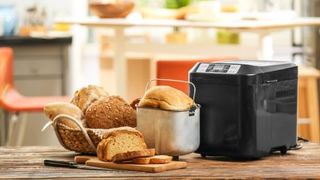 (Image credit: Unknown)
The wonderful scent of freshly baked bread is reason enough to buy a bread maker, but there are plenty more justifications for buying one. If you like to treat yourself to an artisanal loaf at your local bakery now and then, you'll find it's much cheaper – in the long term, at least – to bake your own at home and plenty of bread makers can replicate fancy loaves.
And while making bread from scratch the old-fashioned way is fun, it takes time and a fair bit of skill. Bread machines, on the other hand, make it easy, and the high-end ones include plenty of options to bring your skill and craft into the process.
Healthwise, there's also the bonus of being able to take full control of what goes in your bread. Reducing the salt content in particular is wise.
Bread machines don't have to cost an arm and a leg either – our picks start at just £50 – but to help you work out if it's worth spending more, we've put together a primer on what to look for when buying a bread maker and what you can get for your money.
Buyer's Guide To Bread Makers
How do bread makers work?
All bread makers use the same basic process. Add the ingredients to the bread pan, put the pan in the machine and select the appropriate programme: white, wholemeal, speciality and so on. The cooking time will take anywhere between three and five hours, plus the time it takes to let your bread cool on a wire rack.
All bread makers will also let you set a time delay so you can set it up before you go to bed and wake up to freshly baked bread.
What ingredients do I need?
You'll always use flour, water and bread machine yeast. Always remember that you need strong flour rather than standard all-purpose, and in some cases – especially with wholemeal loaves – very strong flour might be needed. This can be picked up in any decent supermarket.
Most recipes will also require things like include salt, sugar, oil or butter, and possibly skimmed milk powder. Some bread makers require vitamin C tablets, which you'll probably need to seek out online, though these machines are few and far between.
If you're planning on baking speciality bread, with ingredients like raisins, sultanas and nuts, there are some bread makers that are set up with programmes for these. However, you'll find that such programmes aren't quite as hands-off as the standard ones: you'll have to add these special ingredients at intervals throughout the process.
Do I have to follow set programmes and recipes?
No! Fancier bread machines let you set custom baking programmes, which let you tweak various stages of the baking cycle, whether they're resting, kneading, rising or the actual baking. If you hit upon a particularly successful programme, you can store it in the machine as a preset. A bread maker with these capabilities won't come cheap, but if you're serious about your home baking it could well be worth the money.
See related
The Best Bread Makers Of 2019
Morphy Richards 48280 Fastbake Cooltouch
Best Budget Bread Maker
We might not have recommended this model at its original price of £120, but now it's under half price it's well worth a look. It's not particularly stylish, but it will produce a 2lb (900g) white loaf in under an hour. The buttons are somewhat fiddly, the window through which you watch your loaf rise isn't illuminated and it isn't so good at wholemeal breads, but if you have limited ambitions for your home bakery and your budget is tight, the Fastbake is for you.
Buy on Amazon (opens in new tab) | £51
---
Panasonic SD-ZB2522
Best All-Round Bread Maker
(opens in new tab)
Panasonic does a wide range of bread makers, and this, one of its more multifaceted and high-end models, made a great impression on us. Not only is it pretty damn stylish, it won't take up too much space on your worktop either.
There are plenty of smart details: you'd expect an automatic dispenser for fruit at this price, but there's also one for yeast, which ensure those pesky little organisms aren't activated prematurely in the mixing process, and it even factors in the temperature of your kitchen – all of which results in top-notch bread. Add in programmes that will produce gluten-free pasta and cake, as well as a sourdough starter, and you've got a supremely capable bread maker.
Buy from John Lewis (opens in new tab) | £219.99
---
Kenwood BM450
Best Bread Maker For Customisation
Be warned: you'll need to set aside a fair chunk of space for the Kenwood BM450, but the advantage of this big, boxy bread maker is that it delivers hefty loaves. While the BM450 has slightly awkward controls, it does boast tweakable programmes which lets you hone your baking to perfection. You can adjust the duration of each part of the pre-set programmes and store up to five of your own invention. The viewing window is also well lit so you can lovingly watch your creation rise and grow.
Buy on Amazon (opens in new tab) | £189.99
---
Lakeland White Compact 1lb Daily Loaf
Best Space-Saving Bread Maker
(opens in new tab)
Next to the Kenwood BM450, this is a dinky little machine, but don't underestimate Lakeland's own-brand model – it impressed when we put it to the test. It contains 11 programmes that include gluten-free and the unique knead-only feature which lets you take out the dough out to divide into bread rolls. There's also a handy one-hour keep warm setting, which prevents the loaf from getting soggy if you're unable to remove it straight away when it's done. You can delay the start for up to 13 hours but the mixing process is noisy, so avoid baking overnight if you're a light sleeper.
Buy from Lakeland (opens in new tab) | £59.99
Sign up for workout ideas, training advice, reviews of the latest gear and more.