Love Island Winner Kem Cetinay On How His Love Of Weightlifting Turned His Life Around
The 23-year-old tells Men's Fitness how his victory in the villa was the culmination of a five-year battle against anxiety and depression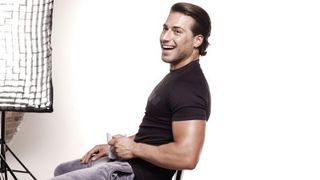 (Image credit: Grooming Laura Tucker)
Photography Glen Burrows. Grooming Laura Tucker
This cover star of August's Men's Fitness has had quite a year. He went from cutting hair in a back-street barber's to recognition on every street corner after winning Love Island, 2017's hit and Bafta-winning ITV2 reality show. More than 2.5 million people watched him and Amber Davies leave the show's Mallorcan villa as king and queen of the ultimate holiday romance.
But while viewers voted in droves for his cheeky and cheerful outlook on life, they didn't realise that Kem hadn't always been the life and soul of the party. Indeed, he spent his early teens locked away in his bedroom unable to leave the house for school or work because of crippling anxiety brought on by almost losing his mum. Discovering the gym helped him turn his life around, and now Kem is determined to use his fame and huge social media influence to help other people struggling with mental illness to get back on their feet too.
It's been quite a year for you Kem – has it all sunk in yet?
It's been an absolute whirlwind. This time last year I was a barber in a little back street trying to live a normal life. I had the most normal job of the all the people who were on the show; a few of them had celebrity friends and knew how the industry worked. But I was so naïve and I think that's why I did OK on the show – I didn't over-think anything, I didn't have a game plan, I just wanted to be myself and ended up really enjoying it, especially after a couple of weeks in.
How did you adjust when you came back into the real world?
When we left the villa I had amazing support and I feel so fortunate that I still do. Everyone has been so supportive and I think that's because with me, what you see is what you get. I am an open book.
Was it tough coming back to a totally different life?
Yeah. Everyone sees the glitz and glamour, but it can be tough and lonely at times. Like when you wake up in the morning by yourself and see or read something about you on social media or one of the papers. That can be hard. I went through a break-up [with Amber] and that's tough when it's in public, but people have been very supportive, even when I wasn't expecting it.
Did you know what you were getting into when you applied for Love Island?
I really wanted to do it, but my parents didn't want me to because when I applied I had only just got back onto my feet after four of five years of depression and anxiety. I applied thinking I had no chance of getting on: 80,000 people tried out, but I just kept getting through round after round of interviews and then I was told I was going into the villa. My mum was in floods of tears and really didn't want me to do it, because my parents thought exposing myself to criticism and nasty comments would send me back to square one. I remember when I told my mum I was going to do the show, and she just said, "But I've only just got my son back". The previous years had been hard, so it was a risk.
When did your battle with anxiety begin?
It started when I was nine and my mum went in for a routine operation but it went wrong. We were told she had 24 hours to live. I just went into shock and didn't really know what was going on. Fortunately she recovered, but it took a long time for her to get better, and I became incredibly protective of her. I didn't like strangers talking to her, and I couldn't go to sleep unless I knew she was home and safe. So I never slept at mates' houses and always wanted to be near her. But things got really bad when I was a bit older, around 15. I suffered my first proper panic attack, although I didn't know what was happening at the time. I was on a train to London, and just had a meltdown. It went downhill quickly from there and I started to struggle at school. I still played football, which I loved, but got injured so I stopped playing. I managed to get a few GCSEs, but for about a year after my exams I barely left the house, just staying in my room, anxious and depressed.
Did you realise how serious it was?
I convinced myself that I was fine, and everything was fine, and I would always find an excuse not to go out. But in my head I drew up a list of things that would never happen to me, like going on a date with a girl, let alone actually ever getting a girlfriend. And because I'd stopped playing football and going out I put on quite a bit of weight. I saw one therapist but it didn't help, but then I met another one. On our first session I got really anxious and wanted to leave, but she got up and locked the door! She said she wanted me to prove to myself that I could stay and complete the session – and I did. That was really one of the big turning points, because she made me believe that I could take small steps in the right direction – like something so basic as going to a restaurant, which everyone loves doing, but for a long time I couldn't even contemplate.
When did you discover exercise as a way to cope with what was going on?
My brother has always been into his weights, and when I started I quickly found that training, whether that was weights or running, really helped me cope with my anxiety. Every time I started to feel a little anxious I'd put on my headphones and go for a run or go lift the weights, and I immediately felt much better. It helps me push stuff out of my head. I'm a big over-thinker, which I'm trying to channel into a positive thing, but exercise is the best way for me to get stress out of my system. I love pushing myself and feeling my body really working hard, and when I'm in the zone I don't think or care about anything else. And I don't mind a bit of pain – it means I'm working hard towards to being fitter or stronger or leaner.
What's your training approach?
I've always trained by myself and while I am no expert, I have learned what works best for me. I'll lift weights five or six times a week, focusing on one body part per session. I like focusing on just one muscle group, and hitting it as hard as possible. This doesn't mean I lift heavy – I keep the weight lighter but do high-rep sets and focus on keeping each rep perfect and getting my breathing right. Keeping the weight a bit lighter and the reps slow and controlled, with lots of reps per set and short rests between sets, is a great way to really damage the target muscle and feel that burn and get a pump. It's what really works for me.
Do you do much cardio?
I played so much football when I was younger so I still love cardio and will do a run or incline treadmill walk after most weights sessions, or maybe three times a week if I am tight for time. My dad is 66 and he still runs all the time – and he's decent at it! He says that he can't relax until he's got his run in, and I'm the same. We train not just for our bodies but for our heads. I know what it's like to feel like shit all the time, and I'm not going to let anyone or anything make me feel like that again. If I'm looking after my body, then I'm looking after my head too, and that means I can keep moving forwards in the right direction.
Nutrition is a huge part of looking good as well as feeling good. What's your diet like?
Up until three months ago my diet was very up and down. I love bread, and carbs, and everything, really! I would diet hard and cut out all carbs and other foods, and would sometimes end up just skipping meals because I couldn't face another plate of just chicken. And then when I wasn't training specifically for something my diet would go out the window and I'd eat what I wanted.
So what changed?
I met Max [Evans, the Scottish international rugby union player] on Dancing On Ice [Kem finished fourth, one place below Max, in this year's show], and he taught me so much about better nutrition and how to be balanced. It's better to eat well most of the time, but still allow yourself the odd treat now and then. It means I am in good shape all the time – I can maintain my abs – without having to yo-yo diet, or overeat then go really strict. It's a much better way to eat, because you don't constantly crave certain foods, so it's better for your body and your head too. Diet is so important – I wish it wasn't! – but it is, and if you are serious about getting shredded then you have to be on top of it, just like you do with training. There are guys in my gym who train twice as much as me, but always ask me why I'm in good shape, and it's because I'm on top of my diet. It doesn't mean getting lean is easy – to get really shredded training should be hard and your diet should be a bit hard too. If it was easy then everyone would be ripped!
Finally, how are you feeling about the future?
Mentally, I am in the best place I've been. I had a bit of a dip during my break-up but I am very lucky to have amazing family and friends, and a fantastic team around me. And I am very lucky to have some amazing career opportunities coming up, like hosting the Love Island podcast and a new show with Chris [Hughes, fellow Love Island 2017 contestant] for ITV2. As with any new job it takes time to adapt and it can be tough and lonely at times, and I've turned down a lot of projects to focus on what I am most passionate about and what's important to me. I set myself the target of working on four things: mental health, fitness, barbering and TV, and doing what I can to help people who may be going through some of the issues that I had. That's really important to me, and an area where I really think I can do some good.
Charities such as MIND (opens in new tab), The Samaritans (opens in new tab) and CALM (opens in new tab) offer help for those with mental health problems – or you can visit your GP.
Sign up for workout ideas, training advice, the latest gear and more.
Former editor of Men's Fitness UK
Joe Warner is a highly experienced journalist and editor who began working in fitness media in 2008. He has featured on the cover of Men's Fitness UK twice and has co-authored Amazon best-sellers including 12-Week Body Plan. He was the editor of Men's Fitness UK magazine between 2016 and 2019, when that title shared a website with Coach.