Youth Sport Trust Launches Initiative To Boost Children's Activity Levels
In partnership with Sports Direct, the Youth Sports Trust has launched National School Sports Week to encourage children to be active more often this summer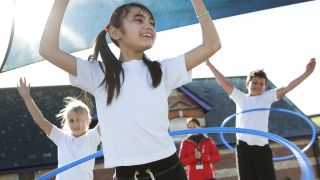 (Image credit: Youth Sports Trust)
The Youth Sport Trust is launching a new initiative to encourage more physical activity among young people, after a recent survey from YouGov revealed that many parents are unaware of how much time children should be active for each day.
Advice from the UK Chief Medical Officers (CMO) has said that all children between the ages of five and 18 should be "highly active"—meaning a raised heart rate—for 60 minutes each day.
However, the YouGov survey revealed that many believe children need to be active for half of this, around 30 minutes a day.
With less than half of all young people in the UK (47%) participating in activities for 60 minutes each day and almost a third (30%) averaging fewer than 30 active minutes, the Youth Sport Trust believes that lack of awareness is the culprit.
Young people in the UK face a wellbeing crisis, and additional research (commissioned by the Youth Sport Trust and conducted by Teacher Tapp) has found that 97% of teachers are "concerned" about the mental health of young people in their school.
And while the same number of teachers (97%) agree sports and play can support mental health, only 35% of teachers are aware children should be active for 60 or more minutes a day, highlighting the need for more support and training for schools and teachers.
National Schools Sports Week
With this in mind, Youth Sport Trust created National School Sports Week in partnership with Sports Direct, with the aim of building awareness of the CMO guidance The charity hopes to get more children "playing for fun, playing for 60" from 19th to 25th June.
The purpose of National School Sports Week is to boost children's activity levels by encouraging people and organizations to make a #PledgeToPlay for 60 minutes every day during this week.
National School Sports Week 2023 is live! 🙌 Between 19-25 June, we're asking families, schools, organisations to all #PledgeToPlay to ensure kids reach their daily 60 active minutes. Find out more about this year's campaign at https://t.co/UQKCee3pw8 | #NSSW2023 pic.twitter.com/FeIwAe3VNnApril 19, 2023
Working with families and schools across the country, the campaign will ensure that people are better informed of the many benefits of sports and play for children. Making a "pledge to play" gives you access to resources and material to help with the goal.
Alison Oliver MBE, chief executive of the Youth Sport Trust, says: "We know children are leading increasingly sedentary lives. Screen time is up, and time spent in nature is down—it's no surprise that parents and teachers are increasingly concerned about children's physical activity levels and the consequence of this in the classroom.
"Children's formative years can influence their wellbeing, development, education outcomes and physical activity levels well into adulthood. There is a compelling evidence base for more play and sport in children's lives. Pockets of innovative practice that are unlocking new ways to inspire young people to get active are emerging, but raising public awareness of the CMO guidance should be a priority alongside action to help schools and families respond.
"National School Sports Week is a great opportunity for us to engage with schools and families. We're excited to share some brilliant ideas and guidance as well as uniting a movement of organizations to help amplify why this is important and what's available at a local level. We are inviting the nation to #PledgeToPlay.
"Today we issue a rallying call. Daily physical activity, play and the development of physical literacy through physical education and school sport should be an integral part of every childhood, and we are really excited to work with Sports Direct to make play and sport more accessible for more young people and in turn help them lead happier and healthier lives.
Schools, families and organisations can start to take action by supporting the Youth Sport Trust's National School Sports Week campaign."
Sign up for workout ideas, training advice, reviews of the latest gear and more.
Lois Mackenzie is a fitness writer working on news, features, reviews and buying guides for Coach and sister site Fit&Well. Lois is a hill walker and avid runner who is training for her first marathon. Before joining Coach, Lois worked as a senior SEO reporter at Newsquest Media Group.